New York This tiny slice of Manhattan real estate got its name from the commercial meat markets that used to line its streets, although nowadays it more accurately conveys the eating habits of ravenous foodies filling their bellies with foie gras ravioli. To that end, we scoured all 44 acres of this 'hood and found the nine best restaurants for your gustatory perusal -- prepare for the chorizo mac & cheese of your dreams! More Stuff You Will Like
<em>55 Little W 12th St</em><br />
Located inside the Brass Monkey, this&nbsp;<em>Inception</em>-level pub within a bar offers a hefty catalog of beers -- 95 of 'em, to be precise -- alongside top-notch edible treats like brisket sandwiches, three-cheese grilled cheeses, and sweet potato fries. The decor's not bad either, featuring reclaimed factory parts and a mahogany bar taken from the ballroom of the old Puck building.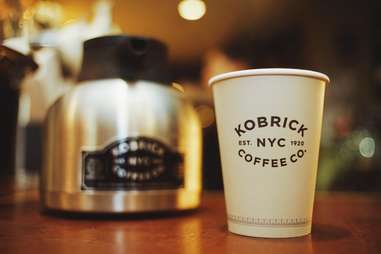 <em>24 9th Ave</em><br />
This place has a solid brunch menu (with fresh-baked pastries and avocado toast), alongside expertly roasted coffee blends you can buy by the bag. The coolest part, though, has to be the fact that once the evening rolls around, you have access to an expansive menu of cocktails ranging from the classic to the coffee-infused.
<em>73 Gansevoort St</em><br />
Got a hankering for some buttermilk biscuits and brisket French dip, but no time to sit down and eat it? Bubby's has you covered with an array of homemade flavors AND a takeout window, so you can score your delicious haul and get back to your exploration of the High Line -- or whatever else you're up to.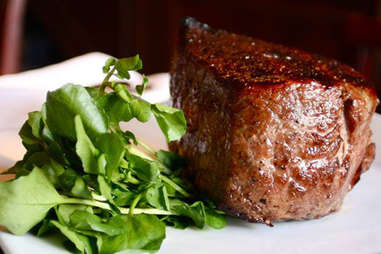 <em>56 9th Avenue</em><br />
You can't judge a book by its cover, but you&nbsp;<em>can</em>&nbsp;(and should) judge a steakhouse by whether or not it has a giant cow perched above the entrance -- as is the case with Old Homestead. This place has been in&nbsp;the bovine business since 1868, and lays claim to one of the most expensive steaks in NYC: a 12oz cut of authentic Kobe beef that'll&nbsp;set you back a cool $350. So what if you can't make rent this month?
<em>675 Hudson St</em><br />
In addition to the fresh, table-side guacamole you'd expect from a modern Mexican restaurant, Dos Caminos keeps things interesting with surf &amp; turf tacos, poblano cornbread, and chorizo mac &amp;&nbsp;cheese. You'll also wanna pay close attention to that last one -- and by "pay close attention to," we mean "eat as much as possible of."
<em>355 W 14th St</em><br />
We've raved about Scarpetta's&nbsp;<a href="https://www.thrillist.com/eat/new-york/best-pasta-in-nyc&quot; target="_blank">classic spaghetti and tomato sauce dish</a>&nbsp;before,&nbsp;but truthfully, you really can't go wrong with any of the pastas at this swanky, modern Italian joint. So what if it's technically&nbsp;just&nbsp;over&nbsp;the Meatpacking District border?&nbsp;Try the foie gras ravioli or the short rib &amp; bone marrow agnolotti, and you'll forget all about the extra 50ft you walked to get here.
<em>403 W 13th St</em><br />
This place gets its inspiration from Southeast Asian street food, employing classic elements like peanut sauce and mango chutney alongside American dishes (like the crispy chicken biscuit and Gruyere cheese omelet). Pro tip: if you're not getting the Ovaltine kulfi for dessert, you're doing it wrong.
<em>820 Washington St</em><br />
If the idea of eating coastal Italian fare off colorful plates&nbsp;in a tropical-themed restaurant doesn't get your jaded NYC motor running, then a single bite of the squash carpaccio definitely will. If that doesn't work, try the grapefruit Italian ice for dessert. If&nbsp;<em>that</em>&nbsp;doesn't work, you should probably get your motor checked&nbsp;because it sounds like it's&nbsp;broken.
<em>22 9th Ave</em><br />
It doesn't get much more classic than American cheese and bacon on a beef patty, bookended by a sesame seed bun, and that's exactly what you'll get at Bill's: a simple burger, done exactly right. The 6oz patty's made from a "custom blend" of meat, ground fresh each day, but beyond that there's not much more to say. Get it. Eat it. Repeat.
Sign up here for our daily NYC email and be the first to get all the food/drink/fun New York has to offer.
Gianni Jaccoma is an editor for Thrillist, and he prefers American cheese over any other. Follow his patriotic tweets @gjaccoma