Bringing Southern comfort to the Meatpacking with no sparklers whatsoever, the Tribeca institution Bubby's has expanded to a space right next to the High Line on Gansevoort St. It'll be open almost 24hrs (6a-4a... sorry, you're outta luck at 530a), continuing the Americana vibe, albeit with more space and a bunch of new delicious, occasionally super-sized offerings. Oh, and a jackalope.
The space feels like a bistro made sweet, tasty love with a country kitchen, thanks to a big arch-mirrored bar, assorted family portraits, American flags, and ample windows looking right out at the High Line.
They've got a couple of new tricks up their sleeve (and potentially all over it), including these gigantic Buffalo wings... aka Red Hot Chicken... aka chicken legs deep-fried and slathered in just the right amount of tangy Buffalo sauce. Okay fine, they aren't TECHNICALLY wings. Whatever, just eat them and be happy.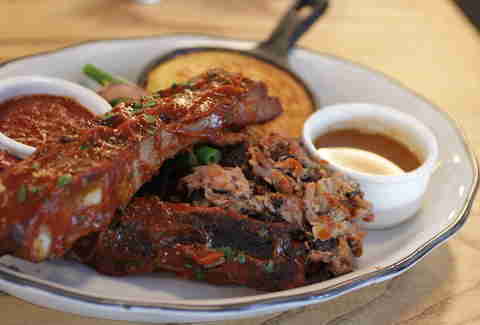 Fear not, the massive plates of BBQ haven't gone anywhere, complete with slathered ribs, pulled pork, skillets of cornbread, and two BBQ sauces: one Texas-style and one from an old Arkansas recipe.
They've got bacon/maple almond mix and homemade Chex Mix. Now, homemade Chex Mix is inarguably amazing in any context. But when it's tossed in bacon fat, butter, and some bacon lardons? That's some evil genius.
As for more traditional Meatpacking activities, their bar is stocked with a fine shload of whiskeys.
For non-traditionalists, how about WINE IN A DAMN CAN?! Classy AND convenient.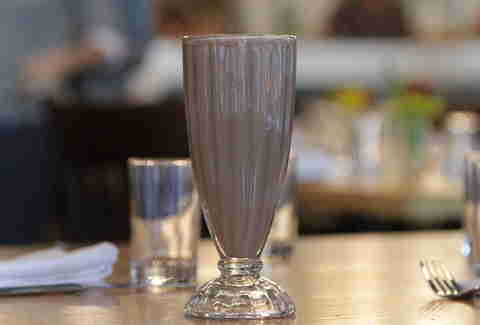 If you want to knock out boozing and dessert in one go, they have boozy shakes like this chocolate espresso joint made with espresso tequila.
And definitely don't overlook the to-go window, which's run from behind this counter and will be open 'til 4a...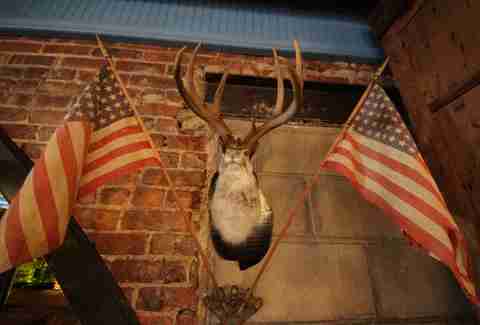 ... though their jackalope might prove more fascinating at that time of night.