Taking over the space that was formerly Toy in the the Gansevoort Hotel, The Chester is a new American indoor/outdoor spot that's got you covered for everything from to happy hour, to fried chicken-consumption, to a night out, to football on Sundays... and if you can make each one blend into the next, you, sir, are a true American.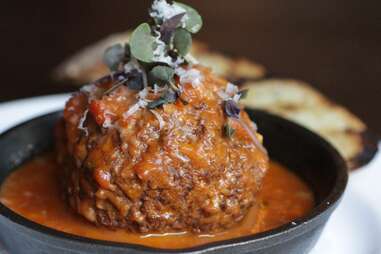 Sometimes, one massive meatball is all you need. This one is a mix of veal, pork, and beef, and comes with grilled bread and tableside-shaved Parm. Ok -- maybe get two.
The crispy yet chewy flatbread is simple but excellent, and topped with creamy burrata and tomatoes.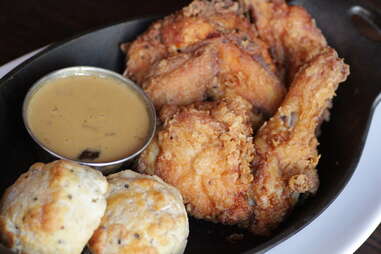 Uber-crispy and appropriately moist fried chicken is definitely the go-to dish, although for the sake of your fingers, you'll want to dip into that ham hock gravy instead of slathering.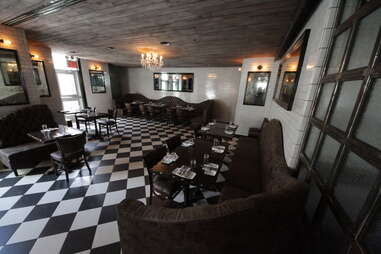 There's plenty of places to get lost in here: a private bar upstairs, a big, open, almost bistro-y bar room, two outdoor areas (one covered and one uncovered), and this room replete with mirrors that will magically transform into TVs when a big game is on. Go Rutgers!