Central Park Welcomes an Outpost of Beloved Harlem Standby Melba's Restaurant
Chef Melba Wilson expands her soul food empire with a casual new concept overlooking the iconic Wollman Rink.
Published on 6/30/2022 at 12:00 PM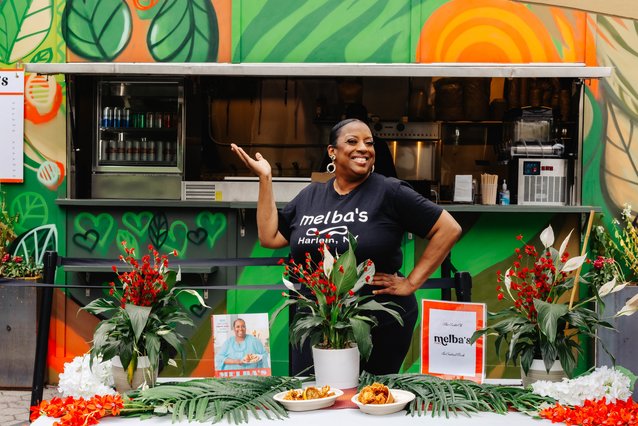 Melba Wilson | Photo by Cole Saladino for Thrillist
In 2004, chef, cookbook author, and Sylvia's Restaurant alum Melba Wilson sprung onto the NYC food scene with her first eatery, Melba's Restaurant, located on 114th Street in Harlem. After 18 years in operation and armed with a glowing reputation for turning out stellar soul food, Harlem-native Wilson now expands her culinary empire, which includes Melba's Catering, with an outpost called Melba's at Wollman Rink in Central Park.
First gaining a love for cooking at a young age through summertime visits to her grandmother's in South Carolina, Wilson thoughtfully pays homage to her family's heritage and spotlights passed-down recipes into her menus today.
Melba's | Photo by Cole Saladino for Thrillist
"My grandmother and I would cook almost every meal together," says Wilson. "I was always at her apron straps, and I love that she could take simple ingredients from her garden and turn them into beautiful dishes for my family to enjoy together. This in turn helped me learn the importance of how food truly brings people together."
Now bringing her famed dishes to a second borough, Wilson's new venture is perched on The Overlook above Central Park's iconic skating destination Wollman Rink and presents the same core concept as the original Harlem flagship, but in a counter-service concept.
DiscOasis Fries | Photo by Cole Saladino for Thrillist
Melba's DiscOasis Fries | Photo by Cole Saladino for Thrillist
In collaboration with the recently debuted DiscOasis program—the transformation of Wollman Rink into a retro 1970s-inspired roller rink experience with live music, DJ sets, art installations, and live performances—the spot's concise menu will combine cheeky nods to disco with Southern comfort food classics. Offerings include Melba's DiscOasis Fries (smothered in cheddar cheese and gravy); Chicken N' Waffle Cone; and Crispy Fish Strips (served with a chipotle dipping sauce). On the sweet side, there's a Brown Butter Ice Cream & Eggnog Waffle Sandwich available.
To pair with your bites, drinks include housemade sweet tea and lemonade, plus a specialty cocktail called the Melba's Palmer (sweet tea, lemonade, bourbon).
Melba's at Wollman Rink is now open Wednesday to Sunday from 3 pm–9 pm at The Overlook above Wollman Rink in Central Park.
Izzy Baskette is a Staff Writer for Thrillist New York. Find her on Instagram.