750,000 people pass through Grand Central Terminal every day -- roughly 700,000 of them arrive with empty stomachs, and the other 50,000 are in dire need of a stiff drink. These stats might be hard to swallow, but they're 100% accurate (mostly), so don't be one of those starving/teetotaled schlubs: let our primer lead you to the 13 greatest places to eat and drink around GCT.
Best steakhouse: Sparks
210 E 46th St
This NY institution styles itself as the "Fort Knox of Fine Aged Prime Beef," and while you probably won't find a heavily guarded, fortified meat-vault on the premises, you definitely will find a fantastic array of expertly cooked cuts of beef, from the prime sirloin steak to the steak fromage. There's also halibut and tuna steaks on the menu, which definitely bears mentioning since A) they're both tender and delicious, and B) they're technically still steaks.
123 E 41st St
It's not just that you can score two classic cheese slices and a 12oz beer for under $10 here: the pizza's actually legitimately excellent, whether you opt for regular, thin-crust, or focaccia-style. Bonus points if you opt for the garlic knots, because they're delicious, although it shouldn't take bonus points to convince you to opt for the goddamn garlic knots.
160 E 46th St
The rooftop here is more of an outdoor deck than an actual space on top of a roof, and while that doesn't translate to the best views in the city, the digs are fancy enough that you won't really miss the panoramic sights while you're downing your craft cocktails. Plus, there's a legit menu of snacks and small bites up there: just be prepared to pay through the nose for pulled pork sliders.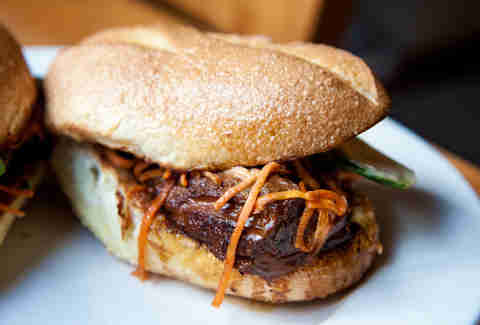 Best cheap eats: Num Pang
140 E 41st St
Sandwiches are the sub-$10 stars of the show at this Cambodian shop, and everything from the pulled pork, to the skirt steak, to the ginger barbecue brisket is jam-packed with flavor. In fact, the sandwiches are so specifically crafted that they actually won't let you make substitutions, so you'll have to ingest them as the chef intended -- which is fine, because as it turns out, the chef had really good intentions.
24 E 39th St
The second location of this hidden cocktail sanctuary is located inside The William hotel, and in addition to the cozy, 1920s vibe you'd expect from a speakeasy-style lounge, the Raines Law Room offers customers the ability to build a custom Old Fashioned from a variety of bitters, sweeteners, and liquors. Now all you have to do is figure out how to get in*.

*Enter through the Shakespeare Pub, also in The William hotel.
11 E 36th St
There are 72 draft beers and 116 different bottles on the list at this sud-lover's paradise (as of this writing), and you can bring most of them home with you at a 15% "out-the-door" discount. Or, if you're not in a rush, grab pint and a seat in one of the back room's cozy armchairs, and admire the wall-mounted beer paraphernalia.
150 E 46th St
As the name suggests, this place is best known for its pairings of fresh and chewy udon noodles with everything from shrimp tempura and curry rice to marinated beef and fried chicken. Unlike the name suggests, however, neither of its two outposts are located on the west side; walk the two blocks from GCT to the Midtown location, then grab an order of fried fish cakes.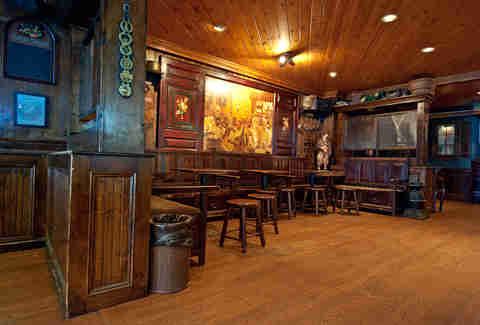 130 E 40th St
This bar actually has two locations within spitting distance of GCT, and both feature one of the best happy hour deals in the city: $4 pints of Bud Light, Blue Moon, and Stella, paired with $4 shots of Jameson, Cuervo, and Jager. Even better, that special extends beyond happy hour to an all-day affair on the weekends -- add in the Saturday night karaoke, plus the fact that this place is BYOF, and you're in serious danger of missing your train.
959 2nd Ave
There's a ton of goodness on the menu here, from double-patty burgers to boozy milkshakes, but the grilled sandwiches are where it's really at. Dive into the Breakfast Burrito, the Slow and Low, or the Chicken & Waffles: regardless of which one you choose, you'll get a side of waffle fries, a salad, or a bowl of creamy tomato soup. Don't skip the boozy milkshakes, whatever you do.
89 E 42nd St
With its vaulted, tiled ceilings and rich historic pedigree, this NYC landmark is worth visiting even if you're not that into seafood. Of course, if you ARE that into seafood, the experience is even better: choose between 30+ different oysters, or opt for a non-mollusk meal like the cod filet or the grilled branzino.
600 3rd Ave
The crinkle-cut fries and concretes here are legendary for a reason, and pair perfectly with the various ShackBurgers on the menu -- from the bacon-topped SmokeShack to the veggie/meat harmony of the ShackStack. Pro tip: the Midtown East location's usually got shorter lines than the one in GCT, so unless you're pressed for time, that should definitely be your move.
622 3rd Ave
With 400 different bottles of primo tequila on offer, as well as a bottomless brunch that includes unlimited small plates and cocktails for $40, this is absolutely the go-to spot for a date with the Marion Ravenwood in your life.
Sign up here for our daily NYC email and be the first to get all the food/drink/fun New York has to offer.
Gianni Jaccoma is an editor for Thrillist, and he's the Marion Ravenwood of his own story. Follow him shot-for-shot on Twitter @gjaccoma