Okay, first things first: The Pullman Kitchen is NOT owned by Space Balls and Independence Day star Bill Pullman, but that may be the Midtown East sandwich shop's only shortcoming, because it's doing some seriously next-level things with grilled cheese, like merging it with fried chicken & waffles, which is some serious Weird Science. That was Pullman, right? Or was it Paxton? Whatever, on to the sandwiches!
... you're headed to the top of grilled cheese mountain, where Kraft Singles and Wonderbread on your Foreman Grill at 4a look like tiny, cheese-filled ants. It's two cornbread waffles stuffed with crunchy buttermilk fried chicken, pepper jack, and Vermont maple syrup. It's every bit as delicious as it sounds, and it holds up remarkably well in sandwich form.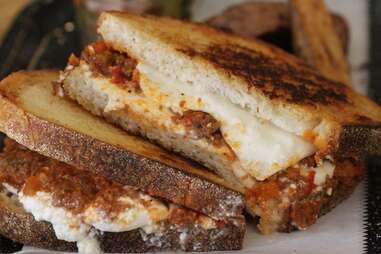 Beyond that epic creation is a collection of other worthwhile notables, including this take on sandwich-izing lasagna: The Sunday Supper. It's made with slow-cooked pork and beef bolognese, house-made ricotta, and fresh mozz stuffed between their namesake Pullman bread.
The Lobsterman is stocked with poached lobster warmed in tarragon butter, muenster cheese (which they determined was the only acceptable cheese for a lobster sandwich), pickled shallots that are almost a marmalade in texture, all in between two loaves of potato Pullman.
It might not be the first thing that jumps out at you from the menu, but The Oxtail is worth your attention, as it's loaded up with bourbon bread-and-butter pickles, chipotle ketchup, horseradish cheddar, and, of course, oxtail that's braised in Bluepoint's Rastafa Rye. Think of it as "a really great sloppy joe".
If for some reason you're lactose intolerant yet found yourself at a grilled cheese restaurant, they've also got this inviting, meat-laden charcuterie board with maple-bourbon ham from Brooklyn Cured, country pate, and chicken liver mousse. Actually, even if you're not lactose intolerant this is probably a good idea, as long as you get a sandwich, too.