Right around the corner from its steakier brother Quality Meats, Quality Italian is a massive wine-walled and orb-lit power spot for Italian eats and cocktails on the second floor with a showstopper of an entree that will likely drop your jaw... for an extended period of time, as you try to eat it: a chicken parm big enough to feed just about everyone you know, as long as you're not, like, super popular.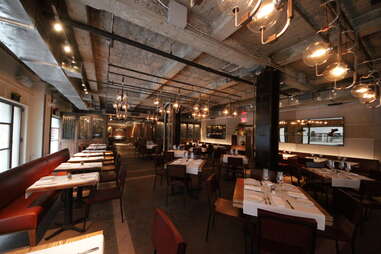 You're gonna wanna sit down for this...
That is not a pizza. Repeat: that is NOT a pizza.
It's a 14in chicken parm that's delivered to the table atop a pizza rack. It's blessed with seasoned breadcrumbs, mozz, Parm, and Pecorino, it gets sliced with a pizza cutter at your table, and comes with spices like dried black olives you can shake on top. It's meant to be for two but, when developing it, they never saw anyone finish it.
They've got some more subdued but equally delicious items on hand, like this agnolotti filled with 28-day-dry-aged beef. No, this does not come in giant size.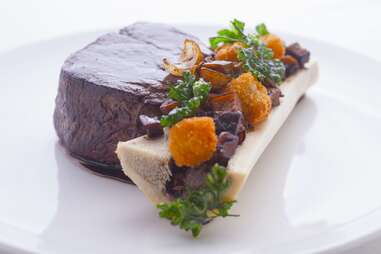 True to their QM roots, they've got a slew of steaks as well, like this balsamic-glazed filet with bone marrow.
Theatrical cocktails are created by a Monkey Bar alum -- what we've got here is the Red Tag Reviver consisting of Greenhook Ginsmiths gin, St. Germain, fresh lemon, and Campari graffiti...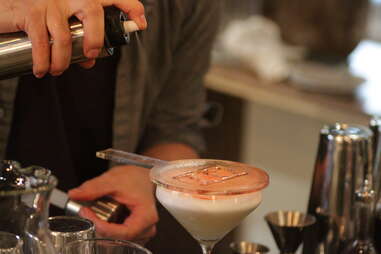 ...the aerated aperitif blasts the top of the 'tail...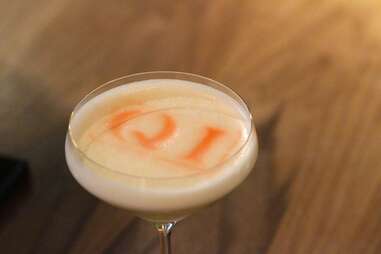 ...and you've got some really swell drink graffiti.
If you've still got room, order another giant chicken parm, party boy! take down some dessert in the form of this lemon sugar tart with tufts of lemon cream and meringue, covered in candied basil and sided with strawberry-lime sorbet with basil garnish. But you really shouldn't have room.