The Tacos: A ton of your favorite spots from around the city are throwing their sombreros in the taco championship ring. Ones you're gonna have to get? The calamari fried diablo with squid ink pizza dough tortillas from Best Pizza, Chinese chicken tacos from The General, spicy pulled pork joints from Joe & Misses Doe, or this year's entry from last year's winner (and current home team) Tequila Park Taqueria, a boneless BBQ lamb rib with leeks and Thai basil.

Continue Reading
The Drinks: There'll be cocktails from Herradura, beer from not-Herradura, and a DIY margarita station with all kinds of crazy toppings, like jalapeños, watermelon, and blueberries.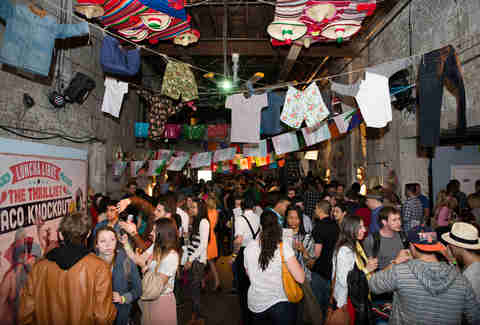 The Music: We're keeping it lively with DJ Alkaline and Omar Puebla, a DJ and live percussionist duo, because why the hell not.
The Activities: Luchador face painting (pro tip: wash off before going home on the subway), dudes in full-body taco suits (probably?), giveaways, and a surprise "match" that we're not giving away right now. Taco tease!
The VIP: The next-level package gets you a taste of allllllllllll the tacos (GA gets you five), access to the private VIP lounge, and extra brews. You don't want to share tacos, so get your spot here.