Rockefeller Center is dubbed "the city within a city" with good reason: the 22-acre site is a mini-metropolis packed with upscale stores, bustling sidewalks, and tons (and tons) of restaurants. The dining options here are almost as endless as the line for holiday season ice skating, and deciding what and where to eat can be overwhelming. That's why we've done the groundwork for you, by curating a list of the very best culinary offerings in this hustling 'hood.
Recommended Video
Send Foodz: Japan Village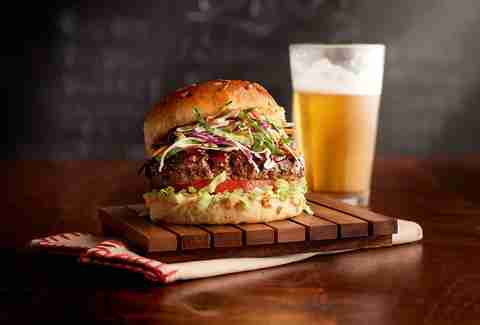 16 W 51st Street
Don't let the "chain restaurant" tag deter you -- Bill's, complete with its red-checkered tablecloths and sprightly environment, is known for mouthwateringly juicy burgers ground fresh daily. The Fat Cat (complete with caramelized onion and special sauce, served on an English muffin) pairs well with bountiful disco fries and half-off drafts during happy hour. Expect crowds at lunch time.
13-15 W 54th Street
Enjoy a piece of history with your lasagna "di Carnevale" -- this intimate dining room is tucked inside the iconic Rockefeller Townhouses, built in 1897. As for the menu, it's traditional comfort food from southern Italy, served with a contemporary spin. Their motto is "passion is the main ingredient" -- judging by the fanatical following for the house-made risotto, they're onto something.
50 Rockefeller Plaza
Del Frisco's Grille is the go-to for the carnivores looking to dine, not just eat. The lively-yet-luxurious steakhouse boasts floor-to-ceiling windows, an award-winning wine list, and a modern American menu that will enchant any steak aficionado. It's not cheap (especially if you order the USDA prime bone-in ribeye for $69), but the food and the experience are well worth the premium.
55 W 45th Street
This hole-in-the-wall stall doesn't exactly have jazzy atmosphere, but that sets the scene for gorging on authentic New York-style pizza. Even a plain Neapolitan slice ($3.25) featuring their thin, crispy crust smothered in gourmet cheese and sauce will have you blurting proclamations like "now, this is how you pizza!" between mouthfuls. If you're craving something unique, try the low-rise Grandma dough, or a slice topped with sweet and spicy calamari.
1 Rockefeller Plaza
If animals are off the menu, grab a nutritious plant-based bite at by CHLOE., located right in the heart of Rock Center. The ambiance feels like an on-trend Pinterest board come to life, but their 100% vegan and GMO-free menu is nothing to scoff at. The Southwestern quinoa ($6.95), smashed avocado toast ($8.95), and every other scrumptious item (including the condiments) are made fresh and from scratch daily, using locally sourced ingredients. And if your dog is also vegan (nothing surprises us these days), treat Fido to a whole-oat K9 Pupcake, because whosagoodboy?!
17 E 48th Street
You won't find any pretentious, millennial-pandering rolls on Hatsuhana's menu. This top-grade sushi restaurant has been in business since 1976 because it skips the gimmicks. Hatsuhana prides itself on using traditional sushi-making methods and serving only the freshest ingredients; the simple, retro setting lets the first-class food take the spotlight. Pricing reasonable for the location and quality (a seven-piece lunch goes for $25), which keeps the loyal locals coming back time and again. Closed Sundays.
125 W 55th Street
Milos was founded by acclaimed chef Costas Spiliadis and is firmly established as one of the world's leading Greek-style seafood restaurants -- so make sure to bring your AMEX along with your appetite. Extravagant displays of straight-from-the-sea fish lie on ice under the sky-high ceilings of the white-washed interior, momentarily transporting you to Santorini, at least in spirit. For those of us dreaming of salmon tartare and grilled Mediterranean sea bream, but still having to make rent next month, there's a $27 prix fixe lunch menu.
136 W 46th Street
This counter-service Latin American joint is no-frills from the inside out, but you won't care once you're elbows-deep in savory pulled pork, yellow rice, and black beans. It's low-key and unassuming, but Margon is one the most popular Cuban restaurants in the area thanks to its large portions of authentic, flavorful eats and $10 Cubano sandwiches. (And yes, they serve alcohol.)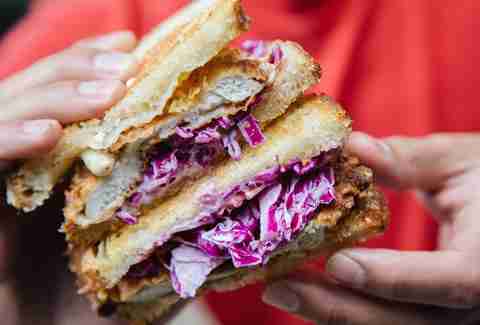 Best "throwback' lunch: Melt Shop
135 W 50th Street
Warm, gooey, thick, melt-in-your mouth cheese that pulls from here to next week betwixt pieces of fresh-baked bread? We'll give you a moment alone. Now go ahead and spoil yourself (and punish your arteries) with a next-level truffle melt ($7), a sweet-and-savory maple bacon ($7), or a classic ($5.50). Because there's something comforting about a grilled cheese sammy on a winter's day -- especially when you pair it with a side of homemade tomato soup.
20 W 50th Street
Start your day with a bit of a splurge. The upscale RCC boasts a seasonally updated menu, which usually features the likes of berry-topped buttermilk pancakes and an egg-and-sausage croissant sandwich served with potato hash ($16-$20). In winter, dine with a front-row view of the ice rink, and ogle a series of Warhol prints inside. Come back when it's warm to dine al fresco in the Summer Garden & Bar. Reservations are recommended (as is the spiced pear Bellini).
152 W 49th Street
If you're looking for a quick dose of real-deal ramen, look no further than this casual Japanese spot. It's located in a prime location for passing tourists, but it appeals to native New Yorkers too -- for a little over $15, you'll have a belly full of spicy miso ramen, tan-tan men, katsu curry, or pan-fried pork gyoza.
Best creative Mexican: Toloache 50
251 W 50th Street
This energetic, two-story Mexican bistro serves up authentic fare that integrates South American and French influences, giving you the chance to branch out from your staple chicken quesadilla order. It's a little pricey ($16 for the carne asada tacos), but on the plus side, they pour over 100 types of tequila and mezcal. And anyway, where else are you getting your ration of chapulines (aka grasshopper tacos)?
1 Rockefeller Plaza
You've burned plenty of calories ice skating (and dodging tourists) to earn yourself a Parisian tart. This renowned French bakery is located in the heart of the Rock Center action, and offers classic desserts including handmade chocolates, pastries, éclairs, and macarons. However you indulge your sweet tooth, the custom-blended coffee is the perfect accompaniment.
Sign up here for our daily NYC email and be the first to get all the food/drink/fun New York has to offer.