Midtown's glitzy new house of fine dining
Situated near both The Plaza and The Paris Theatre in Midtown, Beautique is an appropriately glamorous and glitzy restaurant. It features some fine dining heavy-hitters, including the former Executive Chef of Le Cirque, Craig Hopson, and the James Beard-nominated Mixologist Charlotte Voisey, both of whom're offering their wares in a fashionable space with tattoo-patterned fabric on the bar stools, velvet banquettes, and a mirrored staircase that leads to the dining room/Huggaland!!!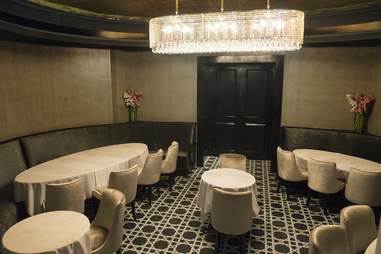 Settle in beneath the gilded ceiling and huge chandelier, and try not to be awkward ordering from their 200-deep wine list.
You don't know five ways to cook anything, but you're about to go in on this mixed grill of lamb, five ways (they're in there somewhere), topped off with olive/mint/caper relish.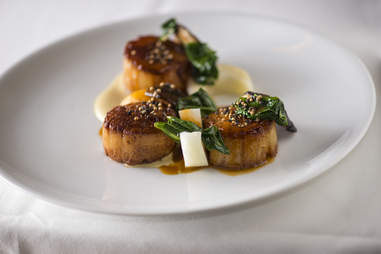 If you're feeling more delicate (or maybe you just want to chase your lamb with something/also feel delicate), get down on the scallops with Diablo sauce, shiitake, turnips, and foie gras sabayon.
This is the pastry chef's take on cereal and milk: it's fried brioche, dark and white caramelized chocolate, and milk sorbet. So yeah, totally just like cereal and milk.
And definitely don't overlook drinks like the La Mexicaine (w/ 1927 Ancho Reyes chile liqueur, tequila, lemon juice, and chili salt), or the simple whiskey, ginger liqueur, and bitters-mixed King of Clubs. Better yet, get 'em both if you're feeling flush.
Andrew Zimmer is Thrillist's NYC Editor and he's constantly on the lookout for cereal-inspired desserts. Follow him on Facebook, Twitter, and Instagram.