This weekend: dim sum brunch with sake bombs and flaming steak
Popular party spot TAO in Midtown is upping its brunch game with the addition of a dim sum brunch, complete with carts, stuff lit on fire, dumplings, and its Downtown-favorite sake bomb plunger. So that you look like you know what you're doing, here're the five things to order right away this weekend.
The Bloody Mary
It's a proper mix of tomato, A1, Worcestershire, Sriracha, and is topped with a shishito pepper. Actually, maybe order more than one of these.
The Sake Bombs
They come FOUR AT A TIME, racked in this contraption that lets you bomb all of them with one push of a button. Be the first to order this for the table, and watch every single other person in the place follow suit.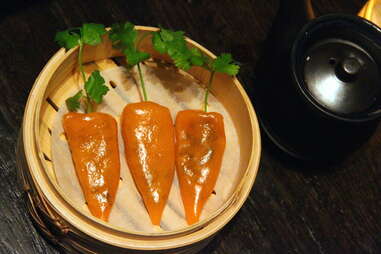 The Dumplings
They're plentiful and they come in quirked-up shapes like these carrot-shaped veggie dumplings (get these), and a shrimp dumpling that's shaped like a little tiny rabbit (get that, too).
The Non-Dumplings
Aside from the roving, flaming kobe cart (pictured above), they've also got some crazy-good (and crazy-sticky) General Tso's-esque chicken wings, ribs, lobster, and shrimp wrapped in noodles, and of course, the pork belly buns. Get them all.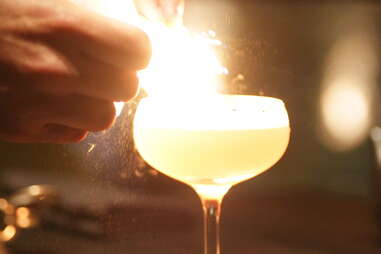 The On-Fire Cocktail
There are a bunch of new drinks (the Mikado Mule is dope, but DON'T GET THAT). Get this one instead: it's called the Royal Rickshaw, and it's basically a Sidecar with Cointreau, D'usse (that's Jay-Z's cognac, in case you were wondering), and yuzu, all lit on fire.
Andrew Zimmer is Thrillist's NYC Editor and he believes all meals should be served in cart-form. Follow him on Twitter and Instagram.