Combining the best parts of endless brunches AND the best parts of hotel buffets: the Waldorf-Astoria, which just dropped an all-time-great $100 buffet brunch (better be, for $100) on the weekends. So get a few people together, make a plan, ignore the fact that you're going to Midtown on a weekend, and mentally prepare yourself to take down 20 lobster tails.
The array is set up like a horseshoe, with seafood, bread, and breakfast on one side, and desserts and more entree-esque eats on the other, with these two chef stations right in the middle -- one whipping up eggs any way you want and the other carving up beef Wellington and legs of lamb.
All of this Champagne can be yours if you want it to be.
Bread is a beautiful thing, and sometimes it's exactly what you want, but when you're dealing with buffets it's important to remember that it can be very filling. Tread lightly here, plate No. 6 isn't going to eat itself.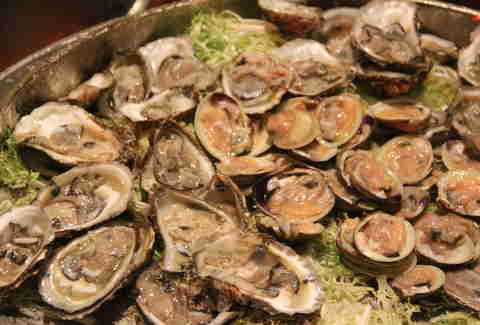 Pay special attention to the raw bar, rocking a billion clams and oysters as well as the Eighth Wonder of the World: a small mountain of lobster tails and claws.
Your first plate should probably look a little something like this: lobster, shrimp, and oysters, along with four different types of caviar and six different types of smoked salmon, including pastrami-style, tequila citrus, and double-smoked.
This is partially breakfast though, so you're gonna need to do a breakfast plate, too, with thick-ass bacon, two types of sausage, pancakes, and eggs. Oh, and go ahead and put some caviar on your eggs, nobody's gonna stop you.
Before you hit the carving-station-point-of-no-return, get a plate of bacon and lobster, and maybe some of the other cured meats.
They make a perfectly good Bloody, too...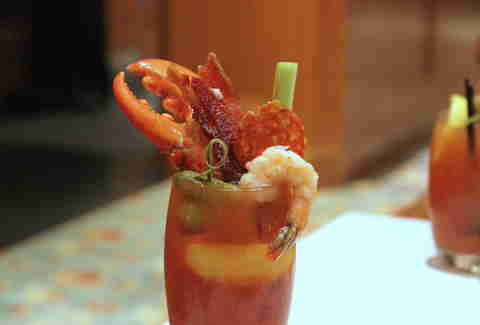 ... that gets even perfecter and gooder with another trip to the buffet.
Remember the dessert side we were talking about? Yeah, there's a chocolate fountain.
And also a Baked Alaska that they torch right in front of you. It's made with honey ice cream (they have beehives on the roof to make the honey) and fresh whipped cream. And if you want to do it all again after this, go ahead, it's a damn buffet.
Sign up here for our daily NYC email and be the first to get all the food/drink/fun New York has to offer.
Andrew Zimmer is Thrillist's New York Editor and he spends too much time strategizing about how to take down a buffet. Follow him on Twitter and Instagram.