Liz Clayman
Liz Clayman
At the newly rebooted Minton's, you're likely to hear some variation of "I don't know if you know where you are right now" whispered from local scenesters to visitors, from older guests to younger kids, from jazz experts to newbies.
To be at Minton's is to stand on hallowed musical ground. The intimate nightclub on West 118th St was founded in 1938 by the saxophonist Henry Minton and played a huge role in the life of modern jazz and in shaping Harlem as a destination for music. Minton wanted a place where his friends could come and hang out, have a bite and a few drinks, and experiment with new music. The club (then known as Minton's Playhouse) was unpretentious and welcoming; a rare spot that granted musicians free rein to play whatever they liked. It attracted young, avant-garde performers who pushed musical boundaries and played new sounds. Bebop was born on the Minton's stage. Musical history was made and made again.
Today, black-and-white photos of the legends who once performed there line the walls: Thelonious Monk, Dizzy Gillespie, Charlie Parker, Duke Ellington, Louis Armstrong, Ella Fitzgerald, Billie Holiday, and Benny Goodman (Kenny Clarke and Thelonious Monk once helmed the house band). "When I got the job, man, I thought I died and went to heaven," says Hill Greene, who played bass in the Minton's 2.0 house band from 2014 to the beginning of 2016. "I was playing with world class musicians every night. We were existing with history."
Throughout the 1940s and '50s and into the 1960s, Minton's was where modern jazz came into its own. It was the epicenter of a lively, creative scene; the who's who of Harlem could be found on the stage or at the tables. Over time, however, jazz became less cutting-edge, and much more of a niche scene. Clubs that were once standing room-only played to smaller and smaller crowds. Jazz clubs shut their doors. Still, Minton's continued to operate as usual -- that is, until 1974, when a fire ravaged the building. Not much of the original interior has survived, with the exception of the colorful 1948 mural behind the stage which depicts four jazz musicians and a woman passed out on a bed. Rumor has it that the woman is Billie Holiday, sleeping off a wild night.
Nearly 40 years later, in 2013, businessman and jazz-lover Richard Parsons and restaurateur Alexander Smalls opened two operations in the old Minton's Playhouse space: a music club -- simply called Minton's -- and a "Afro-Asian-American" restaurant -- called The Cecil -- with a young chef, Joseph "JJ" Johnson, running the kitchens at both. The Cecil received praise almost immediately, so it came as a surprise when it was announced that it would close at the end of 2016 and merge with Minton's, with Johnson bringing much of the restaurant's menu over to the club.
Today -- for the first time ever -- Minton's is just as much about the food as it is the music. "Harlem is becoming a place where people want to live, be, go out, where there's great talent and great food," says Johnson. The new Minton's isn't a museum of its former self; it's a hub of Harlem's vibrant scene today.
"I cook food that tells a story," says Johnson, who found his culinary voice after spending time in Ghana and Senegal. In Africa, he was taken by the heady aromatics and the merging of flavors of the Chinese migrant workers and the Ghanaian cooking traditions. "It was a birthplace for me," he explains. "It birthed me and the food I cook."
Harlem too is a place full of rich culinary influences -- from the American south, the West Indies, West Africa, and beyond. "The cultures of the diaspora live in Harlem and exist through music and through food," says Johnson. "You can't find that anywhere else."
You can't find food like Johnson's anywhere, either. Taking inspiration from his travels in Africa, his grandmother's Caribbean kitchen, and his classical training at the Culinary Institute of America, Johnson has created a menu that's as creative as it is comforting. Take his plump oxtail dumplings, his signature dish at The Cecil. The dumplings arrive in a zingy, creamy green apple curry with a crispy taro chip. The oxtail is a Caribbean staple, the curry is Indian and the dumpling wrapper comes from Chinese tradition. The flavors are familiar, yet together, totally unexpected. His short ribs get braised in palm sugar and onions, then piled on toast with spicy pickled yogurt sprinkled with za'atar. His eight-hour smoked pork ribs are sticky, sweet, and savory with BBQ sauce and scallions, and crunchy from a shower of cashews. His gumbo is a steaming bowl full of smoked chicken, Chinese chicken sausage, gulf shrimp, and crab. There's something extra satisfying about digging into a bowl while listening to a singer croon or a horn trill right in front of you.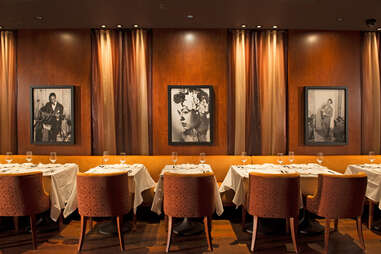 Chef Johnson didn't start out loving jazz -- it was his father's music: "He calls and tells me, do you realize who is playing at Minton's tonight?" But he has come to love the music at Minton's, an expression of the same rich influences that spark his cooking. The experience of Minton's is sensory, visceral, unique to Harlem -- a convergence of big, bold flavors and big, bold music.
"Jazz is part of the African-American soul," says Johnson. Gary Suarez, who books the music at Minton's and runs the front-of-the-house, says "the diversity of what jazz means today matches the diversity of what's going on in the kitchen."
If jazz's zenith -- and Harlem's place as its mecca -- is way behind us, there's a new kind of music and community at Minton's that's relevant now. Other jazz clubs in New York City (especially some of the touristy standbys) may play it safe, but Suarez books musicians who reflect the diversity and energy of "what Harlem looks like today." Emerging artists and jazz heroes alike show up to play. There's the true dandy (inspired by the late 18th- and 19th-century male flamboyant fashionistas) Dandy Wellington and his band holding court at Sunday brunch; the saxophonist Kamasi Washington on a sold-out Friday night; Kristina Koller re-interpreting jazz classics with her silky vocals; plus Latin bands, musicians from nearby Columbia, and jazzy hip-hop. Johnson is being "inventive, creative, and challenging in the kitchen," Suarez says. "We can't have dull music."
The jazz scene in Harlem is "growing to the height of what I imagine it was" back in the original Minton's heyday, says Hill, who's been a professional musician since the 1980s. "There are more shows than I ever remember. The economic situation is improving in Harlem, and there's more room for venue owners to take a chance. There are so many young jazz musicians playing really well."
The new Minton's food and music have roots in its legacy, but live and thrive in 2017 Harlem. "Everything we do is meant to honor the tradition of the place," Suarez explains. Restaurants and music venues don't operate in a vacuum. The neighborhood is an "ecosystem," according to Suarez -- when other places succeed, so does Minton's. The vision is of a new Harlem renaissance, and it's in full swing.
Sign up here for our daily NYC email and be the first to get all the food/drink/fun New York has to offer.
Hannah Howard is a food writer who lives in Brooklyn. Her memoir,
Feast: True Love In and Out of the Kitchen
, is coming out in 2018. Follow her on Instagram and Twitter.