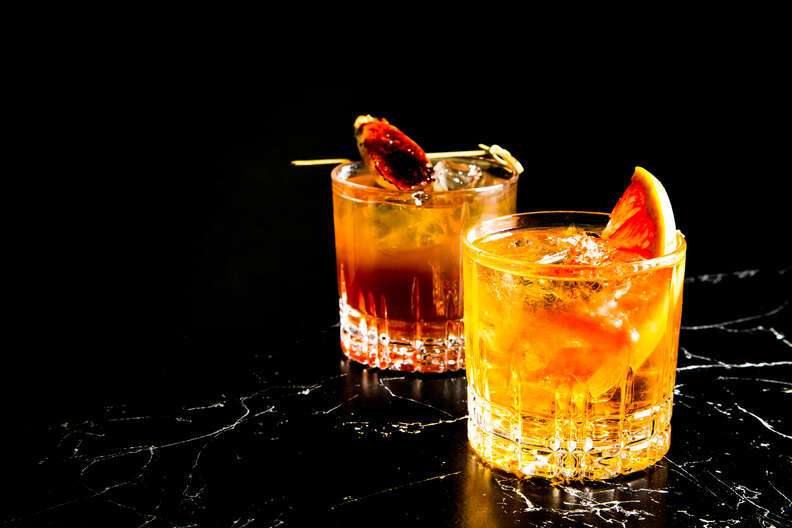 Courtesy of Mister French
The Bowery's newest concept restaurant (i.e., place that serves food, but also does another thing that is not serve food) has thrice-weekly burlesque shows (Sundays at 8:30pm, Tuesdays at 9pm, and Fridays at 11:30pm) alongside French-inflected plates in a 4,600-square-foot, shabby-sleek space. The conceit is sure to get derrières in the seats during those few hours a week, but Mister French can't dine out on décolleté alone.

Fortunately, its cocktail menu is poised for destination status. Getting through the tome is a bit of a slog -- long collections of words read more like lists of active ingredients than descriptions -- but it's a rewarding pursuit. Like finishing Remembrance of Things Past, probably; no one will ever know. The Velours de Whiskey, for example, is delineated in 43 words and one number*. It's whiskey based, with a bite, a lightly caramelized finish, and it's very good. They're clearly having fun with all their spirits here, tinkering with sazeracs and even giving the often unfairly-maligned daiquiri its due. The Charbon Rouge, in particular -- an icy blend of gin, fresh lime juice, and horseradish, with a bracing kick of red habanero and black coffee hot sauce -- is fated to earn a cult following.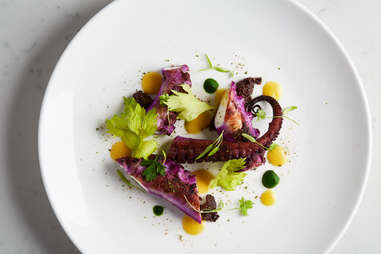 Directeur culinaire David Burke's menu is also as solid as any you'll find at Frenchier restaurants and better than you'll find at concept-ier spots. Recent hits included steak tartare over bone marrow, duck breast cooked to a perfect medium, and halibut livened up by a few bites of lobster and a dollop of caviar. Straight out of Central Casting classics like frog legs and escargots are also available, and the menu sometimes zags from the expected -- pairing bacon au poivre with uni, jalapeño, and sticky rice, and serving overflowing towers of frites in very American quantities.
*westland sherry wood american single malt whiskey, montenegro amaro, giffard banane du brésil liqueur, ancho reyes chile liqueur, giffard vanilla de madagascar barrel-aged balsamic reduction, orange bitters, black walnut bitters, brûléed black walnut bitters and brown sugar banana slice, served on the rocks | 18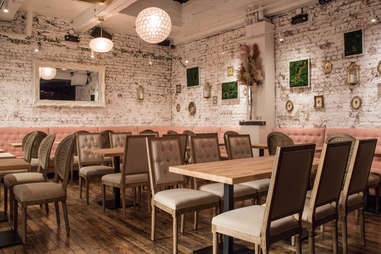 The Mister French Cheat Sheet
Est. December 2, 2019 | Lower East Side
An excellent cocktail destination with Frenchie fare and burlesque flair
The buzz: Featuring burlesque performances on Sunday, Tuesday, and Friday nights, Mister French is the latest addition to David Burke's (mostly) East Coast empire. The celebuchef is locally known for stamping his name on David Burke Tavern, Woodpecker by David Burke, and a smattering of other (now-closed) eponymous spots. He is nationally recognized for his turns on Iron Chef America, and Top Chef Masters. And Burke is internationally... visible for his... flavor sprays.
The vibe: Up front, the long bar and a few high-top tables create a comfortable spot for the drinks-and-snacks-set. The bar area flows into a lively, nouveau bistrot-chic main dining room, which leads to a slightly smaller, marginally more intimate space festooned with faux-flora and a view of the open kitchen.
The food: A satisfying dinner menu often veers from expected French fare. Shared plates include bacon au poivre with uni, jalapeno, and sticky rice alongside standards like frog legs and escargots. Entrees like the simple halibut dressed up with a lobster and caviar garnish, and a perfectly medium duck breast are fun to pair with frites towers in four flavor varieties. And, although its robust ingredient lists can be a bit laborious to scan, Mister French's ambitious cocktails are worth a trip to the Bowery all on their own.
Cost: Cocktails hover around $18. Entrees are priced from $27-$39.
Sign up here for our daily NYC email and be the first to get all the food/drink/fun New York has to offer.