Ssäm Bar Interior

| Eric Medsker
Ssäm Bar Interior

| Eric Medsker
In February of 2009, I got laid off from my job at a food magazine. And by the end of the following month, I found myself working nights in the East Village at Momofuku Ssäm Bar.
My 26-year-old self was extremely proud to call this pioneering and influential restaurant my new workplace. That's because as a Korean-American person who had worked in the New York food world, I had long respected David Chang and the dining empire he had been building. It was impossible not to. And with the constant industry excitement buzzing around him, I was curious to see how I would fit into that universe.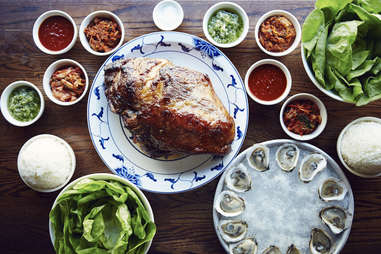 At the time, Ssäm Bar was David Chang's second of three restaurants in the East Village and one of the coolest spots in the city. Opened in 2006 in a corner space that had been vacant for 12 years, what started off as a fast food place for burritos, or ssäm (Korean for wrapped food), became a hit after a popular late-night menu inspired an overhaul on what was being served during regular hours. A three-star New York Times review followed and items like the fried Brussels sprouts and bo ssäm, which had limited availability by reservations only and was the only way to actually secure a reservation, were just a few of the signature dishes that came to define this stylish downtown restaurant.
Here I spent countless hours working, laughing, stressing, and hustling. And with the recent announcement of the restaurant's closure as it relocates to South Street Seaport, I can't help but consider that period as one of my most cherished times in life, both professionally and personally. It was like bootcamp for so much I would experience in the food industry later on.
After the layoff, I had tired of working in a corporate environment and wanted to switch it up and take a break from working another office job. And while I told myself I'd pivot to restaurants, that wasn't entirely true because I didn't want to work at just any one of them -- it had to be Ssäm Bar.
At first, they turned me down for a server gig because I didn't have enough experience. Feeling pretty bummed out, I forged ahead and searched on Craigslist for other restaurant jobs. But after doing a search for Ssäm Bar a week later to see if that server position had been filled, I noticed another job posting for the restaurant. This new one was for a host.
Not wanting to give up just yet, I reached out to the same hiring manager to apply for the host role. I was told there was a runner position I could apply for instead, and while I didn't even know what a runner was at the time, I said yes and was ultimately given a chance to come in for a trail.
And after four days of trailing and placing countless orders of pork buns and spicy pork sausage with rice cakes in front of excited customers, I was hired and officially joined the Ssäm Bar front-of-house team.
From the get-go, working there was exciting. Even when I had only been there as a customer, I always sensed there was something special about that corner East Village space. Its hull-like dining room lined with wood with minimalist design, cramped seating and backless chairs encouraged socializing and people watching. Its size made it intimate, often forcing conversation with the table next to you (over high-decibel '90s hip hop and classic rock). Recognizing a celebrity a few tables away seemed to be a part of the Ssäm Bar experience as well.
This nightly soundtrack of people having the time of their lives wasn't the only thing I enjoyed about working at Ssäm Bar -- there was also the entire front-of-house team as well.
From artists, skateboarders, Ivy League students, and people like me who were just excited to be there, everyone on the front-of-house staff had a really strong work ethic and just gave a shit. Their level of professionalism and care could rival any fine dining restaurant, minus the uniforms and white linens. Some of these alum would later go on to open their own places like Existing Conditions in Greenwich Village and La Cuisine in Naples, Florida.
Behind everyone's unique style and individuality was an expert knowledge in food, wine, and hospitality. Not having a massive dining room allowed me to work closely with the small team on an intimate level, which helped me learn quickly. In no time, I too was expertly swapping out those dirty plates with my eyes closed and a flick of the wrist. I felt like I was part of a team.
After initially starting off as a runner, I eventually worked my way up. Next I became a host (the first ever male to hold that role in Ssäm Bar's history), and then a bartender, server, and eventually a staff captain.
That special dynamic with my coworkers was what kept me grounded back then because the work environment at Ssäm Bar was definitely super intense. During that era, the pressure to maintain its status as an innovator was omnipresent from the moment I clocked in. In our daily service meetings, it seemed like there was always some new piece of press or announcement about Ssäm Bar that had the staff on our toes. Ranking 31 on the World's 50 Best Restaurants list. An upcoming cookbook. Multiple parties of A-list food personalities coming in that night. Three-hour wait times for a table. The popularity of Milk Bar right next door. Nonstop recognition and eyes on the restaurant. The fear of contributing in any way to somehow messing that up drove me to give it my all everyday.
People loved working at Ssäm Bar and didn't leave the restaurant often. I only walked away from one of the best restaurant jobs I knew I would ever have when I decided to get out of New York for a while. Being there on the busy restaurant floor taught me invaluable lessons about dining, human nature, and getting out of my comfort zone to strive for something better. I'll never forget the nearly one and a half years I worked at Ssäm Bar, and its East Village closure is a massive loss for NYC.
Sign up here for our daily NYC email and be the first to get all the food/drink/fun New York has to offer.