Momofuku To Start Selling Bottles of New, Mysterious Chili Sauce
Momofuku plans to start selling bottles of a mysterious new Korean Chili sauce called Ssäm Sauce, according a tweet from the food masterminds on Wednesday.
The sauce is red, it will be spicy (they used the hashtag "feeltheburn"), it comes in a glass 11oz/325ml bottle, and it's coming soon. But in the meantime, you can sign up for email updates on when it will become available at Momofuku's website. ... And that's pretty much all that we know. 
David Chang hinted at what the sauce will be like in an Instagram post, claiming it improves things like pizza, chicken fingers, hamburgers, kale, pork buns, and "it even makes sriracha better," he said. 
When asked by Thrillist for more details -- any details at all! -- about the somewhat-secret sauce, a Momofuku spokesperson would only say it was "developed and made in-house" and that more information will be available online later. Here's a picture of the bottle, though: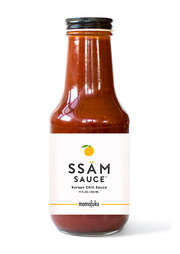 Courtesy of Momofuku
Anyway, it appears you'll soon be able to have a little taste of Momofuku at home, while you bid for a reservation at Momofuku Ko. 
Tony Merevick is Cities News Editor at Thrillist and wouldn't mind expanding his hot sauce collection. You can never have too much hot sauce. Follow him on Twitter @tonymerevick.