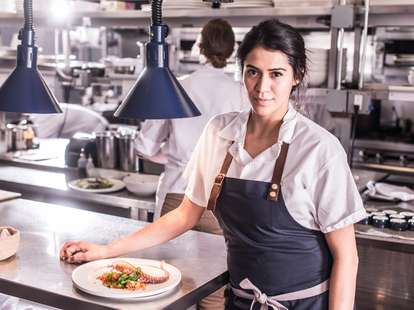 If the modern culinary landscape has taught us anything, it's that women are a force to be reckoned with. But even in an age where there's a totally female-focused food outlet like Cherry Bombe; consecutive women being named editor-in-chief of Food & Wine; and big wins for women at the James Beard awards, female chefs still don't get the same airtime as their male counterparts.
It's high time to bust through the kitchen's glass ceiling. While this list is just a start, these 11 female chefs are obliterating stereotypes and influencing the national culinary landscape from the five boroughs. Some are already household names and powerful players in the industry; the rest are about to take the cooking world by storm.
Daniela Soto-Innes
Flatiron
What were you doing when you were 25? (If our own experience is any clue, it likely had something to do with $1 drafts and a lot of making out.) At that age, very few of us can say that we were featured in a documentary series about powerhouse young women, or had won a James Beard Award. Chef Daniela Soto-Innes can claim both -- she was the subject of the short film La Cocinera, which was screened at the 2016 Tribeca Film Festival, and she took home the award for Rising Star Chef at the 2016 James Beard Awards.

Age has rarely been an issue for Soto-Innes, though it did earn a chuckle from those who inspired her, like a past chef at a Marriott hotel kitchen who spoke at her high school and later (after getting past her youth) took her on as an intern. Since then, she's given a metaphorical middle finger to sexism in the kitchen by turning down work with a male chef who once told her, "We don't hire women." Now, she's chef de cuisine at Enrique Olvera's much-lauded Cosme, where she's cooking upscale, modern Mexican dishes like cobia al pastor, duck carnitas, and spelt esquites.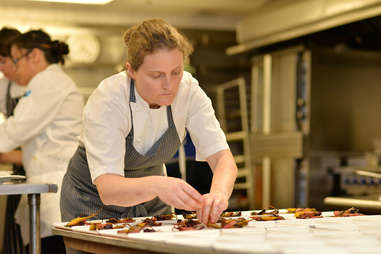 April Bloomfield
The Spotted Pig (address and info), The Breslin Bar & Dining Room (address and info), The John Dory Oyster Bar (address and info), Salvation Burger (address and info), Salvation Taco (address and info), and Tosca Cafe (address and info)
Multiple locations
Some might find it exhausting to read out the names of six separate restaurants, let alone run them. It's no wonder that April Bloomfield was once planning on becoming a police officer; she's an absolute force to be reckoned with. Bloomfield once beat Michael Symon in an Iron Chef competition, was named one of Food & Wine's "Best New Chefs" in 2007 (alas, one of only 44 women to receive the title), and has earned Michelin stars and a James Beard.
A true English "Girl and Her Pig" (borrowing from her 2012 book), Bloomfield and business partner Ken Friedman opened The Spotted Pig over 11 years ago -- a laudable life span in New York's dining scene -- which boasts not just repeated earnings of a Michelin star, but also the title of the city's first-ever gastropub. Her culinary triumphs don't end there; another institution under the Bloomfield-Friedman name, The Breslin Bar & Dining Room, has also received a Michelin star. And with her fast food-inspired joint, Salvation Burger, continuing to earn accolades on a near-weekly basis, it looks like Bloomfield is here to stay for a long while.
Amanda Cohen
Lower East Side
Visit the website for popular vegetarian restaurant Dirt Candy, and above chef/owner Amanda Cohen's bio, in lieu of a headshot, you'll find a Lisa Frank-esque picture of a unicorn. It's a fitting image for Cohen, who has seemingly achieved the impossible: managing a vegetarian restaurant -- one that's been around since 2008 -- that's also a five-time recipient of Michelin stars (one of two within that category in 17 years).

Hailing from Canada, Cohen has perpetually seemed ahead of her time -- first, by showing that vegetarian food can be "cool," and then by making Dirt Candy the very first New York City restaurant to do away with tipping. "I want to pay all my employees a better wage," she's said, and "raise the salaries of all my staff, from my dishwashers to my cooks to my servers."

Oh, and Dirt Candy: A Cookbook is a graphic novel cookbook -- the first of its kind in North America. NBD.
Suchanan Aksornnan (aka "Chef Bao Bao")
Greenpoint 
The fortitude to compete on a show called Knife Fight (on the Esquire Network) is evidence enough of a certain character toughness. But if that's not enough, just check out the Instagram account of Suchanan Aksornnan (better known as Chef Bao Bao): you'll find pictures of her creations at Baoburg, where she's chef/owner, that'll make you want to stuff your face, alongside bikini and workout photos that'll make you want to do hours of Pilates.

Bao Bao was born and raised in Thailand, where she was privy to some of the world's best organic, regional ingredients. Since then, she's cooked for the likes of the Princess of Saudi Arabia and Cameron Diaz, and has worked alongside Jean Georges and Top Chef's Tiffany Derry. Today, her dishes at Baoburg draw influence both from Spanish and Asian cuisines, like Spanish-style garlic shrimp, and four different bao varieties. To those who question the authenticity of such fusion, she says, "Come to Baoburg and I will prove it!"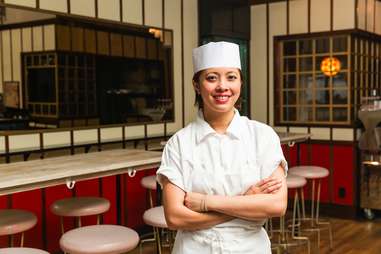 Angela Dimayuga
Lower East Side
Anyone who's spent time in San Francisco knows that Mission Chinese is the stuff of legends. It started as Mission Street Food, with wife-and-husband duo Karen Leibowitz and Anthony Myint selling pork belly & jicama sandwiches from a sub-leased taco cart, and then sharing a kitchen with Lung Shan Restaurant two days a week. Now under the name Mission Chinese Food, and with the long-time partnership of chef/co-owner/mastermind Danny Bowien, the legend is complete thanks to an ever-popular New York location that boasts Angela Dimayuga as executive chef.

Dimayuga is fittingly a California native who's called New York home for nearly a decade now, moving here after college and starting at the very bottom as a line cook at Vinegar Hill House. Today, she's been interviewed by Into The Gloss about her beauty routine and Grub Street for a detailed look into a day in the life as a chef, the latter of which involves her cooking food for the cast of Hamilton with impressive frequency.
Sarah Nelson
Beauty & Essex (address and info) and The Stanton Social (address and info)
Lower East Side
Quality and consistency: it's a culinary intersection that chef Sarah Nelson says many of her New York peers find elusive. But, as she puts it, "I'm not fucking scared!"
Nelson -- in her respective roles as chef de cuisine and executive chef at popular Lower East Side destinations Beauty & Essex and The Stanton Social -- proudly dismantles the stereotypes still attached to female chefs. To start woth, she says, there's no difference between a tough man and a tough woman in the kitchen. "I never accept no as an answer," she says, "and I will never back down." That attitude encompasses her efforts to perpetually challenge herself, the end goal always being great food. She sets expectations high for her staff at both restaurants, as well. She's one of the brains behind the menus (think beer-battered lobster tacos, octopus cassoulet, and brunch offerings that include mini lamb gyros). Not that we needed any further proof of her coolness, but when asked to share a fun fact about herself, she simply replies, "Whiskey. Just whiskey."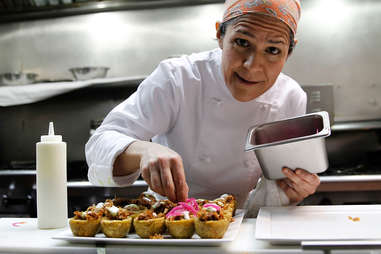 Lucero Martinez
Midtown East 
Add chef Martinez to the list of those who tried following the traditional trajectory, only to reach a point of not being able to deny a love for food any longer. She boasts a degree in graphic design and administrative experience at the Mexican Embassy, but it was in Atlanta where she found her true calling as a prep cook at Bice restaurant. She came without formal training, though, which only aggravated the struggle of working in a male-dominated kitchen, fighting for every shift and ounce of respect she received, and supplementing the little pay with a landscaping job.

Though she still carries an aversion to the scent of freshly cut grass today, Martinez has made impressive strides -- from working her way up to pastry chef at Bice, to opening Atlanta's Zocalo (where she still carries the working titles of executive chef and partner), to most recently being recruited by chef Richard Sandoval to take on the role of executive chef at New York's Pampano. In her latest positions, she's putting her own delicious twist on dishes like risotto with a Mexican corn truffle and manchego, chipotle-miso black cod, and shrimp chicharrónes.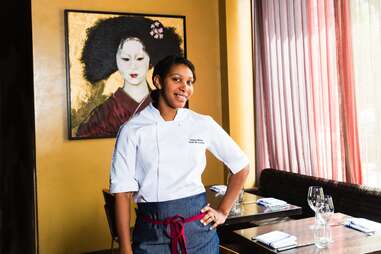 Tiffany Minter
Harlem
Make no mistake: food can be really, really sexy. That's the mission of chef Tiffany Minter, who, in her recent promotion to chef de cuisine at Afro-Asian-American restaurant The Cecil, is working to serve up a menu that's soulful, sensual, and street-inspired -- from braised goat dumplings, to okra fries, to a pick-your-own-toppings-style wok bar.

With an equal appreciation for both street food and plant-based cuisine, chef Minter plays with a broad range of flavors in what she cooks. Her education spans from the Scandinavian technique she learned from Marcus Samuelsson at Aquavit, to the farm-to-table style with which she became enamored while working under April Bloomfield at The Spotted Pig. As a black female chef, she's especially proud to be breaking boundaries in a leadership role inside one of the city's most established kitchens.
Ann Redding
Uncle Boons (address and info) and Mr. Donahue's (address and info)
Nolita
"Heavenly Pig Ears" may sound like something out of a fairy tale, but it's characteristic of the creative, delicious and -- at times -- surprisingly light and refreshing dishes conceptualized by co-chefs/owners Ann Redding and Matt Danzer at Uncle Boons. With an impressive cocktail menu that is rivaled only by an extensive offering of small plates, the Nolita favorite fits into what some might describe as a Thai gastropub, with a menu full of flavors that are at once vigorously green and indulgent.
It makes sense once a little light is shed on the chef/owner duo (who are also married). Danzer was raised in Long Island, while Redding was born in Thailand and spent her childhood there, as well as the Philippines and parts of the US. But the restaurant's influence is no doubt spearheaded by Redding; it's named for her uncle (Boon, of course), who served as an informal family tour guide of never-repetitive edible and drinkable field trips throughout Thailand. Now, the family is growing: the pair's tiny, non-reservation-taking Mr. Donahue's opened on Mott Street in February, offering a menu of upscale takes on such classics as rotisserie chicken, roast beef, and chicken fried pork cheeks.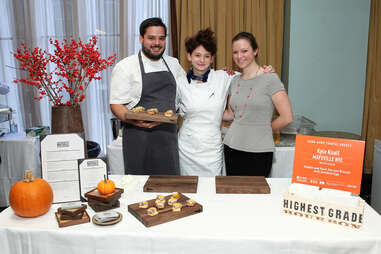 Caroline Schiff
Maysville (address and info) and Kenton's (address and info)
Flatiron and New Orleans
When New York native Caroline Schiff was tasked with compiling a bourbon-centric menu, the result was, essentially, a palatable destruction of the notion that bourbon is a "man's drink," proving that it's something everyone can enjoy in plates and glasses alike. As the head pastry chef at both New York's Maysville and Kenton's in New Orleans, Schiff has created delicious desserts and savory breads that align perfectly with their bourbon pairings.
The only thing that rivals chef Schiff's love for carbs is her love of running. Regularly competing in national marathons makes for great fodder on her Instagram account, with maps of her running routes appearing right next to photos of multi-layer cakes.
Sarah Simmons
Birds & Bubbles (address and info), City Grit (address and info), and Rise (address and info)
Lower East Side, Nolita, and South Carolina
City Grit was a game-changer, not only for female chefs, but for the NYC dining culture at large -- a combination restaurant group/culinary school/up-and-coming chef and restaurant blog, with chef Sarah Simmons as its chief executive officer. Simmons was named one of Food & Wine's 2014 Top 50 Chefs in New York, and also runs the full-service venue Birds & Bubbles (which is exactly what it sounds like: a restaurant solely focused on fried chicken and Champagne), as well as Rise Gourmet Goods and Bakeshop in Columbia, SC. And since she's also speaking on SXSW panels and working on her own product lines as part of the Williams-Sonoma Chefs' Collective, it's clear that chef Simmons is keeping those business acumen muscles flexed.
Sign up here for our daily NYC email and be the first to get all the food/drink/fun New York has to offer.
Amanda Zantal-Wiener is a writer, editor, and small business owner whose love for food is only slightly trumped by a love for oxygen. Follow this Greek Jew on Instagram and Twitter.