Sure, NYC eats its fair share of healthy stuff (street pretzels… with the salt crystals scraped off!!), but that doesn't mean we're afraid to get our hands dirty with some of the most massively decadent foodstuffs on the planet. With 2013 now officially put to bed, we take a look back at some of the best, with NYC's Year In Fat.
The Frozen S'more
Dominique Ansel Bakery, Soho
Approximate Calorie Count: 341
It might have been the year of the Cronut for Dominique Ansel Bakery, but the Frozen S'more was the king of snacks in our opinion, with chewy Turkish ice cream inside (yes, chewy ice cream -- Google "dondurma"), surrounded by crispy chocolate wafers, and then surrounded again in a marshmallow that gets blowtorched right in front of you.

Doritos Kimchee Carbonara
King Noodle, East Williamsburg
Approximate Calorie Count: 455
A mind-melting concoction of Asian, Italian, and American snack food, this Nacho Cheese Doritos-filled bowl of noodles is also packed with lo mein, bacon, and, ugh, the occasional veggie.

Turkey and Gravy-Stuffed Donuts
Zucker Bakery, East Village
Approximate Calorie Count: 496
Thanksgivukkah comes once every 28,000 gajillion years, and with it comes semi-savory donuts that're stuffed with turkey and gravy. And one more time for the people in back: SEMI-SAVORY DONUTS STUFFED WITH TURKEY AND GRAVY.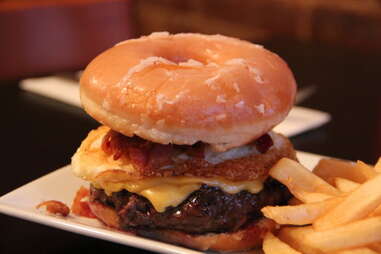 Donut Burger
Burger Bistro, Upper East Side
Approximate Calorie Count: 637
They let you create your own burger out of their many, many ingredients here, but if they've got donuts (sometimes you can call ahead), this is the way to go, along with a fried egg, crumbled bacon, and cheese, if for no other reason than to say you've done it. (And it's actually delicious.)

The Giant Pretzel
Reichenbach Hall, Midtown West
Approximate Calorie Count: 1023
It's like a a doughy, chewy, warm German pretzel, only it's the size of your ENTIRE torso.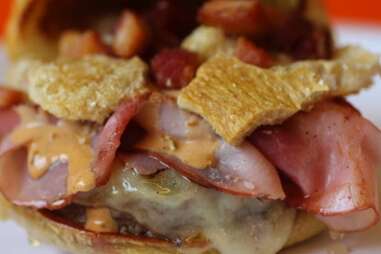 El Perro Perdido
Los Perros Locos, Lower East SIde
Approximate Calorie Count: 1067
The Monte Cristo of hot dogs, this bad boy rocks a deep-fried French toast bun, strawberry ancho jam, smoked ham, and melted Swiss. Go ahead and add deep-fried bacon cubes... you know you want to.

Salted Caramel Angry Lobster Fatty Melt
Hudson Common, Midtown West
Approximate Calorie Count: 1253
Unfortunately, it was only available for National Grilled Cheese Day, but this craziness was a sight to behold at Hudson Common, with red chili chipotle lobster salad nestled between two grilled cheese sandwiches, then stuffed with cheddar curds, smoked ricotta, Gouda, Tickler cheddar, fromage blanc, and Prairie Breeze cheddar a shload of cheese, and finally topped -- like everything should be -- with a drizzling of salted caramel.

The Footlong Lobster Roll
Cull & Pistol, Meatpacking District
Approximate Calorie Count: 1595
Maybe the most amazing thing ever, this guy featured a half-pound of mostly claw and tail meat, which was drenched in 2oz of "lobster butter" (which's created in part by cooking down a really rich brandied lobster stock), and all piled into a toasted and buttered footlong roll.

Giant Chicken Parm
Quality Italian, Midtown West
Approximate Calorie Count: 1962
Never again will you be satisfied with a pizza made out of boring dough! Long live meat pizza!

The Beast Of Midtown East
The Pullman Kitchen, Midtown East
Approximate Calorie Count: 1988
This challenge-sandwich boasts a boatload of layers, including bacon, fried chicken, two waffles, and a crap-load of other goodness that all works surprisingly well together.