Finding a date in New York City is an accomplishment, so if you've gotten that far, kudos to you. The next challenge is finding somewhere suitable to take them. Your go-to dive bar might do two-for-one shots and dollar hot dogs, but that's probably not going to impress your date (but hey, if it does, you're onto a winner). Neither do you want somewhere sickeningly mushy, where guys try to sell red roses between each performance by the barbershop quartet. That's why we've compiled a list of the 13 most romantic restaurants in New York, perfectly matched to date night.
Recommended Video
The 'Black Mirror' Killer Pizza Truck Is Real Now, Thanks To Pizza Hut
Greenpoint
Few things are more romantic than reading a long list of wines surrounded by leather-bound books and candlelight. That's exactly what you get in the exposed interiors of this cozy Brooklyn Italian-American restaurant. Buffalo mozzarella panzanella followed by mushroom and walnut pasta all but guarantee a successful night out, in at least one respect.
Williamsburg
Zenkichi has romantic and discreet down pat, with each diner in their own tatami-curtained private booth. The restaurant is tucked behind an unmarked door on an obscure Williamsburg side street, and inside it's just as mysterious, with dark woods, soft jazz, and hushed tones. A lavish omakase menu, or a selection of sake and shared plates, won't hurt, either.
Astoria
Oysters and artfully crafted cocktails give this Queens hideaway a romantic edge, complemented by vintage Edison bulbs and a subway-tile floor. The expert bartenders fit the part, sporting mustaches and suspenders, and concocting seductive drinks like the Blood Moon, with Espolon tequila, cassis, ginger beer and bitters.
Nolita
Peasant is a staple for New York City date nights, probably because homemade pastas and wood-oven pizzas served by candlelight are a sure-fire romantic hit. For a light bite, head down to the wine room and match a bottle of Italian wine with heaving plate of meat and cheese.
West Village
Elegant and historic, this 1767 carriage house-turned-restaurant is one of New York's most memorable romantic restaurants. Exposed brick and hardwood floors tickle even the most hardened New Yorkers, and a seven-course tasting menu with rack of lamb and beef Wellington seals the deal. Unless you're vegetarian. But in that case, there's a vegetarian tasting menu. Fun fact to wow your date: The carriage house was owned by former Vice President Aaron Burr, the gent who put a bullet through Alexander Hamilton.
Dumbo
While they probably wouldn't describe themselves as fancy-shmancy (they're far too fancy-shmancy for that), the River Café is one of New York's most refined dining experiences. Dress in your Sunday best and brace yourself for views of the Hudson River, Brooklyn Bridge, and Manhattan skyline. The views alone are enough to woo most mortals, but the menu is peppered with enough turn-on words (oysters, handmade gnocchi, bone-marrow Duchess potato) to send you and your date into dining bliss.
East Village
When a restaurant in New York City is around for more than 20 years, it's safe to say it can teach local couples a thing or two about commitment. Not only has Il Buco stood the test of time, it's still one of the toughest tables to book. This tried-and-true New York City legend tops the romance charts with flickering candles, shadowy nooks, and bottles of wine tucked into every possible cranny.
West Village
Anything with "wine bar" in the title has romance baked right in, but this newcomer to New York is taking date-friendly to another level with a Southern French vibe. Rustic wood, candles, and an all-French wine list that serves 45 selections by the glass to pair with Provençal favorites. For dessert, consider the heart-shaped Tropézienne tart. It's shaped like a heart, and it rhymes, so it's basically doing the work for you.
Upper East Side
The latest restaurant by David Burke is set in an Upper East Side townhouse, so if your date goes really well you two can start talking real estate fantasies, the ultimate in NYC foreplay. And there's a fair chance you will hit it off, thanks to the intimate dining atmosphere, open fireplace, and a dessert menu with shareables like the cheesecake lollipop tree or the blueberry baked Alaska.
Greenwich Village
Inspired by the image of the Japanese moga (modern woman), Bar Moga is all about sex appeal, open romance, and hedonism, as was experienced by the "flappers of Japan" in the 1920s. Inside, you'll find sultry images of Japanese women hanging on the walls above deep red leather seats. The small plates are perfect for sharing, while cocktails offer Japanese twists on American classics, like the Devil's Pocketwatch with scotch, sweet potato shochu, apricot, and pistachio-cranberry maple.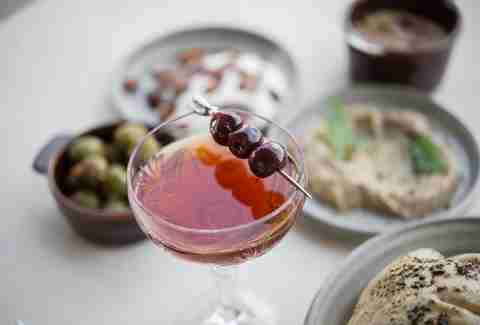 East Village
The speakeasy craze is cooling, but their vibe remains perpetually romantic. This secluded hideaway is perfect for canoodling couples, tucked in the back of the Garret East. The restaurant has only 19 seats, in concealed, dimly-lit alcoves. On the menu, you'll find custom cocktails and creative dishes like braised short ribs with sweet potato and orange puree, wasabi, and fennel.
Dumbo
Right on the Dumbo waterfront, this brand-new Mediterranean restaurant sports killer skyline views through a wall of full-length windows. Sip on a signature cocktail, like the Magnetic Dance (with Salmiana mezcal, agave gin, crème de violette , and lime cordial), while sharing traditional mezze. A wood-burning grill warms the space while couples gaze out over not one, but two mighty bridges.
Midtown East
With two fireplaces and a roster of cocktails crafted with Scottish Highland whiskys, this Midtown restaurant is a choice spot to hunker down with someone special as the nights draw in. The menu covers all bases with steaks, seafood, and salads, while a live jazz band gives a glimpse of old-world New York.
Sign up here for our daily NYC email and be the first to get all the food/drink/fun New York has to offer.