Is New York actually romantic? A long tradition of movies make it seem like the city's all meeting on bridges and Matthew McConaughey picking you up for a diamond party on a motorcycle, but the reality's a little more… real. On the subway, for instance, you're just as likely to get spit on by a stranger as you are to look up and lock eyes with your future spouse.
That's not to say romance can't be found in New York City. Whether you're moving in together, celebrating a big anniversary, or just want to impress the crush you've been DMing for three weeks, the right restaurant is out there -- if you know where to find it. To help, like Cupid, I've rounded up 12 of the most romantic spots in the city. Just remember, real romance nowadays isn't just white tablecloths and prix fixe menus and candlelight. It's putting your phone on Do Not Disturb.
Gowanus
Ever since this Oaxacan spot got a Michelin star, your girl can't even get a seat at the bar. I'm not mad, though, since the star is well-deserved. The space is dark and intimate, the food is consistently delicious, and the bartender's always ready with an excellent recommendation. The small menu allows you to be confident and adventurous: Order the tongue, or the goat, or the pork cheek. It all pairs perfectly with the mezcal selections that'll make your mouths taste like smoke when you kiss at the end of the night.
Lower East Side
This oyster bar is always packed and noisy, so you'll be huddled close together while you slurp 'em down. Lots of small plates -- calamari, pâté, tartare -- allow you to share the love while sipping on your (extremely Instagrammable) pisco sours or pink negronis. This spot's a little more relaxed than some of the other restaurants on this list, so you can enjoy the oysters and ambiance without feeling anxious about spilling mignonette sauce all over your clothes.
SoHo
French food is romance, and Le Coucou does it up decadently. The restaurant itself is dim and hushed -- ideal for declarations of love. With candles on the tables and caviar in Champagne beurre blanc, it's the place to pick for celebrating, apologizing, or just showing off. Vegetarians may find it hard to order, as "tout le lapin" (translation: all of the rabbit) and pigeon are both on the menu. Some New Yorkers, however, may choose to make a meat exception to exact a brief, sweet revenge against pigeons.
Park Slope
If French food is romance, omakase is sex. Rich, slippery uni; fat, pink tuna; the taste of the ocean in a scallop, urged open. Omakase, roughly translated, means "I leave it to you," and Sushi Katsuei does the prix-fixe, chef-directed menu right, with an affordable-ish menu ($72/pp) of sushi and sashimi. You can order a la carte, too, but where's the spontaneity in that? If you're still hungry after, do what my husband and I do: Stop by the closest pizza shop for a couple of slices and scarf them down on the street.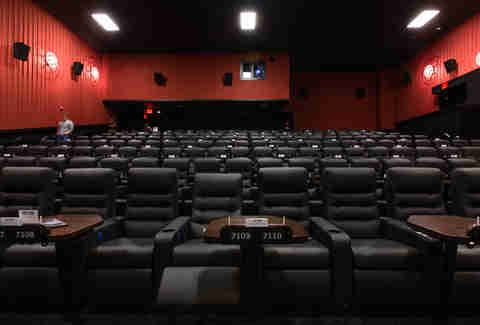 Downtown Brooklyn
It doesn't get more classic than dinner-and-a-movie, and Alamo combines the two. Choose a romantic movie, order from their legitimately good menu, and let date night begin. Make sure to get the truffle parmesan popcorn -- there's nothing like the high school thrill of your fingers meeting in the bottom of the bowl. Nitehawk Cinema offers a similar experience (and, often, a more interesting film selection), but I'm skipping their theaters until they let you pick your seats. It's 2019 -- if we must live in the dystopian future, we should at least be freed from having to wait in line for a movie.
TriBeCa
Located inside the Greenwich Hotel, this rustic Italian restaurant has long tables, a stone fireplace, and lots of opportunities to eat black truffles. Get a seat by the huge windows looking out at the courtyard and pretend you're in Italy, not downtown Manhattan. The vibe at Locanda Verde is pretty relaxed, considering the prices ($72 for a chicken for two), so go ahead and loosen your tie. If all goes well, there's always the possibility of hotel sex: so many mirrors!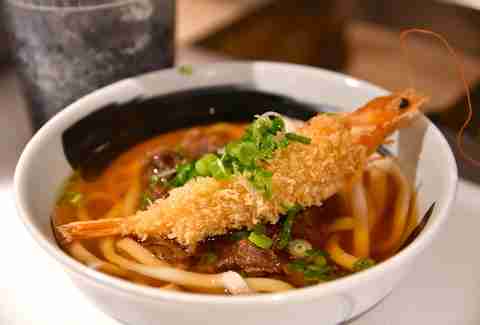 Sunset Park
This 20,000-square-foot market in Industry City isn't a sit-down restaurant, but it's still one of the most romantic places to share a meal. With takoyaki and udon stalls, fish and meat vendors, and a grocery store full of Japanese treats, it allows you to wander together, sampling new or familiar things. Take turns choosing, load up your arms with your haul, and share it in one of Industry City's courtyards. The place is always bustling, but that just means you'll have to hold hands.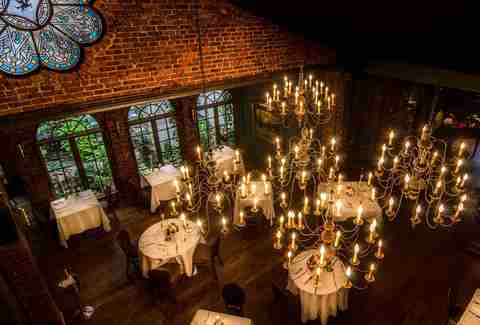 West Village
One if By Land is on every Most Romantic list, and for good reason: If you're looking for a spot to drop a diamond ring in a champagne flute, you've found it. With a tasting menu, white linens, and an almost-guaranteed front row view of proposals, One if By Land screams romance. The carriage house-cum-restaurant is allegedly haunted by former owner Aaron Burr, so if you can score tickets to Hamilton after your reservations, you'll have successfully pulled off the Best Date Ever.
West Village
I happen to believe that John's has the best slice in the city, which already pushes this pizza shop into aphrodisiac territory. Add in the smell of burst tomatoes and small wooden benches carved with thousands of names, and you've got real affection without all of the fuss. Bring a pen knife to carve your initials (just don't get caught, and if you do -- you didn't hear it from me). If you go on a Saturday night, you might have to wait in line, but why not make a little time for love in the middle of the week?
Upper West Side
This mediterranean lounge feels like a secret, as it's not immediately easy to spot from the street; just head down the rose-petal-strewn stairs and into the cave-like dining room, which is lit with candles and red lanterns. Try the baked dates, stuffed with almonds and bacon, and the firm, salty halloumi. It's a little on-the-nose, romance wise, but that's part of its charm. Lean into the feeling, order a Scheherazade -- with rye whiskey and peychaud's bitters -- and start spilling your most intimate secrets.
Brooklyn Heights
This authentic red sauce joint has been open since 1958, and it shows. It's got white linen tablecloths, flower arrangements on every table, bowing waiters, and Amore piped into the bathroom stereo. Is it cheesy? Yeah, maybe, but it's also eye-wateringly delicious and romantic in an old-fashioned sort of way. It doesn't have square ice cubes or expensive light fixtures, but it inspires real closeness with your companion. Order off the huge list of specials or split a plate of spaghetti and meatballs, Lady and the Tramp style.
Red Hook
The Brooklyn Ikea is like New York Presbyterian for committed relationships. You go there to die, or -- miracle! -- to be born. Take the ferry to Red Hook, make out on a couple of mattresses, and feel superior to the couples who are whisper-arguing about whether the Fjӓllbo will fit in their living room. When you're finished, eat some sweet-ish Swedish meatballs (they really are good, and flecked with lingonberries) and some of the fussy pink almond fondant cakes. After, take a long stroll by the water before popping the question: Will you delete your dating apps with me?
Sign up here for our daily NYC email and be the first to get all the food/drink/fun New York has to offer.