Move over Texas, Memphis, and KC: New York-style BBQ is now a very real thing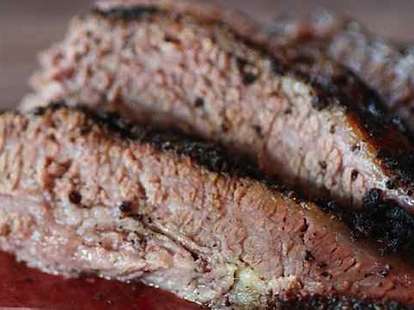 Brisket, ribs, pulled pork… goat's neck? That's just what your menu might look like at an East Village BBQ joint these days. NY BBQ has arrived, and it's still got the bone in it, so you can tell that it's definitely a neck. While militant traditionalists will always be standing next to a pile of hickory waiting to tell you that nobody in the North can 'cue, New York is establishing itself as a legitimate national BBQ player one huge beef rib at a time. But, perhaps more importantly, the city's chefs are collectively developing a style that's uniquely New York, even if they don't realize it. Thanks to that goat neck with Punjabi spices, or a Greek-tinged smoked leg of lamb with smoked paprika and mint sauce, and a glazed and smoked boneless pork shoulder char siu marinated in soy, ginger, five spice, and bean paste, New York BBQ is absolutely emerging as a reality, and everyone in the scene is a part of it, whether they want to admit it or not.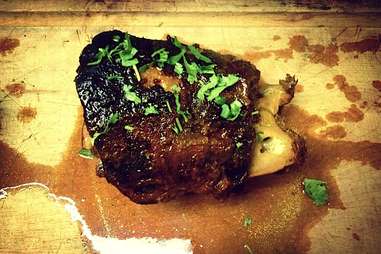 The boom didn't begin all that long ago. Hill Country, that briskety building block, has only been punching sauce-covered tickets since 2007. Daisy May's didn't give people a reason to go to 11th Ave until '03. Danny Meyer's Blue Smoke blazed the smoky trail the year before that in March 2002. Those, along with Dinosaur BBQ, plus the dearly departed RUB and Rack & Soul, represented just the initial wave: highly traditional cooking done in a way that got the job done for all but the pickiest homesick Texans and Kansas Citians, but didn't really attempt to define New York 'cue culture on its own.

"Most of the big name barbecue places you find in the city", says Chef Jonathan VanSleet of MexiBBQ, who goes offbeat by smoking his tequila-, chicken stock-, and cumin-seasoned briskets higher and faster than the norm, before pulling them out and braising them, a truly unconventional maneuver. "are big companies with big dollars who went out and said, 'Let's get a chef who grew up in these barbecue pits and rib shacks down South, and bring them to New York and let them run wild.'" And because said pro transplants were ascribed to a certain style already, when they veered too far from traditionalism, it was usually rebuffed as antithetically fancy or dangerously inauthentic.
"Blue Smoke tried to do smoky foie gras dishes and people said they were too highfalutin," claims Matt Fisher from Fletcher's Brooklyn BBQ, a recently opened NY shop that professes to be doing "Brooklyn-style BBQ". "And when Daisy May's opened Adam [Perry Lang] put his apple brandy side dish on there and people were like, 'Ewww fancy… you're polluting BBQ.' But everything else they were doing was right on. Oklahoma-style beef rib at Daisy May's, and salt and pepper back ribs at Blue Smoke were on the money." So the boom continued, with a search for authenticity that would provide validation, which would, in turn, keep people plowing through Handi Wipes.

But any boom eventually produces the need to set oneself apart from the next guy -- for reasons both inherently creative and bottom-line -- and that's responsible more than anything else for the developing NY scene. That drive starts with even the simplest things, like one you wouldn't necessarily think of as hugely important in BBQ: presentation. Paper plates? Out. It's small, but it's also symptomatic -- you know you're not in the South anymore, "getting the plate with everything just smashed on there", quips VanSleet. "In New York, it's a little different because you're going to restaurants and you're sitting down and the chef is preparing this plate."
Next, of course, comes the food that goes on those non-paper plates. Fisher looks at Fatty 'Cue, launched by Zak Pelaccio and Queens-born pitmaster Robbie Richter (who also helped start Hill Country) as a smoking-focused follow-up to West Village Southeast Asian snack-shack Fatty Crab, and says, "They broke the door down a little and said, 'Listen, you can take traditional BBQ technique and really go far out with it.' And then people started thinking, 'Whoa, I can break from tradition, too. I can do things.' I don't think of it as competition, I think of it as inspiration." He's not the only one who mentioned 'Cue as a BBQ bellwether, and Fatty's current exec chef Anthony Masters is happy to hold that mantle.

"We were going to do something that was totally unique and I'm happy that's contributing to other people's thought processes and they're opening places and using us as a guide," says Masters. "We didn't start out to do any specific style of barbecue, we just wanted to do food that tasted really good like Fatty Crab was doing, Southeast Asian stuff… but if we can be seen as the starting point for [innovation], I think that's a wonderful thing."
Of course, the best person to inspire is yourself. "We're using all the different ingredients with our newer dishes, we're doing more market stuff, more local stuff, introducing that and trying to meld it to the Southeast Asian flavors we use," he continues. Those market flavors are the core of what's building the legs for the table that will one day host a legitimately New Yorky BBQ feast. As the continuing flight from tradition dovetails with other general restaurant world trends, NY's 'cue kings are going local like everyone else. That, of course, means sourcing beef and pork from nearby, but it also follows that the local market is the go-to place for the spices that go into rubs and sauces. If you live or run a restaurant in Astoria, you're going to be a lot closer to Greek seasonings than someone who buys their Punjabi spices around the corner from their place in Jackson Heights.

This actually nuzzles against BBQ tradition more than one might ever think. Age-old styles developed in their steadfastly unique ways precisely because the stuff the other guys used wasn't available near them. "Whether it was down South, where it was a lot of African slaves on plantations using Native American techniques to cook the pork that would come from Europe, or whether it was the German families in Texas," says Will Horowitz from the boundary-pushing East Village goat-neck provider Ducks Eatery, which also trades in dry-aged and cured fish and spends plenty of time at Russ & Daughters picking up smoked salmon. "It's the same thing here, but times hundreds, because of all the different cultures we do have here -- it's the most ethnically diverse place on earth."

Considering the pure abundance of other cultures rubbing up against each other, plus the ready availability of their raw materials, this unhinged flavor evolution was basically inevitable. "If you're a serious eater," declares Fisher, "which I think you have to be as a cook, you can't help but go from a Turkish kebab, to a Malay curry [spot], to a dim sum parlor. Those flavors linger, and they're available in the markets that we shop in. So you get fresh dried chili in Astoria, and you can get goat, and you go from Mexican grocer to a Middle Eastern butcher, and suddenly you throw that into your pit with local wood, maybe hickory or oak, from your backyard."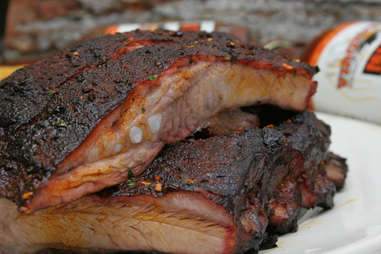 They're also free to play with different cuts and meats. Whereas North Carolina centers around pig, and Texas is the home of beef, New York's pitmen draw from all over the place, much like that goat's neck it's impossible to not keep coming back to. To wit: John Zervoulakos of The Strand -- who believes "there can be a NY-style BBQ, I think it's starting to develop" -- is doing out-of-the-box cuts like sweetbreads and beef cheeks, while also incorporating his roots (and Astoria) with a smoked leg of lamb prepared with a smoked paprika mint yogurt sauce. "[Suddenly] you're cooking BBQ in a way that they never would have in Texas or Missouri," says Fisher, "but you're doing it the same way they did, which is with local ingredients, with local wood, low and slow."
Daniel Delaney, of hardcore authentic Texas-styler BrisketTown/ Delaney BBQ, feels that bare minimum should be required. "It should be done primarily via smoke, and often with indirect heat." But after that, things get hazy. "Is Philip Glass classical music? There're a lot of people that want to lump him into that category, but I'm sure there's a much bigger and broader group of people that are just fine calling Tchaikovsky and Beethoven and Mozart classical musicians, and calling Philip Glass a contemporary, modern musician. And that's ok. I just fall into a much more traditional camp."
While Neal Corman of Virgil's is one of the 'masters who doesn't feel that NY BBQ is a real thing, he remembers "when Jean-Georges Vongerichten did French and Thai. So he stays true to it and he's the first over the hill, so if anyone else does it, then it's Jean-Georges style. And people were saying, you know, French-Thai is kind of East Coast New York." And obviously this city is capable of co-opting anything, pilfering it from its source and only sometimes caring to look back, when a new culinary trend calls for it. Just look at pizza: it obviously wasn't invented in NYC, but a century or two later, if it's not New York, then what the hell is?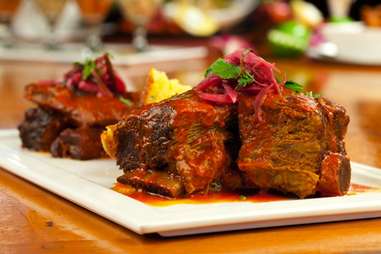 Corman goes on, saying, "It's great that there are different places, and I love it, but I don't know if I'd consider it New York barbecue. Everyone is entitled to their opinion, it's just that I see it as barbecue originated somewhere else and I know we can appropriate things and change stuff around, but I just don't see it as being an original specialty."

"Like pork roast?" he continues. "That's not New York. But can I attribute corned beef? Can I attribute pastrami? Yeah, I kind of do. It's been there long enough. Down the road, if everybody linked on to a certain genre of how they're doing barbecue, then it could be identified with how New York interprets barbecue and there'd be some sort of synergy. It's too fragmented now. I really don't know if there is a pure New York-style barbecue that's definitively different from other regions."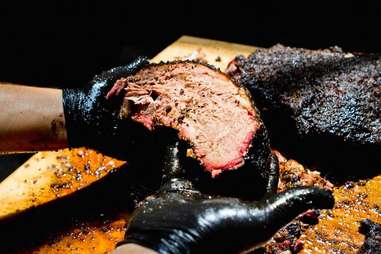 Maybe not. At least not something that's codified and culturally ingrained, like a Texas salt & pepper rub or pulled pork with a vinegar-based sauce in the Carolinas. And if that's indeed what comprises a regional style, then Corman's right. But nobody can deny that there's an incredibly unique and exciting scene composed of a group of people and restaurants making traditional BBQ better than NY has seen in the past, and others pushing the boundaries of what BBQ even is. Maybe it's not a style, and maybe it shouldn't be -- there's certainly an argument that said style could stifle all this delicious innovation altogether.

But, most importantly, let's not forget what all of this is about in the first place: "There's good barbecue and bad barbecue," says Delaney. "Regardless or whatever reason or style you say it is, at the end of the day it's either good or bad. The rest is just bullshit."