Fatburger finally arrives in NYC
The NYC fast casual burger space (Shake Shack, Five Guys, Schnipper's, etc...) just got a lot more crowded, and not just because everyone is getting fat from eating tons of burgers. It's here: the very first NYC edition of West Coast heavy-hitter and Ice Cube day-maker Fatburger, which brought the very recipe they've been rocking since founder Lovie Yancy started slinging the patties to musicians in the '40s.
West Coasters may feel a little lost, as this doesn't look like the ones out there. It's optimized for comfort and homey-ness with pictures of the original spots throughout, and... exposed ductwork! Plus, it's got a bar.
Here's their standard burger. It's called the Medium, but they must have used the same guy who names sodas at the movies. All burgers come topped (unless otherwise specified) with the works (not included in the works -- egg, bacon, guac, and other goods) layered in such a way as to make each bite optimized for flavor.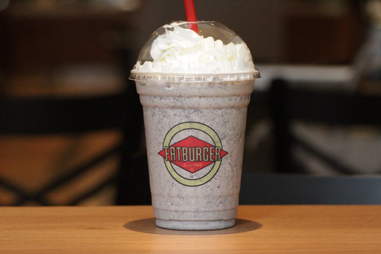 Wash it down with an Oreos and cream shake.
And side it with some chili cheese fries, thick cut or regular.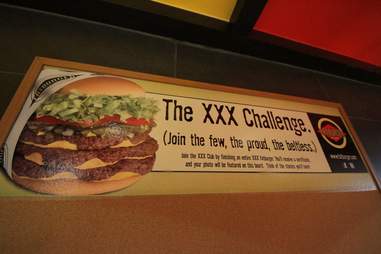 Or skip directly to The XXX Challenge, which dares you to take down their XXXL burger: three patties and 24oz worth of delicious, intimidating beef, which, if consumed, will secure you a place on their wall and the eternal adulation of giant burger fans everywhere.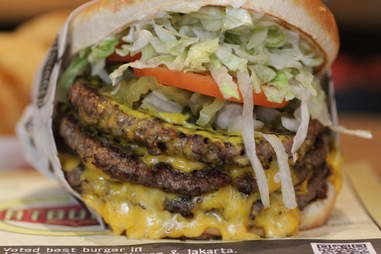 That's right -- delicious and intimidating.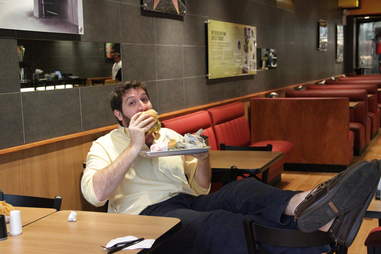 But being the first person to do it in NYC was too much of a temptation to pass up.
About 30mins later, I'm almost done. That last bite there is actually about the size of one whole medium burger. Some pro tips: 1) if you do it, do it early in the day, skip breakfast, 2) don't fill up on liquids, even water, and 3) don't, under any circumstances, have any fries. Go all burger, all the time and you should be able to conquer this bad boy. Also, being 6'6'' doesn't hurt.
If you dominate it, they present you with this certificate and a place on the Wall of Fame.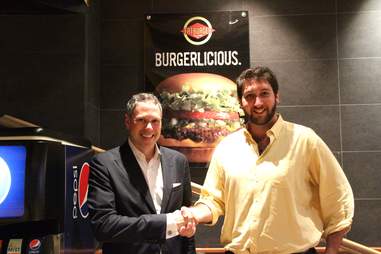 And, if he's there, maybe a handshake from the CEO as well.