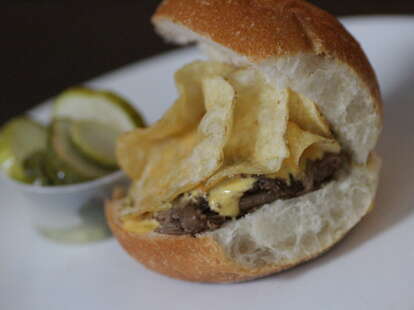 After creating buzz and full stomachs via the NYC outdoor-market scene (DeKalb, Madison Square...) for a couple of years, Mayhem & Stout finally has a sedentary location from which to sling their delicious braised-meat sandwiches and inventive sauces, amongst very excellent meat pun posters including "Braised by Wolves" and "Braised and Confused" joints. We'll just assume the "Maybe I'm a Braised" one is in the works.You fill yourself up like this: either go with their recommended combos (none of which include actual Combos, somehow), or build your sandwich from the Caputo bun up by choosing from their braised chicken, lamb, pork, and short-rib brisket, then adding one of 10 rotating "BBQ-y" sauces (plus, a one-time-only "sauce of the week"), and other toppings like pickled onions, 'slaw, and kettle chips.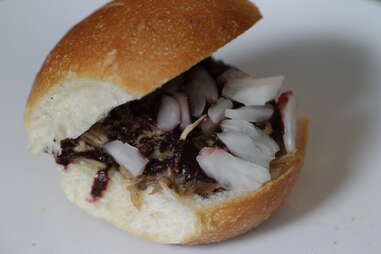 Now let's talk about their recs. This is the brisket with blueberry Sriracha and pickled onions -- be sure to keep an eye out for maple brown sugar Sriracha once blueberries go out of season.
A brand new addition is the Buffalo chicken sandwich with Buffalo vinaigrette, blue cheese aioli, and pickled celery. You'll basically want to order 1000 of these come football season.
The sandwich that inspired it all: it's based on the Chicago Italian beef, a sandwich they feel has just the right amount of vinegar to cut the fattiness of the meat. It's packed with what's basically antipasto, that brisket, and red wine "vinyayo". That's right: they combined vinaigrette and mayo.
Their most popular combo is a hero packed with braised pork shoulder and topped with spicy coleslaw and an Asian-inspired slather loaded with 20 secret ingredients called Dragon Sauce. Get a double order and beat 'em up.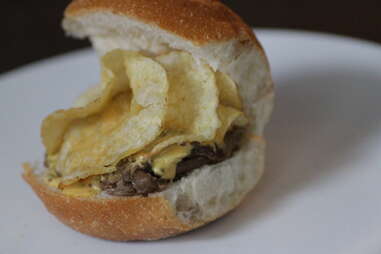 They're not short on short-rib options. This one, though, is artfully decked with their mustard-based Golden BBQ sauce, and topped with kettle chips, something that you can, and honestly should, do with every one of these sandwiches.