This massive new bistro in the former Hurricane Club space looks sorta like a giant, indoor courtyard -- there's a bar up front, plus three distinct dining areas, all manned by Chef Craig Koketsu and Michael Stillman (of Quality Meats and Quality Italian... giant chicken parm anyone?), who're now feeding lively diners with epic eats and top-notch cocktails developed by Clover Club veteran Bryan Schneider. Check out the goods: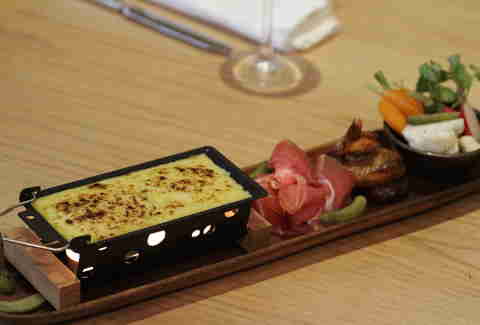 100% start your meal with the Raclette service. They'll bring out a small tray filled with cheese, a board of cured meats, veggies, and potatoes for dipping, and then place the cheese over a few candles so it gets as bubbly and warm as that girl you kinda hate but can't give a good reason why.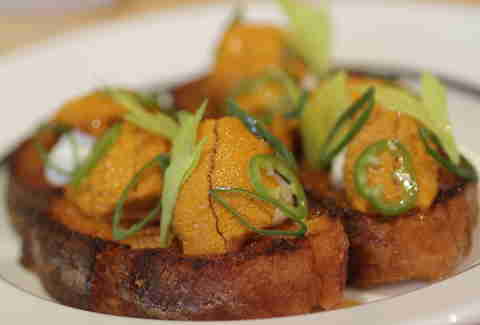 Also consider (read: "order two of") the uni toast -- its richness goes excellently with the crunch of thick slices of cooked bread and some creamy Robiolina cheese.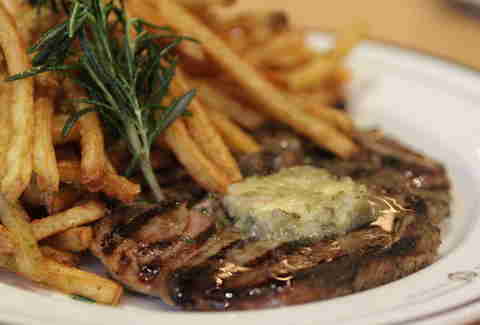 You've had steak frites, and you love steak frites, so you probably don't have to be sold too hard here. But this is actually a lamb steak frites, which nobody else really does. If you're into the gamey goodness, this butter-topped beauty should be your go-to. 
And here we've got the Rabbit Wellington, which -- if you like your meat wrapped in more meat, and some flaky, fried dough, or you're a British huntsman -- you should totally go with.
Now about that upfront bar... their Loose Cannon is loaded with tequila, "House Elixir", fresh lime, and celery ribbons, all over ice cubes infused with jalapeno, so the longer it's there, the spicier it gets.
Andrew Zimmer is Thrillist NYC's Editor and he would eat molten cheese for every meal if he could. Follow him on Facebook, Instagram, and Twitter.