Sticky's Finger Joint -- slinger of crazy chicken fingers (and Big Boi parties) in the West Village -- has expanded into Murray Hill, where it's attempting to own the late-night food-crushing scene with more chicken finger insanity (the Fiesta Finger has powder from Annie's Macaroni and Cheese on it!!!!), and the Goddamn key to the late-night food-crushing scene: s'mores fries.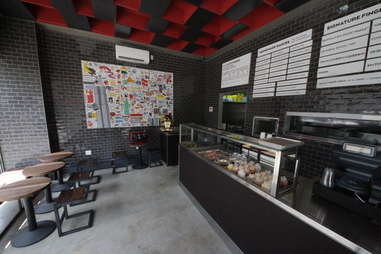 Pull up to the counter, and get ready to fill your face with chicken fingers.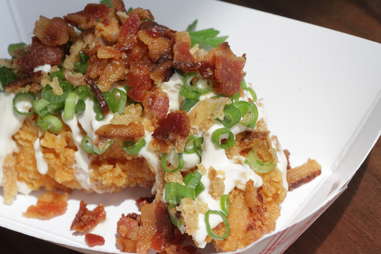 New fingers include the French Onion Supreme, which is a deliciously crispy chicken fing topped with French onion cream, bacon, fried onions, and scallions.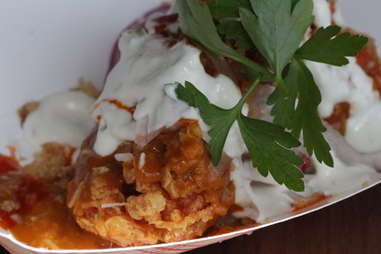 Another newbie is the Cool Tikka Masala, which super-smoothly loads the finger up with homemade tikk-ma, buttermilk ranch, and coconut.
And then there're the new sandos, including the Nashville Numb -- a combination of old-school, Nashville-style hot chicken that uses Szechuan peppercorn oil sauce for an ultra-hot numbing sensation. Buyer/people with tongues, beware.
You can also make your own c-finger at this branch, and you're going to want to, because you can get ABSOLUTELY CRAZY. This one's a made-up concoction of Dark Choco Choco sauce, sweet Thai chili sauce, bacon, hot peppers, Parmesan, and pretzels. We dare you to create a better one.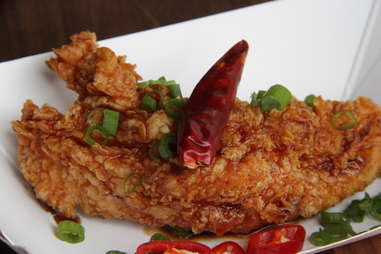 Also on the roster? General Tso's chick-fingers with hot chili and scallion. They use lemon-lime honey in the General Tso's sauce, which we never thought of as an ingredient in General Tso's before, but now makes total sense.
The Fiesta Finger is artfully sauced with tomatillo and cheese sauce, which's somewhat-amazingly (okay, all-the-way amazingly) made from the powder of Annie's Macaroni and Cheese.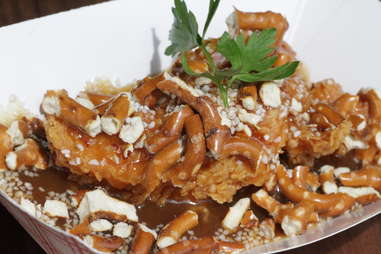 Yes, this finger is covered in salted caramel and pretzels. And yes, you're gonna love this at 3:30am.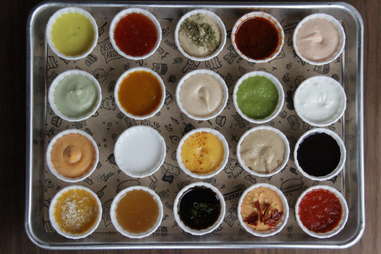 Another totally great move? Go plain, and just dip the crap out of them in every single one of these 20 sauces.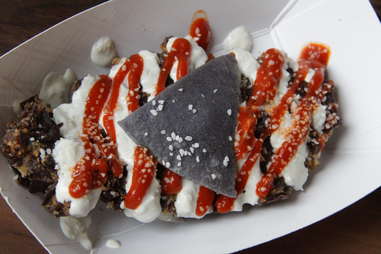 The Freedom Finger is only available around July 4th, and is fried in blue cornmeal, covered in buttermilk ranch, and drizzled in Sriracha. Because chicken fingers are pretty damn American.
Non-finger items are few-and-far between, but their fry game is pretty tight. The Jalapeño Mac (Annie's cheese sauce) & Bacon Fries are excellent for traditionalists...
... but more adventurous fry eaters (and people who read this entire thing because of that headline) should get down with the S'mores Fries, topped with homemade, toasted marshmallow sauce, homemade chocolate sauce that uses the same powder as other noted s'mores-thusiast Dominique Ansel, tiny marshmallows, and crushed graham crackers. Go ahead and top it with a chicken finger, too -- you deserve it.
Andrew Zimmer is Thrillist's NYC Editor and wishes there was more s'more innovation out there. Follow him on Twitter and Instagram.