15 Things You Didn't Know About Nathan's
Ah, Nathan's Famous Hot Dogs. That place where they... make famous hot dogs? On Coney Island, I think? Isn't that where they do the hot dog eating contest? Weirdly enough, despite the fact that it's a nearly-100-year-old NYC institution that hosts the world's most famous nationally televised competitive eating contest every single year, you still know basically nothing about Nathan's.
Which we're gonna fix today. Here are 15 things you didn't know about Nathan's, but totally should. Do it for America.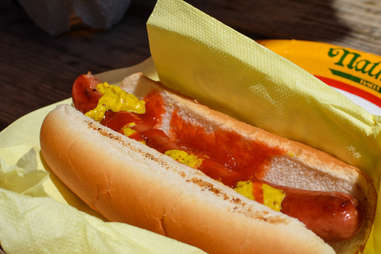 1. The super-duper-secret seasoning recipe hasn't changed since 1916
Nathan's original recipe -- and we mean ORIGINAL original, like from Nathan Handwerker's wife Ida's grandma -- is the exact same one they used starting at the original restaurant stand at the corner of Surf and Stillwell Avenues 99 years ago, which means when you bite into a Nathan's Famous, you're not only tasting America, but you are ingesting history.
2. You can eat Nathan's in Afghanistan
In addition to being able to hit up franchises across the US, you can also enjoy Nathan's in the Cayman Islands, Jamaica, Kuwait, Afghanistan, and Russia. Road... trip... ?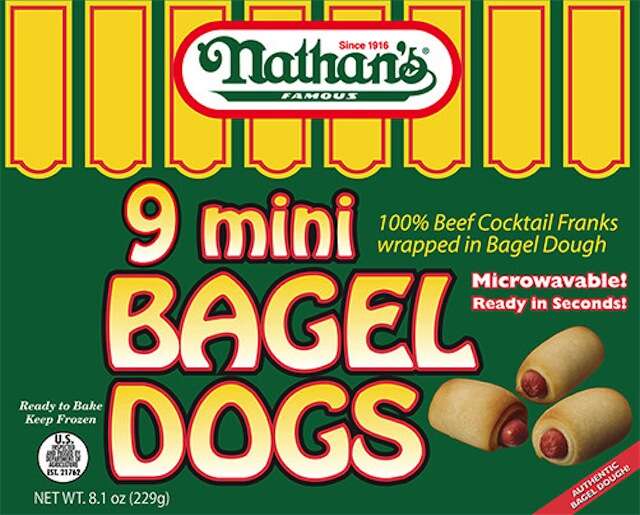 3. OH MY GOD NATHAN'S ALSO MAKES MINI BAGEL DOGS???
True story. In addition to those, Nathan's has eight different incarnations of its original beef frank (wait, really?), including a cheddar cheese beef frank (WAIT, REALLY?) that you can pick up at the grocery store. Nathan's also has packaged smoked sausage, crinkle fries, four types of mustard, barbecue sauce, and 10 types of pickles (mmm... sweet horseradish pickles...).
4. You can own part of Nathan's
That's because it went public in 1968 (NASDAQ: NATH) -- the family officially left the business in 1993.

5. The original Nathan's on Coney Island also serves... frog legs?
Along with three types of Philly cheesesteaks, seafood chowder, chili, two types of pitas, four types of burgers, corn on the cob, hot dog nuggets (???), lobster rolls, and wings.

6. Denzel Washington and Mark Wahlberg eat at Nathan's
Or at least, Jesus Shuttlesworth's dad and detective Terry "Yankee Clipper" Hoitz both took in some of Coney Island's finest in He Got Game and The Other Guys, respectively.
7. Nathan's won't kill your celiac friends
Several years back, Nathan's removed gluten from its franks so you can throw that park-designated-area BBQ with a clear conscience.
8. There's a Nathan's cookbook. And it has hot dog lasagna in it.
The family published a cookbook in 1968 with 150 or so recipes with the mighty HD as the feature ingredient, including casseroles, a dressing, and lasagna. Yes, hot dog lasagna.

9. FDR's "hot dog summit" may have featured Nathan's
Some people believe that Nathan's dogs were served on silver platters to the king and queen of England in 1939 while they were in the US on a diplomatic visit to solicit support for World War II. Other, less-smart people believe that the hot dogs were from the since-acquired and rebranded Swift & Company. Either way, hot dogs + the royal family = FDR was the man.
10. The first-ever Nathan's dog cost 5 cents
This price was insane even in 1916. Handwerker was looking to undercut the competition by offering hot dogs for one-half the price. Handwerker may have been particularly motivated because the 10-cent dog (about $2 in today's money) was sold by his former employer. In 2015, a Nathan's Famous original goes for $4 at the Coney Island location.
11. The first July Fourth Hot Dog Eating Contest was a publicity stunt
Nathan Handwerker's hot dog stand had not quite captured the public's stomagination, so he tried to muster up (!) some sales by having customers speed eat. And so the HD eating contest was born on July 4th, 1916. It was only one in a series of stunts. Others included a giant dead whale and paid actors dressed as doctors eating the franks in front of the stand.
In total, the 1,500 hot dogs account for about 420,000 calories. Reigning champ Joey Chestnut set the event record two years ago vanquishing 5.75 hot dogs per minute for a total of 69.
13. The annual hot dog-off spawned a league that regulates competitive eating events
Eighteen-year-old Major League Eating is the governing body for the Nathan's event as well as 70-80 other contests a year. The MLE also ranks eaters (aka "weapons of mass digestion").

14. The greatest Nathan's eat-off, though, occurred in 2009, and included three elephants
Nathan's hosted a hot dog bun eating contest between three female elephants and three men. The elephants ate 492 buns in six minutes. The dudes ate 180 buns.