Say Goodbye To Dunkin' Donuts' Iconic Coffee Cups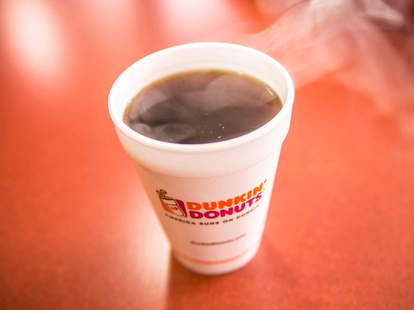 Next time you grab a coffee at Dunkin' Donuts, it won't be in that familiar, styrofoam cup.
As expected, the days of the donut purveyor's classic -- iconic, even -- foam coffee vehicle have come to end in NYC, thanks to a new ban on foam food containers, which takes effect Wednesday, July 1st. Dunkin' is replacing them with new #5 recyclable polypropylene cups, which are already available at many of the company's NYC donut-eries, according to Christine Riley Miller, Senior Director of Corporate Social Responsibility for Dunkin' Brands.
Tony Merevick/Thrillist
"This cup is accepted in New York City's municipal recycling program which means, if disposed of properly, it can be diverted from local landfills," Miller said in a statement. "We will continue to evaluate and test all available cups until we believe we have found the best solution based on cost, performance, commercial viability and environmental impacts."
But it appears Dunkin' plans for a foam-free future extend beyond NYC, with the company already testing a double-walled paper cup and a #5 recyclable polypropylene cup in other markets, Miller said.
"Dunkin' Donuts' goal is to establish a phased implementation plan and timeline for a transition in the U.S. from foam by the end of 2015," she said.
Now, your coffee cup will disintegrate or be recycled. Good for the environment -- bad for archaeologists studying coffee-drinking habits in 2715.
Tony Merevick/Thrillist
Follow us on Facebook for a steady stream of daily NYC stories, and be the first to get all the food/drink/fun/news New York has to offer.
Tony Merevick is Cities News Editor at Thrillist and wonders if the coffee will remain as scolding hot in these new cups. Send news tips to news@thrillist.com and follow him on Twitter @tonymerevick.