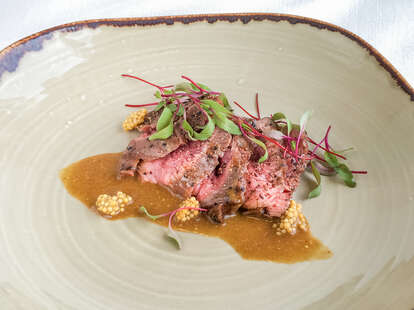 Courtesy of OTG Experience
Despite repeatedly being ranked one of the worst airports in the country, Newark is on a mission to rebrand itself as New York's best airport for dining (in New Jersey, naturally). United Airlines, along with airport restaurant group OTG, has already invested $120 million into transforming its Terminal C from a Hudson News and Jamba Juice wasteland into a dreamworld airport-dining oasis with restaurants boasting big-name chefs like Alex Stupak and Mario Carbone. The new terminal is expected to be completed in early 2017, and the latest addition to its re-imagined upscale dining is also a first for airports in general: a restaurant with a daily-rotating menu based on what's in season.
DAILY (yes, that's the actual name of the restaurant) is the first of its kind in the world -- at least as far as airports are concerned, since non-airport restaurants with daily-rotating menus certainly already exist. Like other seasonal restaurants, the daily menu will be determined based on what produce, meat, and fish is in season at nearby farmers markets. The phrase "farm to terminal focus," was also used, because hell is real.
The restaurant will boast a custom wood-burning grill that a team of chefs, overseen by OTG's executive chef, Michael Coury, will use for dishes like grilled scallops, five-spiced chicken, Arctic char, and togarashi flank steak.
The new restaurant joins the likes of the Alain Ducasse-opened Saison, Alex Stupak's street taco spot Tacquila, and Top Chef's Dale Talde's dumpling and noodle joint, Little Purse. It's expected that more than 50 new restaurants will open in the terminal by early 2017.
Will flank steak numb the pain of traveling through one of the worst-designed airports that's also responsible for some of the country's most frequent delays, cancelled flights, long lines, and the sobering reality that after all of that, you're still in New Jersey? No. But the scallops? Maybe.
Sign up here for our daily NYC email and be the first to get all the food/drink/fun New York has to offer.
Lucy Meilus is Thrillist's New York Editor and thinks the best restaurant in NYC is the Hudson News at Newark. But just the one in Terminal C. The other ones are trash. Follow her on Twitter and Instagram.