This Bacon Festival will change your life, cholesterol count
Just when you thought Springsteen, Bon Jovi, and discounted black jean shorts from the mall were the only reasons you'd ever head over to New Jersey, along came the Zeppelin Hall Bacon Festival, a porky paradise running now through April 1st at the gigantic, mass transit-accessible beer hall in Jersey City. Now forget the Jersey part, remember the bacon one, and just keep scrolling...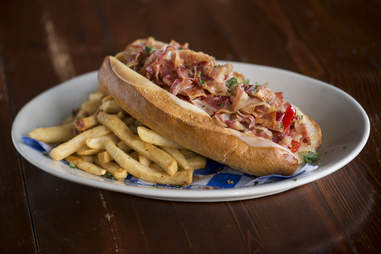 Have you ever ordered a bacon cheesesteak and thought, "Hey, there's way too much steak on this"? Well, your prayers have been answered with this cheesesteak loaded entirely with bacon. And feel free to call it a cheesebacon.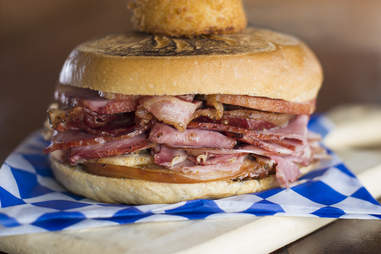 If you were to travel around the entire globe sampling bacon, you'd be the awesomest traveler ever, but you'd also probably come back with an appetite for this guy: the "Bacon World-Tour Monster Sandwich", loaded with 10 different types of bacon including smoked pork belly, Black Forest bacon, Irish bacon, beef bacon, pancetta, speck, turkey bacon, jowl bacon, Canadian bacon, and Tocineta Cascabel.
And somehow beating the sandwich loaded with 10 slices of bacon, is this smoked pork fetish-satisfying 50 Shades of Bacon BLT with, you guessed it, 50 slices of bacon.
This is the double-smoked bacon mac 'n cheese. We suggest taking that bacon flower on top, crumbling it up amongst the pasta and cheese, and enjoying the change in texture as you destroy it.
Fried onions, melty cheese, and tons of bacon top the Bacon-Bacon Terminator burger, but what makes it truly a machine sent from the future to end all human existence is that it's stuffed with chopped bacon, diced & smoked pork chop, and bacon au jus. Judgement Day, indeed.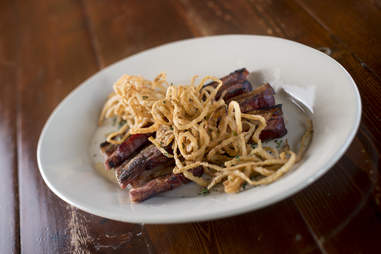 Why anyone would want non-thick-cut bacon is a mystery, especially after downing this Steak House Bacon that's been double-smoked, grilled, and topped off with apple cider reduction and crispy onions.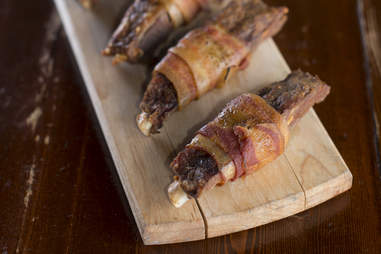 This is another one of those things that you're not going to believe you've never done before: bacon-wrapped BBQ ribs. You're never going back to regular ribs.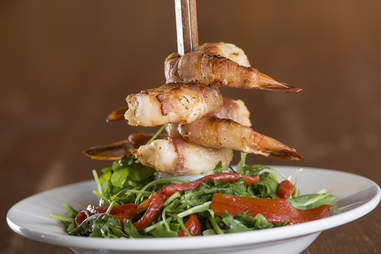 If you're feeling like you want the "light" bacon-wrapped option, go with the Gulf shrimp draped in pecan-smoked bacon, placed on top of some sort of leaves or something.
In what might actually be the perfect tailgate food if you can mange to replicate it (Editor's Note: you totally can. We believe in you.), they've created a bacon-wrapped Buffalo hot dog.

These aren't sausages, they're bacon sausages. The Bacon Sausage "Menage a Trois" is a combo of crackled black pepper bacon sausage, hickory applewood, bacon sausage, and aged cheddar bacon sausage.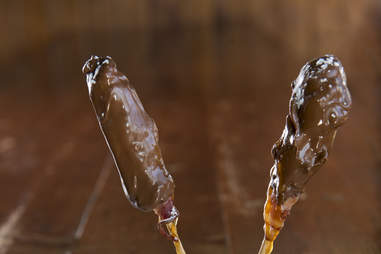 You probably knew there would be bacon for dessert, but did you know there would be two? The crispy applewood bacon bathed in chocolate ganache...
... and the BaconPop, which's center-cut, honey-cured bacon encased in caramel and an apple reduction coating. Also, it's just kind of beautiful, right?
And for an after-dessert snack, look to the bratwurst and bacon sliders, which come as a set of four and include andouille, kielbasa, cheddar brat, and bratwurst topped with a thick cut of Black Forest bacon.
Andrew Zimmer is Thrillist's NYC Editor and sometimes he feels like that dog from the Beggin' Strips commercial. BACON!!! Follow him on Facebook, Twitter, and Instagram.
Cayla Zahoran is a freelance photographer and you can see more of her really awesome shots on her food photography site.