Everything You Need to Eat at NYC's 7 Newest Food Halls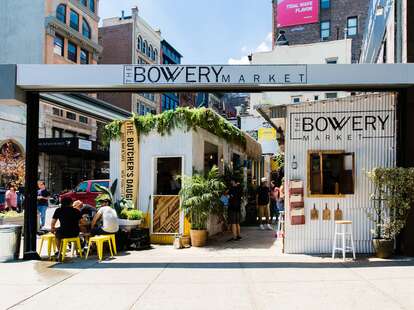 Even though Anthony Bourdain's elusive floating food hall keeps venturing further and further into the future, the city is suddenly overflowing with food halls of similar ilk. Following the success of 2013's Gotham West Market, the city's first official gourmet food hall, countless others have emerged in Times Square (City Kitchen), FiDi (Hudson Eats), Crown Heights (Berg'n), and beyond. Today's food halls are a great launchpad for restaurants transitioning from pop-up to brick-and-mortar, and house some of NYC's best eats, as evidenced by the growing popularity of Northern Tiger's dumplings and noodles at Hudson Eats, or the re-launch of sushi chef David Bouhadana's NYC career at the newly opened Bowery Market. 2016 may well be the Year of the Food Hall in New York City, with seven already open in the first half of the year, and surely more on the way. Here's what you need to know about the newest crop, as well as what to get at each.
271 11th Ave
Formerly a 19th-century storage facility that trains would travel through to unload cargo, Terminal Warehouse maintains old industrial charm with heavy metal doors, exposed brick walls, and well-worn wooden floorboards. The next Chelsea Market in the making, this up-and-coming food hall houses a branch of La Colombe; Danny Meyer's cocktail bar, Porchlight; Tom Colicchio's sandwich shop, 'Wichcraft; and an elegant wine store that hosts free tastings Thursdays from 6-8pm and Saturdays from 2-5pm.

What to get: Popular lunch spot Between the Bread serves up seasonal, health-conscious build-your-own meal plates, with chef's specials ranging from grilled salmon to shrimp kebabs to Wednesday's famed chicken schnitzel special, served on a bed of lettuce along with two sides.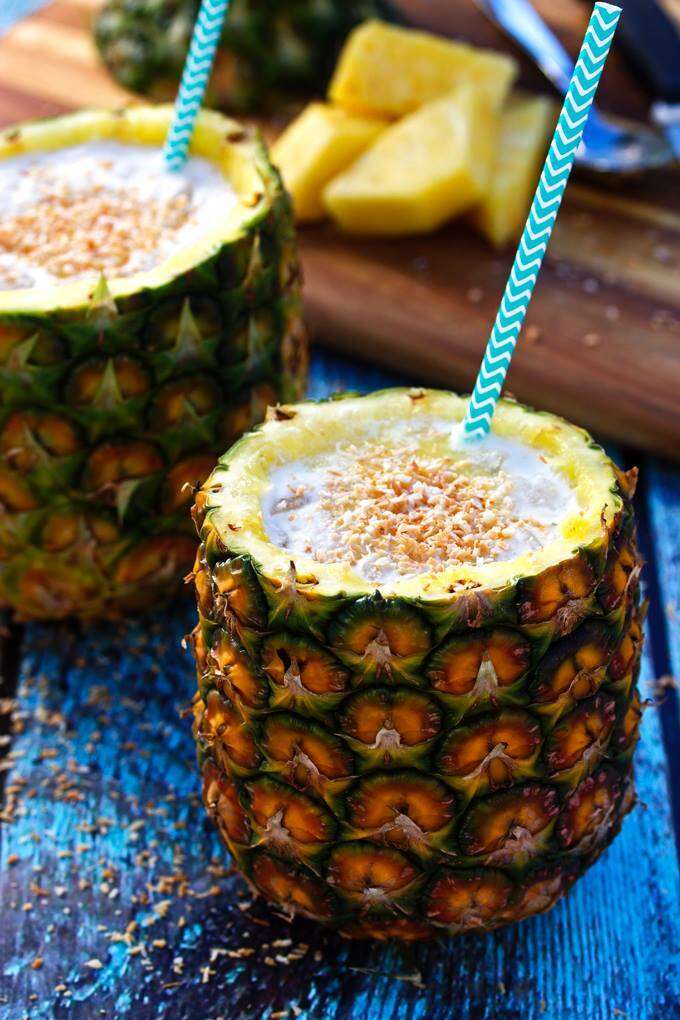 348 Bowery at Great Jones St
This open-air mini food hall opened just last month to attract Bowery wanderers eager to jump onto the food-hall bandwagon. Vendors include healthy eats favorite The Butcher's Daughter, Chinatown taco joint Pulqueria, sandwich hotspot Alidoro, and omakase counter Sushi on Jones, each with its own discernible kiosk. Despite its sweaty summertime charm, this outdoor market will be open in all seasons, so you can huddle over a steamy porchetta sandwich in your parka come wintertime.

What to get: Sushi on Jones, led by sushi master David Bouhadana (previously of Sushi Dojo), serves up an excellent $50 omakase that may be the best sushi deal -- not to mention the only outdoor omakase spot -- in New York City.
Vanderbilt Hall at Grand Central Terminal
Danish restaurateur and Noma co-founder Claus Meyer brought Nordic flavors to NYC this spring with a 5,000sqft food hall that features six vendors carrying over 100 different seasonal dishes. Options range from beetroot smoothies and smoked salmon smørrebrød sandwiches to artisanal pastries, locally roasted coffee, and beyond. The food hall is adjacent to two other Meyer concepts: an upscale sit-down restaurant called Agern, where a tasting menu runs between $100-$120, and a hot dog window, Danish Dogs, where Nordic-style franks sell for $8.

What to get: The first US outpost of Meyer's acclaimed international bakery, Meyers Bageri, which just opened a second location in Williamsburg, cannot be missed. Visit for freshly baked pastries like rye croissants, cinnamon swirl, the sweet, poppy seed-coated frøsnapper, and a variety of breads baked using locally grown, organic heirloom grains stone-ground on-site. Supplement the carbs with $5 craft beers and Nordic punch during happy hour, Monday-Thursday from 4-8pm, and Fridays from 1-8pm.
5 E. 17th St
This 25,000sqft food hall located in the former home of Manhattan's first Barnes & Noble opened its library of eats and drinks from executive pastry chef Thiago Silvas and executive chef Yvan Lemoine this past May. The dramatic "gastrohall" could easily pass as a set for an upcoming Restoration Hardware catalogue, and includes nine stands vending everything from poke (of course) to salads, burgers, pizza, pastries (esteemed birthplace of the rainbow croissant), and beyond in a unique, cohesive concept unlike any other New York food hall. This may very well replace the second floor of Whole Foods as Union Square's unofficial lunchtime cafeteria. A connected sit-down restaurant serving New American fare offers everything from charred shishito peppers to roasted cauliflower with romesco and raclette.

What to get: It's really all about the pastries here. The UF Lobster roll, served in a croissant, is a fantastic way to get your daily dose of butter, sans utensils. Other savory bites fresh from Silva's oven include the breakfast pretzel bombs: homemade pretzels stuffed with combinations of bacon, egg, and cheese, or pastrami & swiss that offer a serious 7am upgrade to your daily buttered bodega roll. Or opt for a wide range of croissants, ranging from green tea to red velvet to crème brûlée, or the famous rainbow birthday cake.
353 W. 14th St
This local farmers market dates back to 1884 at 52 Gansevoort St, though the recently relocated 14th St location still unites New Yorkers via food in a communal, industrial setting that emphasizes the charms of the Meatpacking District (back when meat was actually still packed there). An ever-growing list of local purveyors includes popular spots like Luke's Lobster and Luzzo's Pizza thrown in with vendors capitalizing on food trends like Mission Ceviche and The Meatball Guys (not to be confused with the other meatball guys of the more famous The Meatball Shop).

What to get: Between New Yorkers' ongoing sushi obsession and the recent rise of fast-casual poke on what seems like every corner, Peruvian ceviche is the raw fish dish lurking in the shadows, and it's worth a try at Gansevoort's Mission Ceviche. Order chipotle-style -- that is, you'll pick your fish (catch of the day, shrimp, octopus, etc.), sauce, base (lettuce or quinoa), and any special additions. Just like guac, avocado mousse is extra.
2 Penn Plaza
Arguably the only thing that could possibly get you excited to travel through Penn Station, The Pennsy is an 8,000sqft space adjacent to the station, opened in early 2016 to feed LIRR commuters and grumpy Midtown office workers alike. Unlike the sad soft-pretzel-and-questionable-sushi lineup in the basement of Penn Station, The Pennsy's got a wide variety of meal options from some of the city's top food icons, including Mario Batali, Pat LaFrieda, Franklin Becker, and more -- not to mention open-air garage doors and outdoor seating.

What to get: Popular vegan food truck The Cinnamon Snail's first brick-and-mortar spot dishes out spicy vegan burgers that may temporarily make you forget about meat, along with vegan donuts and pastries that are enough to convert you to full-on veganism. Lobster lovers should stop by Marc Forgione's Lobster Press for lobster panini that's sure to make everyone on the 6:35 express to Farmingdale envious.
230 Park Ave
Skip the below-ground dining concourse at Grand Central and head just a few steps next door to this food hall helmed by the founders of Madison Square Eats, Broadway Bites, and other popular outdoor and indoor markets. Urbanspace Vanderbilt, which opened in late 2015, houses over 20 vendors, with food desirable enough that Caviar will even deliver it to Midtown workers who can't escape their desks. On the weekends, spare yourself a brunch wait, grab a communal picnic table (from 11am-5pm), and order a wide variety of special brunch items, including a scrambled egg burrito from Takumi Taco, a gyro egg sandwich from Amali Mou, an egg & speck pizza from Roberta's, and a lobster Bloody Mary from Red Hook Lobster Pound to chase it all down.

What to get: New Jersey import Delaney Chicken's only NYC outpost is here, and it's quickly gained cult status among fried chicken enthusiasts. Newcomer and similarly cult-ified Mile End is also offering what may be the best breakfast deal in Manhattan: a bacon, egg, and cheese on a Black Seed bagel, plus a coffee, all for just $5, before 9am through Labor Day.

Sign up here for our daily NYC email and be the first to get all the food/drink/fun New York has to offer.
Melissa Kravitz is a writer based in NYC. She likes food halls because she is indecisive.