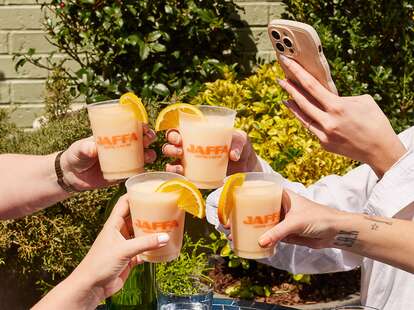 Jaffa Cocktail and Raw Bar at The Hoxton, Williamsburg

| Photo by Michael Persico
Jaffa Cocktail and Raw Bar at The Hoxton, Williamsburg

| Photo by Michael Persico
It's going to be a busy week. On top of embracing Barbie-core at NYC's new The Malibu Barbie Cafe and sipping on tropical slushies at the West Village revival of Donna, we're keeping track of all the hottest new spots to eat and drink. Impending bites include (but are not limited to) crudo, caviar, and chai soft serve. Here are seven new restaurant openings in NYC this week.
Williamsburg
Joining its popular siblings K'Far and Laser Wolf, Jaffa Cocktail and Raw Bar is the third concept within The Hoxton, Williamsburg from Mike Solmonov. Perched on the second floor of the hotel, Jaffa features a dedicated side entrance, al fresco seating, and an expansive indoor bar. Pulling inspiration from the Israeli coast, the seafood-centric menu spotlights dishes like Yellowtail Pastrami with Grilled Cucumber and Octopus Shakshuka, alongside raw bar items. Under the twinkling string lights, sip on beverages like the Oy Vey (rum, mango, coconut) and The Jaffa Orange (vodka, aperol, orange), which comes frozen. For afternoons or evenings out with the crew, tables can order cocktail pitches or liters of wine.
Nolita
As its name suggests, chai is the star of the show at Kolkata Chai Co. Co-founders and brothers Ayan and Ani Sanyal are growing their business with a second NYC location, but the traditional preparations and recipes remain the same. At the new outpost, guests can order bites inspired by the street food of Kolkata, India including New York-Style Breakfast Paratha (scrambled egg, vegan sausage, amul cheese), Samosa Chaat (smashed samosas, chickpea, onion), and Oat Milk Chai Soft Serve. Signature drinks like Masala Chai, Cardamom Coffee, and Arnav Palmer (Darjeeling sweet tea, mint lemonade) are available as well.
SoHo
At Twenty Three Grand, executive chef Ashley Rath (Gramercy Tavern, Saint Theo's) channels heartfelt memories and passed-down recipes from her mom to create the restaurant's eclectic food program. Diners can fill the table with dishes like the Tuna Tostada (guajillo, lime, hazelnut), Cherry Pomodoro (angel hair, Sicilian olive oil), and Carrot Carpaccio (white pepper, date, walnut). Primed for warm weather, Twenty Three Grand also sports an expansive outdoor patio.
How to book: Resy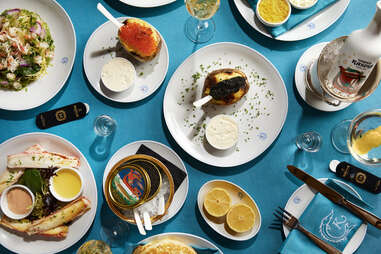 Upper East Side
A French institution makes the trip from Europe to the Upper East Side this week with the arrival of The Bar at Caviar Kaspia. The Parisian-born restaurant and caviar boutique sits on the first floor of The Mark hotel and offers customers a bespoke dining experience that accentuates old-school elegance. On the menu, choose from an array of caviar-centric dishes like the Twice-Baked Potato (topped with caviar) or opt for a classic caviar tasting served with blinis.
How to book: Resy
Midtown East
The fifth NYC installment of Colombian coffee house Devoción has landed in Midtown East. The ambiance of the cafe is similar to its predecessors with the smell of Bogotá-sourced beans permeating the air, pops of greenery, and scattered tables primed for working remotely. Along with signature drinks like the low-caffeine Cascara (tamarind, plum, honey), there are fresh baked goods and pre-packaged snacks like yogurt and rice pudding.
Midtown
A few blocks away from the buzzy energy of Times Square comes a new restaurant that functions as a love letter to a neighborhood in Buenos Aires. Led by Orhan Cakir (Pierre Loti) and executive chef Carlos Barroz's (La Pulperia), Palermo Argentinian Bistro showcases a wide range of Argentine cuisine from steak and barbecue to raw bar offerings and empanadas. Highlights include Mollejas (fried sweetbreads, butternut squash puree, salsa), Parrillada for Two (skirt steak, sirloin, short ribs, chorizo, blood sausage, grilled asparagus, humita), and the 28-ounce T-Bone. The rotating wine list changes often and offers a selection of red, white, champagne, and sparkling.
How to book: OpenTable
Chelsea
Already home to can't-miss vendors like Shmackwich and Forsyth Fire Escape, Olly Olly Market welcomes a food sensitive-friendly concept called Rooted. Run by founder Lily Rivkin, Rooted was conceived after Rivkin developed adult on-set food allergies and quickly realized how difficult it was to eat out. At Rivkin's new spot, all ingredients—down to the oils and spices—are listed to provide complete transparency for customers. Build your own plate or opt for a signature menu item like the Rainbow Rooster (peppercorn chicken, sauteed onions, roasted red peppers, jalapeno aioli) and Ra Ta Ta Boat (spaghetti squash, cauliflower, parmesan and pesto sauce).