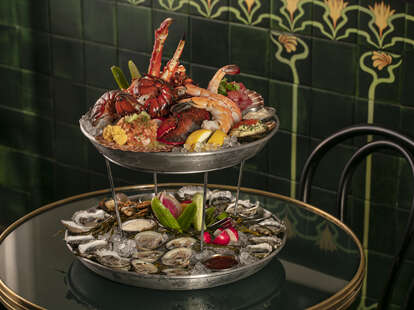 As we continue to maximize our summer with anything from thrifting adventures to sipping cocktails at sky-high bars, we can always count on the city's stellar restaurants to provide a dependable source of comfort.
On top of all the can't-miss NYC Restaurant Week deals and fresh debuts from crowd favorites like Shake Shack's recently-opened Meatpacking District location, a group of noteworthy newcomers have also officially launched into NYC's dining scene. Whether you're in the mood to devour soup-dumplings in Koreatown or treat yourself to cheeky desserts in SoHo, here's this week's roundup of exciting restaurant openings in New York City.
Midtown
As part of the massive culinary transformation by Tishman Speyer currently underway at Rockefeller Center, this elegant new French brasserie is from the team behind Tribeca's highly-lauded Frenchette. At Le Rock, the spacious 130-seat eatery's culinary program is helmed by chef Walker Stern's (Dover) and offers guests a selection of weekly specials along with permanent Touts Le Temps menu items. Among the highlights, there's Steak Haché and Escargots plus elaborate desserts like the Plateau de Dessert (confection stand filled with seasonal treats).
How to book: Resy
East Village
From co-owners and couple Camille Lindsley and chef Telly Justice, this intimate 20-seat restaurant in the East Village takes a more informal approach to fine dining. At HAGS, a self-described "Queer Eatery," the kitchen offers a simple tasting menu concept through a five-course dining experience consisting of a mix of Southern and New American dishes (which can be made vegan or vegetarian upon request). On Sundays, ordering becomes less structured as it switches to a "pay what you can" format, which means the menu operates on a first come first serve basis (or until items are out of stock).
How to book: Resy
Lower East Side
After a two-year hiatus, full-service dining is back at Russ & Daughters Cafe. Originally opened in 2014 on the 100th anniversary of their nearby Houston Street flagship shop, Russ & Daughters, the Orchard Street offshoot has been operating solely through delivery and to-go services since March 2020. Now, signature offerings like latkes, smoked fish, egg creams, and Matzo Ball Soup can one again be enjoyed within the space—and similar to before, the eatery is walk-in only.
Williamsburg
Within NYC's competitive restaurant scene, Golden Age Hospitality from industry veteran John Neidich has become a leader in some of the city's most sought-after reservations courtesy of hotspots like the swanky piano bar The Nines in NoHo and the recently debuted LES wine bar, Le Dive. Following on the heels of these successes, the latest venture by Neidich has now hit Williamsburg in the form of a late 1800s art nouveau-styled cocktail spot called Deux Chats. In addition to martinis, house cocktails, and skin-contact wines, a range of raw bar offerings and small plates like Wagyu Beef Tartare and the Lobster Roll make up the food menu.
How to book:Resy
SoHo
The French word "maison," which means home, defines the core inspiration behind SoHo's newly-opened Maison Close. While channeling this passionate and harmonious energy of French dining culture, the eatery turns out a range of upscale interpretations of classic French comfort foods. Led by executive chef Geoffrey Lechantoux (Benoit), highlights include tableside-prepared offerings like the Belle Sole Meunière (pan-seared sole, butter foam) and Côte de Boeuf (topped with choron and peppercorn sauce), plus the show stopping Crêpes Suzette flambé.
Koreatown
At Flushing's Nan Xiang Xiao Long Bao, the specialty that draws customers from across all five boroughs is the signature Xiao Long Bao soup-dumplings. After opening a flagship Queens location in 2004, the soup-dumpling heavyweight is now expanding its concept with a second location in Manhattan. Popular items like the colorful Lucky Six Soup Dumplings (pork, crab, chicken, scallop, black truffle, shrimp) join classic North Chinese cuisine, Jiangsu, and Zhejiang fare in the 33rd Street space located one block north of Koreatown's main thoroughfare.
Midtown East
Traditional Tuscan fare has a new home in Midtown East just blocks away from the hustle and bustle of Bryant Park. At this collaborative effort between owner/restaurateur Sammy V. Gashi's (San Marino SoHo, Antica Ristorante) and Tuscan-native executive chef Vilfredo Hodai (Casa Lever), Ramerino Italian Prime offers guests an extensive selection of plates, from pasta dishes like Risotto (asparagus, zucchini, zafferano) to main courses that include the Fileto al Barolo (filet mignon, red wine reduction) and Branzino (prepared tableside). When it comes to the dessert menu, highlights are classics like the Il Nostra Tiramisu and Panna Cotta.
SoHo
Sexy sweets are the pièce de résistance at SoHo's recently debuted Sugar Wood bakery. Opened in partnership with The Phluid Phoundation (a nonprofit organization that advocates for the LGBTIA+ community) and led by baker Tom Smallwood (Magnolia Bakery), the dessert shop serves up two anatomical variations of R-rated waffles aimed to destigmatize sex and gender stereotypes. With names like Kitty and Woody, the offerings are served up "naked" or dripped in seasonal sauces like peanut butter and salted caramel. At least $5,000 of the monthly revenue from these treats will be donated to the Phluid Phoundation and the charities it supports.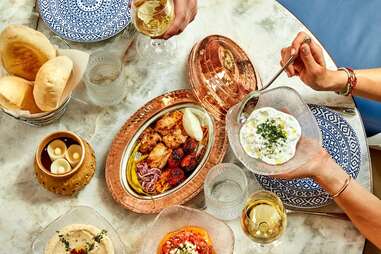 NoMad
As a popular Washington D.C. spot over the last 20 years, Zaytinya has now expanded beyond our nation's capital with an outpost located in NoMad's Ritz-Carlton New York. As a part of chef José Andrés's Think Food Group (Mercado Little Spain), the eatery features a variety of Greek, Lebanese, and Turkish fare ranging from small plates and flatbreads to seafood and kebab platters. Standouts include the Seared Halloumi (dates, pomegranate, pistachio) and the Octopus Santorini (grilled octopus, yellow split pea purée). Also, exclusive to this NYC locale, breakfast service is offered with specialty creations like the Eggs José's Way (fried eggs, caramelized onion, jamón).