What's iconic about New York City is that as soon as we decide on our favorite new bars, cozy spots for outdoor dining, or the best food halls, a fresh squad of shiny and can't-miss hotspots fling open their doors and beckon us in.
With newcomers offering everything from Singaporean street food in the heart of Midtown to a spirit-free bar in the East Village arriving just in time for Sober October, we wholeheartedly stan this week's Big Apple debuts. Here are 9 exciting new restaurant openings to try in NYC this weekend.
NoMad
Located inside the Ace Hotel New York's former gastropub, at Koloman, chef Markus Glocker (Bâtard) showcases his customary upscale French cuisine within a more casual environment. From the menu's modern interpretations of European classics, go for dishes like the Salmon en Crôute (scallop and parsley mousse) and crispy-skinned Brune Landaise (brined whole chicken). Wines from emerging vineyards or cocktails like the Koloman Spritz (grapefruit, gentian) helmed by beverage director Katja Scharnagl (Le Bernardin) make for great pairing—and we'd be remiss not to mention the decadent desserts by pastry chef Emiko Chisholm (Balthazar), with standouts like the Duck Egg Creme Brulee. Breakfast, lunch, and weekend brunch service is slated to debut later this fall.
How to book: OpenTable
Greenpoint
Following the success of their popular Thai eatery in NoHo, Fish Cheeks, the husband-and-wife duo of chef Ohm Suansilphong and Kiki Supap have branched out into Brooklyn with the debut of KRU. Here, the couple highlights historic recipes—some more than 100 years old—that were once only cooked for Thai royalty including "Lon" Cured Pork Jowl (a Thai dip made with prawn, rice, and coconut cream) and "Kaeng Kua" Pineapple with Whole Lobster (salted egg yolk, chili paste). Beer, tea, and minimal-intervention wines, join a slate of signature drinks like the Floating Market (rum, ginger, mango).
How to book: Resy
Yorkville
Jeremy's is an Austrian-influenced cocktail bar from the team behind the iconic butcher shop and Upper East Side institution, Schaller & Weber. Led by the third-generation owner, Jeremy Schaller, the eponymous watering hole sits two doors down from its sibling predecessor and features a quaint 25-seat interior. The star of the show is undeniably the beverage program, which is made up of timeless cocktails, Austrian schnapps-infused drinks, and Austria-sourced wines. To pair alongside your drinks, there are bar bites such as Spicy Octopus Toast (calabrian chili, sun dried tomatoes) and Jeremy's Steak Sandwich (caramelized onions, blue cheese).
Bowery
Since opening in 2019 in Williamsburg, Ainslie—the multi-hyphenate concept that melds a beer garden and wine bar with an Italian restaurant—has been a popular go-to for group hangs and brunch dates. Now, its team (who also own Osteria Cotta on the Upper West Side and Carroll Place in Greenwich Village) is expanding their portfolio with a Manhattan outpost in Lower Manhattan's Bowery. Staying true to its predecessor's roots and helmed by John DeLucie (Waverly Inn), the eatery/bar will serve up Italian classics like wood-fired pizzas and a range of pasta dishes such as Cacio e Pepe and Linguini Vongole. Within the 20,000-square-foot space, guests will also find foosball, shuffleboard, and a subterranean lounge called The Underground (slated to open later this fall).
East Village
Just in time for Sober October, Hekate Café and Elixir Lounge on Avenue B is an alcohol-free bar and specialty tea shop from owner Abby Ehmann. Located across from Ehmann's Lucky dive joint, the concept is centered on creating a safe space with the following message: booze doesn't have to be a main component in socializing. During the day, it serves coffee and tea, and in the evening, transitions to a spirit-free bar with highlights like The Healer (caffeine-free blue matcha, lemonade, lavender syrup) and Earthbound (spicy pineapple elixir, beet juice). Additionally, there are zero-ABV beers and non-alcoholic champagne to sip on.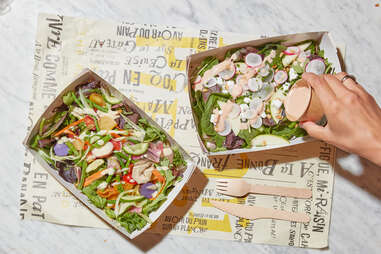 Midtown
A collaborative venture from longtime friends Pierre-Antoine Raberin (the restaurateur behind the US' Ladurée shops) and acclaimed chef Eric Ripert (Le Bernardin), L'Ami Pierre has landed on the streets of Midtown. At the laid-back 42-seat cafe, the menu spotlights French baked goods, soups, and sandwiches like the Jambon Beurre (French butter, Upstate NY-sourced ham). As a personal touch, the Elisa (spinach, apple, goat cheese) and Monique (artichoke, watermelon relish, green beans) salads pay homage to Raberin and Ripert's mothers. In addition, peruse the provisions section with a curated selection of chocolates, jam, coffee beans, and more.
Flatiron District
After the closure of the nearly century-old, Eisenberg's Sandwich Shop, in March 2021, the sandwich-slinging institution (sorta) returns this week under new owners and a new concept. Its reboot is led by Court Street Grocers owners Eric Finklestein and Matt Ross, who've revived the name of the original sandwich shop, S&P, that operated in the space until 1928 before Eisenberg's took over a year later in 1929. Renovations at the revamped eatery include updated floors, new booth seating, and an expanded kitchen—although the extensive menu remains relatively true to its legacy. A curious selection of handhelds are the name of the game here with favorites including the Tuna Melt, Peanut Butter & Bacon on White, and a straightforward Cheeseburger (American cheese, mustard, onion).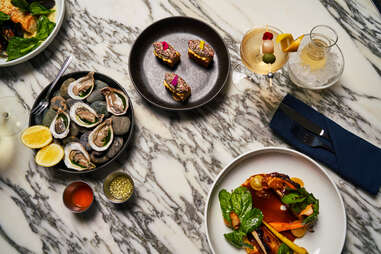 NoMad
From the team behind popular eateries like Le Jardin and Apartment 13 comes The Vasper, a mid-century-inspired American bistro on the ground floor of the stylish hotel, The Mondrian Park Avenue. Open for lunch and dinner, chef Nick Koustefanou's (Peak, Kissaki) food program leans heavily on '50s and '60s nostalgia with plates like the Hiramasa Crudo (melon gazpacho, honeydew) and Beef Tartare (deviled egg mousse, toasted sourdough). Designed by beverage director Evan Hawkins (Soho House), the drinks menu is available within the dining room or at the greenery-draped bar for signature libations like the Bitter Rum Mojito (mint caramel, vanilla) and Espresso Martini 2.0 (vanilla vodka, rum, coffee foam).
How to book: Resy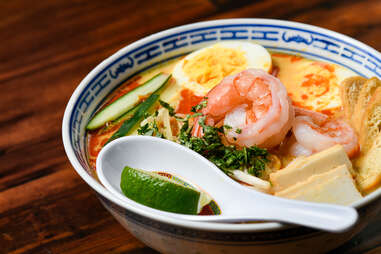 Midtown
As an impressive addition to the city's portfolio of powerhouse food halls, Urban Hawker draws inspiration from Singapore's iconic street food and open-air markets. Within an 11,000-square-foot space in Midtown, the large-format dining experience features 11 Singapore-based vendors making their stateside debuts, alongside six NYC-based eateries. Stalls include: the first outpost of the renowned East Village dessert destination Lady Wong; Daisy's Dream, a family-run business from Singapore specializing in Nasi Lemak; and White Restaurant, an acclaimed Singapoean eatery known for its White Beehoon (white rice vermicelli noodles in chicken broth simmered for eight-hours).