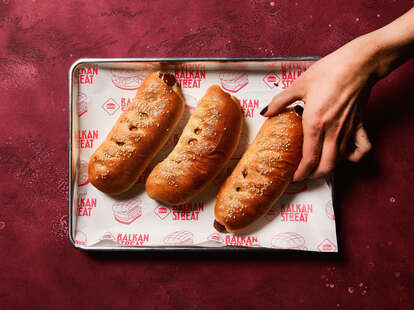 Whether you're in the mood for hefty Bay Area-style burritos or heartfelt soups and dumplings inspired by childhood memories, New York City doesn't disappoint.
So when you're not skipping town for adventure-filled weekend getaways or linking up on the dance floors of the hottest clubs, this squad of new eateries is sure to spark some excitement in your week. From wood-fired meats to a hidden omakase experience that requires a secret code to enter, here are 7 restaurant openings we're paying attention to in NYC this week.
Upper East Side
Noz Market, which originally opened in 2020, has officially relaunched its sushi and sashimi concept after closing for renovations in the winter of 2021. An offshoot of its ultra-swanky omakase sibling, Sushi Noz, the interior now features a hand roll bar, 10-seat tasting menu counter, and back room for private events. The on-property omakase experience is priced at $145 for 12 courses and a range of chirashi and wide rolls like Snow Crab Futomaki (fish roe, anchovy sauce, ginger) can be purchased for takeout or delivery.
East Village
At Foul Witch, guests will find a concise food program centered around a small selection of signature dishes cooked within the restaurant's impressive wood burning oven. First getting its start as a pop-up at the 2018 Frieze Art Festivals in town, Foul Witch was originally launched as a more accessible version of chef Carlo Mirarchi's (Roberta's) celebrated New American tasting menu spot, Blanca, in Brooklyn. Now, the recently minted East Village kitchen is led by chef Som Pollheimer (Roberta's in Los Angeles), who has created a concise menu that includes housemade pasta and sulumi, in-house aged fish and meat, and a few rotating desserts.
How to book: Resy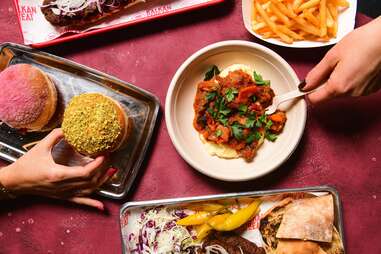 West Village
Kebabs, pastries, and stuffed pitas shine at the West Village's newest street food spot, Balkan StrEAT. Drawing inspiration from co-owner and chef William Djuric's (Momofuku Ssam, Gramercy Tavern) family recipes and South Eastern European comfort classics, Djuric and head baker Milan Milijancevic (Hotel Moska in Belgrade) collaborated on the savory and sweet food program being served out of an open kitchen within a 20-seat space. Highlights include Cevapi (beef or chicken kebabs), Stuffed Schnitzel (pork schnitzel, kajmak, shredded cabbage), and Krofne (traditional Balkan doughnuts).
Gowanus
After running a pudding shop in the East Village, called Puddin', for a couple years until closing operations in 2014, Clio Goodman is now onto her next sweet treats project. Dubbed By Clio, the bakery concept has landed a permanent storefront in Gowanus and specializes in mostly custom cakes, alongside a small selection of monthly rotating creations. Aesthetic-wise, each cake takes on a completely unique vibe with decorations like blooming flowers and fresh herbs, while previous flavorways have included strawberry fennel, pink lemonade, mango, espresso, and more. Keep in mind, personalized creations must be ordered two weeks in advance.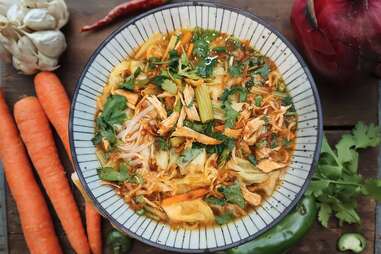 West Village
For owner Becky Lin, Lin & Daughters is a love letter to childhood days spent in her family's former Chinese takeout restaurant in Long Island, as well as an homage to how comforting food like dumplings continue to create indelible memories. Named after her father and two daughters, Lin's menu spotlights personal recipes like Mom's Wonton Soup with Fuzhou-style wontons and Sister Lin's Chicken Noodle Soup with flat rice noodles and shredded chicken. Additional items include a selection of housemade dumplings and an array of bubble tea.
East Village
A tone of elegance and lighthearted sense of secrecy, plus decades of omakase expertise, is what defines Office of Mr. Moto in the East Village. Featuring a speakeasy theme, upon securing a reservation to the hidden sushi spot, guests receive a note from the fictional Mr. Moto that includes a riddle unveiling the entry password (but don't stress, it's not too tricky). Following the uncovering of the cryptic message, enjoy an Edomae-style omakase experience led by executive chef Toshio Matsuoka. All fish is sourced directly from the famous Toyosu Fish Market in Tokyo and diners can expect a few of their courses served on 200-year-old antique Japanese dishes. Seatings are available Wednesday through Sunday at 6 pm and 8:30 pm.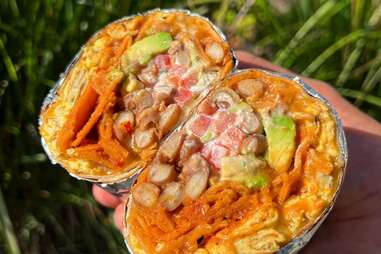 Williamsburg
Popular for their San Francisco-style burrito spot in Rockaway Beach, Super Burrito expands their small, but mighty empire with a new outpost in Williamsburg. Here, the crowd-favorite sizable burritos are filled with proteins like chicken, al pastor pork, and vegan poblano along with a generous helping of rice, beans, cheese, and avocado. Also, guests can check out other menu items like quesadillas, tacos, and bowls.