6 New Restaurant Openings in NYC You Need to Know
Korean corn dogs, regional plant-based Mexican fare, wood-fire cooking, and more.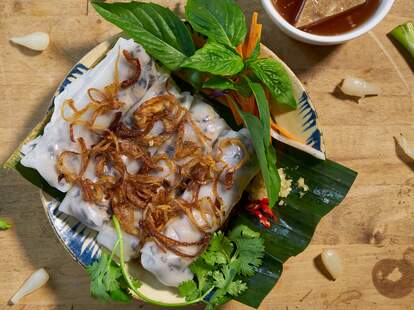 Photo courtesy of Bánh Vietnamese Shop House
With the inauguration of the country's new administration (finally!) taking place this week, it's out with the old and in with the new. So it's a perfect time to introduce some new spots into your local takeout regimen as well. Because, as restaurant closures during the pandemic continue to alter the landscape of the NYC culinary world, against all odds, a new class of eateries are helping to make the start of 2021 brighter and a lot more flavorful, offering fresh takeout and delivery options to help keep our palates excited through any news cycle.
From Korean corn dogs with a crunch and plant-based regional Mexican fare from a Michelin-starred team, to local Chinese noodles dishes inspired by road trips across China, here are some of NYC's newest restaurant openings you need to know about. And as always, please tip generously, wear a mask, and social distance responsibly.
Photo courtesy of Noodle Edition
Times Square
Noodle Edition marks the second collaboration between owner Yishu He (Little Alley, MáLà Project, Ghost Bar) and chef Yuchun Cheng after opening the Shanghainese restaurant,
Little Alley
, in Murray Hill. Their newest venture debuts this week and offers regional Chinese fare inspired by road trips between culinary cities like Chongqing, Chengdu, and Wuhan. The opening menu consists of six regional noodle items such as scallion and shrimp noodles from Shanghai, beef offal noodles from Xinjiang, and tingly pork noodles from Chengdu; in addition to side dishes like marinated cucumbers, pork cutlet, and pork potstickers. In the future, expect more regional noodle dishes like soybean paste noodles from Beijing and hot oil noodles from Xi'an.
How to order:
Order takeout and delivery via
website
,
Grubhub
.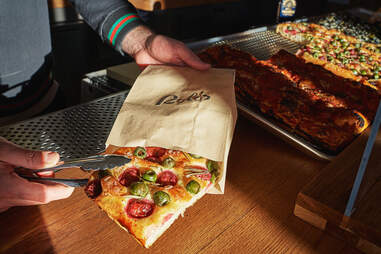 Photo by Adam Friedlander
Ridgewood
This new neighborhood spot in Ridgewood features a family-style menu focused on wood-fire cooking. Currently open for takeout and delivery during lunch and dinner,
Rolo's
is also a cafe and grocery shop offering prepared items, frozen foods, meats butchered in-house, and alcohol available for order as well. Opened by four
Gramercy Tavern
alums—chefs Howard Kalachnikoff, Rafiq Salim, and Paul Wetzel run the kitchen while Ben Howell oversees the beverage program. Choose from focaccia, baked goods, and more, with an expanded menu and both indoor dining and outdoor dining expected to launch later this year.
How to order:
Order takeout, delivery, and grocery store provisions via
website
.
Photo courtesy of Oh K! Hot Dog
Lower East Side
Oh K-Dog
brings not one (but two!) popular Korean street foods to the Lower East Side: Korean corn dogs and egg toast. Unlike its American cousin, this spot's Korean corn dog's golden brown exterior comes with a crunch, in thanks to its signature rice batter. There's also the popular option to get any frank wrapped in mozzarella, cheddar, or even a cheese combo, resulting in a gooey string of magic in each bite. Go the extra mile by adding toppings such as potato or sweet potato to the outside, along with a variety of sauces like cheese mustard or gochu hot sauce. Rounding out the menu are Korean style egg toasts (breakfast-inspired sandwiches) good at any time of the day, and made with grilled brioche and fluffy scrambled eggs in selections such as Eggs Travagant, the Ok Classic, and Ok Avocado.
How to order:
Storefront
Photo courtesy of Xilonen
Greenpoint
Xilonen is the latest project from the team behind lauded
Oxomoco
in Greenpoint. With plant-based offerings focusing on regional Mexican fare, the restaurant is named after the Aztec Goddess of Young Corn, with a design aesthetic to match as deep purples, yellows, and oranges pay homage to heirloom corn varieties. Working with chef/owner Justin Bazdarich, chef de cuisine Alan Delgado's menu is 75% vegan and 25% vegetarian, with items such masa pancakes with deep mountain maple syrup and salted butter; carrot tostada with navy beans and carrot top salsa verde; and green chorizo quesadilla with hoja santa, black bean salsa, and avocado. Finish it all off with their new
cinnamon roll
made with Mexican cinnamon and a vanilla oat milk glaze.
How to order:
Storefront, tables for outdoor seating are available. Order takeout and delivery via Caviar beginning 1/20.
Photo courtesy of Bahn Vietnamese Shop House
Upper West Side
Since taking over
Com Tam Ninh Kieu
in the Bronx three years ago, owners Nhu Ton and John Nguyen (both formerly of Hanoi House) have earned their popular Vietnamese eatery Michelin recognition. And now with the debut of
Bánh Vietnamese Shop House
in the Upper West Side, they're bringing their Vietnamese cooking and flavors further downtown and to a new borough. Opened just last week, the spot offers limited weekly specials (this week includes chao long, a congee with stuffed sausage and pork intestines), in addition to bánh mì, rice and noodle salad bowls, and regional favorites like bún bò hue (spicy beef noodle soup), thit kho (claypot braised pork belly), and bò kho (beef stew).
How to order:
Order takeout via
website
.
Photo courtesy of Willow
Chelsea
The owners of
Beyond Sushi
debuted their new vegan bistro,
Willow
, in Chelsea just last week. Here, executive chef Guy Vaknin and wife Tali Vaknin, offer a menu of globally inspired plant-based American comfort foods. Choose from the Willow flatbread with "ricotta," aged balsamic, pistachios, artichokes, and dried mission figs; cheeseburger sliders on a brioche bun; porcini chick'n marsala with creamy polenta, sautéed broccolini, oyster mushrooms, and red wine au jus; and "scallop" cacio e pepe with organic semolina linguine, oyster mushroom "scallops," and creamy "parmesan" sauce. Finish it all off with vanilla bean cashew cheesecake or bananas foster cake.
How to order:
Order takeout and delivery via
website
.
Sign up here for our daily NYC email and be the first to get all the food/drink/fun New York has to offer.