6 New Restaurant Openings in NYC You Need to Know
Latin-Caribbean-inspired rum bars, Mexican cantinas, and the latest spots from industry veterans.
After a year of living what felt like a monochrome life, NYC continues to open up and get back to the old pal we once knew. Now that New Yorkers over the age of 16 are eligible for walk-in vaccinations and cocktails will no longer require food purchases (thanks for the memories, $1 bag of chips!), things in the city are already looking up for the warmer season. And while the pandemic continues to alter the landscape of the NYC culinary world, against all odds, a new class of eateries are helping to make the year brighter and a lot more flavorful, offering fresh options to help keep our palates excited through any news cycle.
From Latin-Caribbean-inspired rum bars and Mexican cantinas to the latest spots from industry veterans, here are some of NYC's latest restaurant openings you need to know about. And as always, please tip generously, wear a mask, and social distance responsibly.
Photo by Evan Sung
SoHo
Veranda marks chef George Mendes' return to the NYC culinary scene since closing his celebrated Iberian-inspired restaurant, Aldea, early last year. In partnership with restaurateur David Rabin, the new eatery is located on the second floor of ModernHaus Soho (formerly The James) and features a greenhouse-like design that allows for a seamless transition between indoor and outdoor dining. The menu's American and global flavors includes crispy tempura olives, house-baked sourdough bread, seafood topped flatbreads, and a 60-day aged ribeye. Pair it with a wine list curated by Lee Campbell or signature cocktails by Jonny Swet. In addition, the restaurant is the focal point to Bar at Veranda (with a terrace overlooking Grand Street), The Bar Back (a multi-level garden for drinks and bites), and a retail area with Veranda provisions.
How to book:
Resy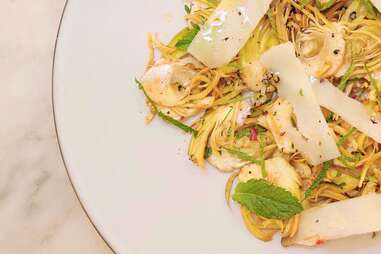 Vallata New York

| Photo courtesy of Crafted Hospitality
Flatiron
The first Italian restaurant for chef and restaurateur Tom Colicchio and his empire of eateries, Vallata New York is located at the space that was formerly Craftbar. Here, the seasonal Roman-inspired menu is based on dishes Colicchio cooked at home for his family during the past year in the pandemic. Overseen by Bryan Hunt, the director of culinary operations at Crafted Hospitality, menu items include gnocchi with braised oxtail and pine nuts; paccheri with guanciale and peas; braised chicken; and skirt steak with balsamic roasted cipollini and charred scallions. Pair everything with wine, negronis, and amaro-based signature cocktails.
How to book:
Resy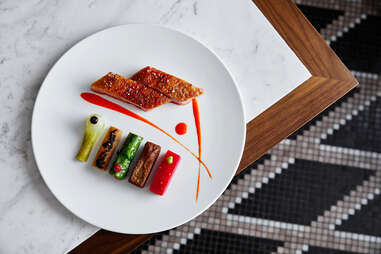 Intersect By Lexus

| Photo courtesy of Intersect by Lexus
Meatpacking District
Starting this week, the rotating restaurant-in-residence program at Intersect By Lexus-NYC welcomes its sixth participating chef with David Kinch of the award-winning California eatery Manresa. Diners can enjoy his West Coast-inspired farm-to-table approach with dishes like sea bream sashimi with radish and citrus; roasted age duck with farm vegetables and fermented carrot juice; and Japanese beef with salt-baked onions, ramps, and morels. A new outdoor dining setup from the Rockwell Group is also set to debut with four pavilions and seven tables for sidewalk seating. And be sure to check out the special
happy hour
at the first-floor izakaya and cocktail spot The Lounge.
How to book
:
Resy
Tiny's Cantina

| Photo by Jared Zuckerman
Prospect Heights
This modern day cantina inspired by Mexican street food and craft cocktails is from the same team behind Morgan's Brooklyn Barbecue and located just blocks away. The menu is by executive chef Cenobio Canalizo and features flavors rooted in his hometown of Puebla, Mexico. Expect signature items like Oaxacan tlayuda, birria tacos, BLT Camarones, pork belly guacamole, and quesadillas de hongos. The cocktail menu by general manager Aubrey Ruettiger and also Jono Moratis includes the Golden Eagle (mezcal, apricot, ginger, pineapple, mole bitters) and a Guanajuato Old Fashioned (corn whiskey, liquor de elote, bitters, lemon twist), in addition to over 75 tequilas and mezcals.
How to book
:
OpenTable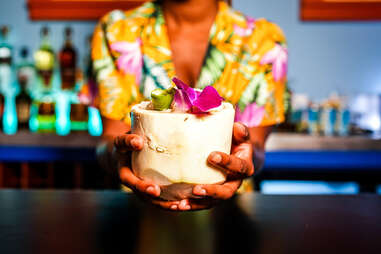 Fats Duvall's Rhum Cafe

| Photo courtesy of Fats Duvall's Rhum Cafe
SoHo
Latin-Caribbean food offerings and rum cocktails are the focus at Fats Duvall's Rhum Cafe, a new SoHo restaurant from the team behind spots like The Brooklyn Inn, The Magician, and WCOU (Tile Bar). Alongside a wide rum selection and a global selection of beers, head bartender Linda Garcia's (Clover Club, Le Boudoir) signature cocktails include the Roll Me a Cigar (coffee-bean infused rum, smoked cinnamon), and the Pink Flamingo (rum, watermelon, grapefruit and guava juice) that's served in an actual pink flamingo glass. In a tropical-themed dining room adorned with murals, available small plates include empanadas, fluke ceviche, yucca fries, wings with a "Guava-Q" sauce, and homemade beignets.
How to book
:
Resy
The Glass Ceiling NoMad

| Photo courtesy of The Glass Ceiling NoMad
NoMad
With views of the Empire State Building, this new rooftop space aims to "break the 'glass ceiling' for women and minorities'' by highlighting events and brands that are owned and led by women and marginalized groups. Co-founded by Cate Luzio, the CEO of the women-empowering membership-based group, Luminary, The Glass Ceiling Nomad features a botanical theme with lush plants and palm trees in both an indoor and outdoor setting. Menu items include crispy rice with tuna and wasabi caviar; halibut with parsnip pierre and romanesco lemon; and the GC Burger with caramelized onions and gruyere. Choose from cocktails like a pomegranate spritz, champagne cucumber mojito, and passion fruit lemonade.
How to book
:
OpenTable