After this week's heartbreaking news out of Uvalde, Texas, we're right alongside you if you're in a less than celebratory mood. The feelings of hopelessness and frustration are understandable, and beyond demanding sensible gun reform or getting involved with organizations working to prevent gun violence in America like Everytown, further ways to show support are helping the families of victims or contacting your Congress Members to let them know just how you feel.
With that in mind, we're also all about cherishing time spent with our loved ones and if doing so together at a new restaurant opening in NYC can provide any comfort right now, we're all for it.
In addition to the vibrant return of the family-run Brazilian hotspot Ipanema in Midtown and the LA-based Gjelina finally bringing its veggie-centric dishes to NoHo later this summer, there's plenty of options to look forward to. Here are seven new restaurant openings to try out this week.
The ongoing COVID-19 pandemic continues to fluctuate rapidly and NYC currently is experiencing a rise in infection rates due to Omicron variants. If you're venturing out, triple-check safety protocols and be safe out there.
Tribeca
For those of us who don't know, in Cajun and Creole cuisine, an integral part of any great pot of gumbo is filé: a spicy herb made from dried sassafras leaves. Here, chef and owner Eric McCree leans into the significance of this ingredient for a menu consisting of richly flavored gumbo variations. Among the highlights there's Tiny's Gumbo—named after McCree's grandfather, Aubrey "Tiny" Gaines—(onion, celery, bell pepper, Cajun spices, chicken stock, with a choice of chicken and andouille sausage or seafood); and Gumbo Z'Herbes (a green gumbo with a vegetarian base of swiss chard, collard greens, kale, parsley, and white wine). To accompany the hearty stews, additional classic Louisiana offerings include Andouille and Shrimp Jambalaya plus Crawfish and Crispy Okra Étouffée.
SoHo
As we near the end of AAPI Heritage Month, SoHo welcomes a fresh venture from Sunchol and Sunbong Lee—twin brothers from Osaka, Japan, who are renowned for their Japanese-style steakhouses called Yakiniku Futago located across Asia and the U.S.—in the shape of an intimate kaiseki experience that spotlights expert cuts of Japanese A5 Wagyu. Over the multi-course meal, which rounds out to $320 per person, the kitchen showcases culinary finesse through a rotating list of offerings (which is soon-to-be announced). Additionally, for an extra cost of $125 per guest, you can tack on a sake pairing.
Hudson Square
More than a decade ago, a best friendship was formed in San Francisco between Lindsay Weiss and Alyssa Golub while living on the neighboring streets of Pine and Polk. Years (plus a NYC relocation) later, the duo has now embarked on a venture centered around their joint adoration for curated goods and fun cocktails. To start, there's the retail/market shop, called Pine & Polk, where guests can round up a range of specialty treats from cheese and charcuterie to spices and fresh flower bouquets. But, the gem of this spot is hidden behind an unassuming door (masked as shelves stocked with artisan chocolate bars), which opens up to reveal a sultry cocktail bar. On the opening menu of PS, there's 12 house drinks like A Splendid Day (dairy-free matcha latte with shochu) and The Science Behind the Smell of Books (bourbon, smoked cedarwood, tobacco bitters), along with a selection of themed snack boards such as the Salt & Sea (roe and potato salad, tinned fish, saltines).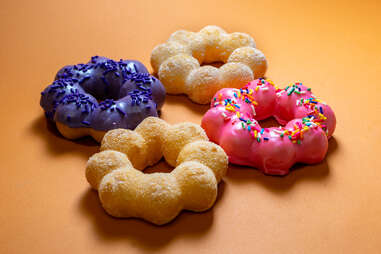 NoMad
Flaunting a retro donut shop aesthetic with the added bonus of South Korean influence is the latest project from Hortus NYC founder, Suhum Jang, and ARTIPS owner, Honey Kim. With two batches made fresh per day, first at 10 am and again at 2 pm, the shop focuses its efforts on three main varieties: Bear Donuts (chewy and bubble-ring shaped); Glazed Donuts (classic American-style made with sweet rice flour); and Cream Puff (airy, rounded, and filled). Creative flavorways include Dirty Choco (Nutella-stuffed and glazed with semi-sweet chocolate); Lavender; Grapefruit Poppy; and Double Milk Tea.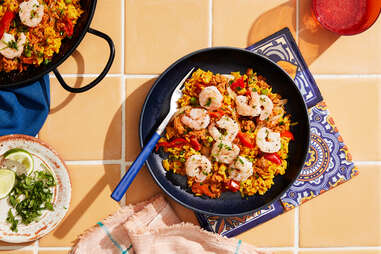 Various locations
Expanding from its homebase of Los Angeles, Everytable joins the burgeoning field of healthy, fast-casual dining in NYC. With a grand opening of three new locations—one in the East Village (229 Avenue B) and two in Chelsea (750 6th Avenue and 362 8th Avenue)—there are plans in motion for three more stores to follow suit across the boroughs by the end of the year. On the menu, options include bowls, salads, wraps, grab-n-go snacks, and desserts with popular meals including the Trap Kitchen Curry Chicken and Turkey Taco Bowl.
Prospect Heights
In a continuing effort seen across the food world, plant-based concepts are becoming increasingly more available across the boroughs (btw have you checked out this pop-up with Leonardo DiCaprio-backed burgers yet?). The latest addition to this vegan and vegetarian-forward lifestyle can be found out of a pop-up market in the Brooklyn neighborhood of Prospect Heights. Slated to operate for at least the next six months, the store is part of the online brand, Mosaic, which was started by co-founders Matt and Sam after they became aware of the lack of healthy frozen food options within this category. Here at this temporary spot, customers can choose from more than 60 of the company's frozen meals, as well as snag bites from the sampling counter and access store-only specials.
SoHo
Sweets lovers can rejoice as this week marks the opening of acclaimed French chocolatier Thierry Atlan's (Sugar and Plumm) very first brick-and-mortar retail store. In collaboration with his daughter Julie, Atlan's namesake boutique is a testament to his many years perfecting his craft, teaching students, and his long-held title as Meilleur Ouvrier de France Chocolatier (Best Craftsman of France) since 1997. Among the delectable creations, guests can take home boxes of assorted chocolates; almond clusters; and specialty pastries like almond-flour macarons.