We Taste-Tested Shake Shack's Beer & Bacon-Fueled Roadside Burger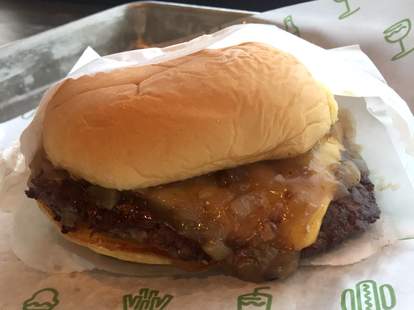 To celebrate Americana in the best way possible (read: with bacon + beer-simmered onions) Shake Shack released its new limited-edition Roadside Shack burger on Monday. And because we have nothing bad to say about cheeseburgers, bacon, or beer, we decided to test it out ourselves and see how it holds up to a traditional roadside burger.
The Roadside Shack -- which is currently available at all US Shake Shacks -- is made of 100% all-natural Angus beef topped with cheese and caramelized onions that've been simmered in beer and bacon.
Lucy Meilus/Thrillist
The verdict
First of all, it tastes pretty close to the American Dream -- if the American Dream were all about caramelized onions. The patty is the same flat-topped griddled kind you know and love, but the rest of the burger (save for the cheese) is unlike anything you've had at Shake Shack before. The chopped caramelized onions sit in a large heap atop the burger, some even spilling onto the sides. They blend nicely with the cheese and pack a ton of flavor; think candied bacon with a hint of beer. And for what it's worth, there even seem to be a few flecks of crispy bacon mixed in.
We're going to go out on a limb and say this is a better order than the regular hamburger or the ShackBurger. The beer & bacon-simmered caramelized onions are that good (and this is coming from someone who normally detests onions in any form). The burger has a ton of flavor, and it's so simple, there's hard to find anything wrong with it. Word of advice, though: even the cleanest of eaters will need a napkin after this. Prepare for sticky hands.
So how does it compare to a traditional roadside burger? We have to give it to Shake Shack -- eating the Roadside Shack makes you feel like you're at a roadside stand in Montana in the absolute best way possible.
Get it while it lasts! The Roadside Shack is $6.19 for a single, and $8.99 for a double burger.
Lucy Meilus is a staff writer for Thrillist and ate this entire burger and then a ChickenShack. Follow her to competitive eating on Twitter at @Lucymeilus and send news tips to news@thrillist.com.