Editor's Note: This article is part two of Thrillist's year-end look at the best of New York City's food and drink scene in 2016. This year, we're spotlighting a single chef, who makes incredible, eye-catching dishes that run counter to the defining trend of the moment, all while undertaking the monumental task of revitalizing a classic. You can also read our picks for the city's Best New Restaurants and Best Bartenders.
Angie Mar takes a very disciplined approach to vegetables, but that doesn't mean she's enthusiastic about them. "Just so you know, this is the vegetable of the day," she says, sipping on a glass of green juice through a straw. "I have one of these every morning, and then I eat meat for the rest of the day." That carnivorous mindset is reflected in her cooking at New York City's historic Beatrice Inn, where the 34-year-old Seattle native has served as executive chef since 2013.
In an era of veggie-forward cooking and meatless burgers -- when Instagrammers glom onto myriad takes on avocado toast, critics gush over Narcissa's Carrots Wellington, and even the city's reigning prince of pork, David Chang, is selling a plant-based burger -- Mar is an unabashed and uncompromising champion of meat in all its forms. Beef, duck, lamb, rabbit, venison, wild boar -- if it can be butchered, she will prepare it, often in the most creative way possible. Take her headline-grabbing whiskey-aged tomahawk steak, a unique French-inspired dish that you won't find anywhere else in America. Even her branzino comes baked inside a beef-fat pastry. Ask for a salad, and Mar jokingly points you to the tartare. (Hey, it's raw!) You can even have beef for dessert, in the form of Mar's bone marrow creme brulee.
Merely pushing back against the rising plant-centric tide isn't enough on its own to merit Mar's selection as Thrillist's NYC Chef of the Year for 2016. We chose her out all of NYC's immensely creative and talented chefs because no one else has accomplished what she has during the past year.
In January, Mar and her team won the local leg of Cochon555, a high-profile whole-hog cooking contest featuring many of the city's most talented chefs. Her impressive victory, capped with a visually stunning red velvet cake made with pig's blood, set the tone for what she describes as a "go big or go home"-type of year ahead.
Over the summer, Mar partnered with her cousin to buy out the Beatrice's ownership group, which notably included Vanity Fair editor Graydon Carter -- effectively turning a restaurant run by power brokers into a small family business. Mar immediately ditched the Bea's stuffy dress code and no-photography policy, outfitted the room with funky artworks, switched the soundtrack to rock and hip-hop, and completely revamped the menu.
The overhaul paid off in November, when the Beatrice earned a glowing two-star review from New York Times critic Pete Wells, who had previously dismissed the restaurant as a total zero-star dud under the prior chef.
Mar's ability to resurrect this storied landmark is her biggest achievement to date. While the nearly century-old Beatrice has gone through multiple incarnations over the years -- a speakeasy in the 1920s, a red sauce joint in the 1950s -- many modern New Yorkers still remember it as the city's most exclusive and notorious nightclub, a den of celebrities and debauchery that the city ultimately shut down in 2009. The original disco ball from that era still hangs in the restaurant's atrium.
If you had any lingering doubts about that contemporary adage, the idea that dinner has become the highest form of nighttime entertainment, the Bea's remarkable comeback under Chef Mar should settle it -- the hottest club in New York is now… an unconventional chophouse.
We recently sat down with Mar to discuss her exciting past year and what's still to come.
Editor's Note: This interview has been edited for brevity and clarity.
The first time I came to the Beatrice Inn under your purview, I had dinner on what I remembered to be the dance floor. How have you been able to change people's perception of this place, from a boozy nightspot to an actual dining destination, especially when so many other chefs couldn't?
Angie Mar: When I took over that restaurant, I had no experience as an executive chef. I had been April Bloomfield's sous chef at the Spotted Pig, which is not the same thing. All I knew is, I didn't want the job. I didn't want the Beatrice. It had just gotten the worst review of 2013 in the New York Times. I thought that if I took that job, it would be career suicide. The Times had just told the world you should never go eat there. So I thought taking it over was a totally bad move. It had the club stigma too. To take that over was really risky, but at the same time, I always love an underdog. I was talking to [famed NYC butcher] Pat LaFrieda about it. And I was like, "This job keeps coming up, it's been two months, they keep asking me to take it, everyone is telling me, 'You're crazy.'" He's like, "Yeah, of course, you'd be totally nuts to take that job. But if you can bring it back from the dead, that's going to make your career -- why wouldn't you take it?" So, I took the job. The first two years I spent revamping it and making it a place that I was really proud to put my name on. And then, for the past year, it's been about working on buying it and making it truly mine.
So, you wanted to buy it?
Mar: Well, again, it's one of those things. I wasn't looking to buy it, but the opportunity presented itself. So who else do you call but Pat LaFrieda?
You called him again?!
Mar: I called him again and asked, "Is this crazy?" And he was like, "Yes, this is crazy, but everyone thought you were crazy to take the job, so if you buy it, you're just doubling down on crazy. Buy the damn restaurant, Angela." I started working on it the next day.

Buying a restaurant in this town is a costly undertaking. How did you raise enough money to take it over?
Mar: I'm really fortunate to have a tremendously supportive family. Your goal as a chef is to own your own restaurant. That's everybody's endgame. It doesn't happen for a lot of people because it's so expensive, especially in this city. I was very fortunate that I didn't have to look farther than my own backyard. My business partner is my cousin. My two brothers designed our new logo, they do our website, they do my business cards. All of that, from A to Z, there's no part of it that my family isn't behind.
Tell me about the changes you made after taking over as owner.
Mar: My menu is completely different than it was when I didn't own it. I was really ready to take the next step and do something bigger and badder and just take no prisoners. Doing things like branzino en croute. Everyone in the city is baking fish in salt. Why would I want to do that when I can bake it in a beef-fat pastry? Things like that.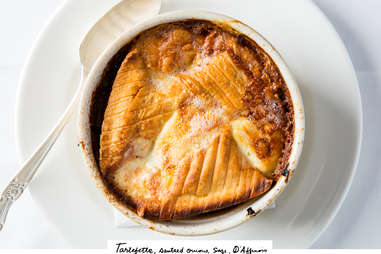 How did you change the space?
Mar: I think the space is stunning. [The prior owners] put a lot of money and a lot of work and a lot of love into the space, so I didn't want to change the bones, but I did want to make it my own. I did small things, like bringing in a lot of lesser-known artists. I've got a Whisbe gummy-bear painting hanging over one of my fireplaces. It's a gummy and it's getting a mug shot from the New York State Department of Corrections. Everyone loves that painting!
What other tweaks did you make?
Mar: For me, doing away with the dress code was a big thing.
What was the dress code originally?
Mar: It was more business-y. That's what the old owners wanted. It was kind of that you-can't-come-in-here-wearing-a-baseball-hat type of situation. But that's not New York. When we bought this restaurant, we really thought about what we wanted this restaurant to be. It needs to be a representation of New York. It needs to be come-as-you-are, feel welcome, let us entertain you, let us feed you, have a great fucking time. That's what I love about what the Beatrice has become now. It is people coming in in black tie before a night out, it's people coming in with a hoodie and backwards baseball cap and still ordering insane food. It's all of that. It's everything in between and that's what's so important for me to maintain. Having that air of just coming here and feeling welcome because everyone is VIP.
The other big thing that happened this year was obviously the Times review, which was pretty glowing.
Mar: That review was everything I could have ever asked for.
Did you know Pete Wells was in your restaurant?
Mar: Oh yeah. I left my annual James Beard dinner to go cook for him.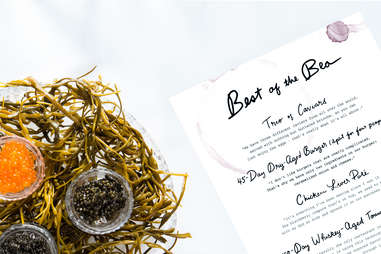 How does that happen? Your phone rings and it's like, "Uh, chef…"
Mar: Yeah! Code Red! I was down the street cooking at the Beard House. My sommelier came by and he's like, "Grab your stuff, we gotta go." I'm like, "What are you talking about? We're plating the first course." And he's like, "The Times is at the restaurant. We gotta go." So I ran back and cooked for him. That review -- he really got the soul of the restaurant. He really got the vision of what we were doing. I knew it was happening because they came in and took pictures. I knew when it was coming out because they did the fact-check. I couldn't sleep the night before. By 7 in the morning, I was like, I can't lay here anymore. I got up and went to the restaurant. I grabbed every single piece of meat that I could find in my walk-in. I brought it all up to the kitchen and I told no one to bother me. I told my prep cooks, "Just stay downstairs, I need to have the kitchen to myself."
So you surrounded yourself with meat in isolation?
Mar: That's literally what I did, and I braised meat all morning until [the review] went online. My kitchen was completely quiet, just a bunch of sauteed hams and beef. My phone just started going off around 11:30 when it went online. I pulled everything off the stove. I went around the corner, and there's this little tiny nook of the restaurant where I go to read and just decompress. I sat there and I read it and I got halfway through the article and I just started bawling. And I still get emotional when I talk about it. There are so many restaurants in New York, and it's so rare that a restaurant gets a second shot. There are chefs in the city that I think are fantastic, and they've never gotten reviewed. So to even get a singular shot is hard enough. For a restaurant to get a second shot, for that historic restaurant to get what it really deserves, and to have it be this amazing review and have it be completely glowing and soulful, it's more than I could ever ask for.
He did have a quibble with the bourbon steak, though -- he said it tasted like an expensive hangover.
Mar: He did! There were a couple of things that he said in there -- like, my sous chef and I were making apple pies for the next two weeks until we made it perfect. But, you know, who cares? At the end of the day, no one's going to remember that part of it. No one is going to remember that he said my pastry game was off. They're going to remember the really fantastic review that he wrote.
Did you tweak the steak at all after that?
Mar: No. I actually haven't met anyone who doesn't like that steak…
Except for Pete Wells.
Mar: Yeah. I haven't changed that steak at all. It's something I think is really special. We are literally the only restaurant in the United States that is implementing that technique. I don't know if anybody else really knows how to do it, which is why I think it's so special.
You age the meat in Jack Daniel's?
Mar: I actually age it in whatever we have around. I did one in Jack Daniel's. It's gotta be good bourbon. The one I'm selling right now is aged in Brenne whiskey, which is a French single malt, and it's pretty insane.
How do you pick the whiskey?
Mar: If I like to drink it, then I'm really going to love it on that steak. The thing is, when you whiskey-age beef like that, it picks up all these nuances of the whiskey in the steak, without having that alcohol taste. So, the reason why I really love the Brenne for this application is, first of all, that it's aged in cognac barrels, so it's a little bit sweeter, there's a lot of vanilla notes to it and that really fits into my food aesthetic. Having all of those really nuanced flavors in the whiskey, it really shines through in the beef.
OK, let's play a game: best burgers in New York -- not counting your own -- go!
Mar: I love the burger at Peter Luger. I think it's great. But you know what I really love? I love burgers that are the exact opposite of mine. I don't go out and have bougie burgers because my burger is really bougie. I love the Happiest Burger and Happiest Hour. It's one of those late-night things that I love to do – I sit at that bar with my Tiki cocktail and sauce running down my hands. That's what I want to do at 1 in the morning.
Shake Shack or In-N-Out?
Mar: Oh! In-N-Out! I lived in LA for a long time, and to this day, In-N-Out is my first stop when I'm there.
Pat LaFrieda [who supplies Shake Shack] is going to be so upset with you.
Mar: We argue about this all the time. He's just going to have to come to the realization that I'm right.
Now that you're officially a restaurateur, let's talk about the big picture: What is the biggest challenge facing restaurateurs in New York City right now?
Mar: Real estate in this city is so damn expensive, so that's always a concern. I sit here and wonder what I'm going to do in X amount of years when my lease is up. The other thing is labor costs. When we talk about the minimum wage going to $15 an hour, I think that we are going to see a huge shift in the kind of restaurants we're going to see around. I think we can kiss the mom-and-pop-type places goodbye, and that's really sad.
You're a mom-and-pop.
Mar: I know! It's really scary. We're going to have to change the way we run businesses. It's going to be reflected in the food costs, clearly. But what does that do to you as a diner? On a lighter note, I think it's also how do you stay relevant, how do you stay top of mind -- that's also something that all of us are concerned about. But that's the fun part.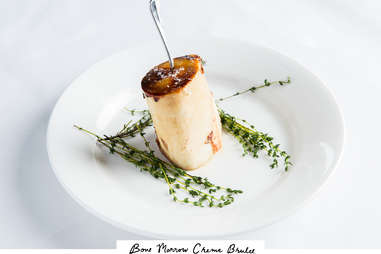 The conventional wisdom tells us that the future of food is plants and ants, so to speak. Is there a future for a meat-centric restaurant in New York?
Mar: I certainly hope so, since I own one [laughs]. Everything comes back around, and I think the whole vegan-vegetable thing had its moment. I think there are some great chefs out there, like [Dirt Candy's] Amanda Cohen. I think she's fantastic. She's the opposite side of the spectrum from me. So, I think that has its niche. But at the end of the day, it's never going to replace meat.
What's next for you and the Bea? Are you a one-restaurant type of chef? Will you go fast-casual at some point? Will we see another Bea in Philly or DC?
Mar: I think right now we have this amazing opportunity, given that the Beatrice has so much history -- I would love to see this restaurant become one of New York's go-tos, the quintessential New York experience. That's what it should be. We got our two stars in the Times. Now it's about raising the bar. Now is the time to roll up our sleeves, work even harder, and go after Michelin. Even if it doesn't have that star yet, that's my expectation for this place. The guys in my kitchen are all Michelin-starred cooks, multiple times over. That's my background too. But where do I see the brand going? I would love to open another Beatrice Inn in London.
Why London?
Mar: I love London. I was there over the summer cooking at Meatopia and really just felt at home there. My mom grew up in the UK. So much of my food is a nod to that. Clearly, I'm in love with beef, and to go to a place that has access to some of the most amazing breeds of beef -- there's stuff in Europe that we can't get here -- I love that idea. There's some incredibly interesting things we could do if we open in London.
Would you ever serve a meatless burger?
Mar: No. And this goes back to the fundamentals. There are restaurants out there that you can go with a group of six people and everyone will be happy. My restaurant is not one of those -- unless they're all hardcore meat eaters. It's not that I look down on vegetables, it's just not what I want to eat. That menu and that restaurant is pretty much all about what I want to eat. If I'm not really excited about every single dish that's on that menu, it doesn't go on my menu. And that's it. My food is meant to be eaten with abandon. There's never going to be something on that menu that is meant for that small demographic that's going to come in there because their boyfriend wanted to go there, or their friends wanted to come in there, and I've got to have a vegetarian option to placate you. I'm not passionate about that. Even if we are missing out on a certain demographic, that's fine. This is the food that I believe in.
Sign up here for our daily NYC email and be the first to get all the food/drink/fun New York has to offer.