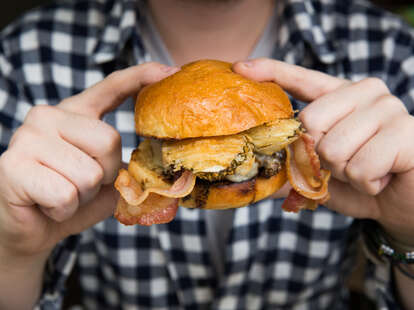 Sitting beneath a pool noodle laced with LED lights (one of the many day-glo tchotchkes lining the walls and ceilings), restaurateur Tommy Up considers the name of his Philadelphia burger joint -- which has developed a cult following across the city (and nation) due to its heretical take on traditional burgers. As it turns out, Up's response is as fluid and mercurial as his culinary offerings.'
"It started as a Michael Jackson thing -- you know, like 'Pretty Young Thing,' " but we kind of come up with a different answer every time someone asks that question. Sometimes it's 'Please, Yes and Thanks,' sometimes it's 'Pick Your Toppings,' sometimes it's something completely different."
Despite the ever-changing nature of the boilerplate, one thing remains constant at PYT: the untraditional "stunt-burgers" it serves are seriously delicious. And after a long and notable stint in Philly, they're finally bringing the goods to NYC.
Before we get to the literal meat of the story, it's important to note how unique of a space PYT has carved out on the Bowery. Littered with neon throw-backs to the late 80s and early 90s, it looks so much like The Max from Saved By The Bell, I fully expected Lisa Turtle to pop out of the bathroom and slide into a booth next to me. As it turns out, I wasn't far off.
"We started designing the place, and putting up little trinkets and throw-backs and finally we just decided to embrace the vibe and totally commit. That's we have a Bayside Tiger logo right by the door. It brought us back to the days of sitting in our basement, hanging out and watching Saved By The Bell for hours," Tommy said.
You'll also notice the faux-arcade machine, which opens up to a black-lighted room, which then slides into the dining room of an upscale pizzeria, located behind PYT. It's best not to ask questions.
The PYT Burger
The first burger we sampled is admittedly the most basic -- as it is the standard. You have your ubiquitous cheddar/lettuce/raw onion combo, topped with bacon and mayo-based special, caramelized onion sauce.
You can expect a dose of Americana with this one, with a cool breeze of refreshing sauce to smooth out the ending. It's just like what Dad would throw together on a late-summer night out on the grill -- if your Dad was a master chef, obviously. For those playing it safe, this is obviously a solid choice. But when you got to PYT, you shouldn't be playing it safe. As I learned with the next few burgers I sampled, that's definitely not what PYT is known for.
Philly Cheesesteak Burger
Next on the eating block is the decidedly Philadelphian Cheesesteak burger. It's exactly what you think it is: Beef and cheddar cheese decked with all the classic cheesesteak ingredients (cheese-whiz, sliced steak, fried onions). All atop either a pretzel or donut bun (I was given the donut, and didn't complain).
OK, so I have an admission that we need to get out of the way: these kinds of loaded, messy, and convoluted burgers, are usually a turn-off for me. I'd normally go with the classic, and be just fine with that. But the second I bit into the Philly burger, I knew I had been screwing myself over with my basic palate for years. This is what PYT is known for, and I was going to embrace it.
You'll need a napkin with this one, for sure -- but the inevitable cheese stains on your shirt are offset by the glutinous ecstasy of the combination of these masterworks of meat and cheese. The glazed donut buns are flipped inside-out (so your hands don't get sticky), and they definitely aren't overwhelmingly sweet, which was a major concern going into it. The tart, tangy donut buns cut through thicket to add and perfectly compliment the rest of the burger. This is the spirit of Philly on a bun -- but thankfully, they left out the cream cheese and obnoxious Eagles fans.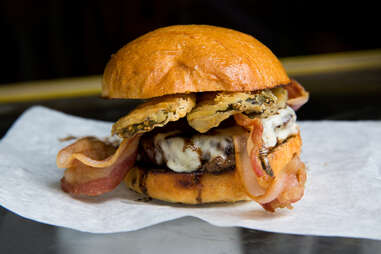 The Pickleback
This burger is based off the ubiquitous pickle-juice/shot combo... called, the Pickleback, obviously... and it was probably my favorite of the group, surprisingly. Fried pickles and bacon sit atop a burger with a Jameson whiskey glaze, cut with Pepper Jack cheese to cut through the pungent (in a good way...) alcoholic glaze.
The combination of flavors is never overpowering, with different bites producing sweet, salty, and savory notes -- sometimes all at once. It was shocking (no, I'm not exaggerating) how well the separate, and seemingly counterbalanced ingredients melted together in this one.
And yes, it really tastes like a Pickleback -- without the hangover.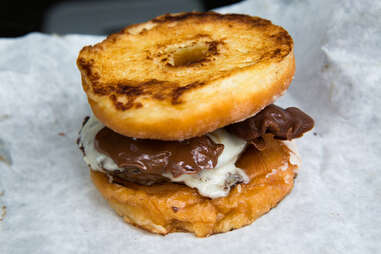 The Donut Burger
The most famous offering out of PYT, the donut burger is a smorgasbord of melted American cheese, laced with chocolate-dipped bacon, squeezed inside two grilled, glazed donuts (again, flipped inside out to keep your mitts dry).
This kind of "novelty" burger is usually overpowering for my tastebuds, but (just like the rest of the burgers) PYT managed to find the perfect balance between ingredients, and never lets one side of the burger force its way to the top. What does that mean for you? You get a succinct package of sweet, savory, and the indescribable combination of the two within every bite. The glazed donut buns, combined with the chocolate, taper the salt of the burger and bacon, leaving you with an immensely satisfying dessert-burger experience.
If you want to get on the action yourself (and why wouldn't you?) you can stop by PYT, on 334 Bowery, open Wednesday and Thursday from 6pm-12am, and weekends from 6pm-2am (for now, at least).
If you're looking to play it safe, and eat the same basic burger you've wolfed down a thousand times before, you might want to look elsewhere. PYT -- from its name, to its decor, to its owner -- is a burger joint of a decidedly bold, different, and neon-spiked color.
Will they make it in NYC? With an attitude like this, they should do just fine.
Sign up here for our daily Thrillist email, and get your fix of the best in food/drink/fun.
Wil Fulton is a Staff Writer for Thrillist. He is still full, but is very okay with it. Follow him @wilfulton