Thanks to a sexy space that's part futuristic bistro and part Nordic cubby hole, Pearl & Ash doesn't look like the most affordable place in the world, or even the Bowery. But GM Branden McRill -- who opened the joint with help from chef Richard Kuo (of Frej), former research biologist/ current cocktail master Eben Klemm, sommelier Patrick Cappiello — claims that "two people can try everything on the menu for just about $58 a head", and if you've seen Stuck On You, you should now have a pretty funny image in your own

The overriding design feature is this asymmetrical box-wall that illuminates the room with candles, and holds all sorts of other atmospheric randomness like..

...bottles filled with vanilla beans

And miniature classical sculptures

And moss. There's actually kind of a lot of moss

Towards the back is the open kitchen overlooked by a big communal table and booths whose benches are covered in cushions that're the same color blue as the pants every single girl you know wore last Spring

There's also this high-walled booth if you need some privacy, and are Gheorghe Muresan

The food is influenced by the chef's roots in both Taiwan and Australia, and utilizes "obscure" ingredients that he believes need a little dap. These beauties are his interpretation of "how a meatball should be", and feature veal & pork (those are not the obscure ones) that're glazed and finished with mushroom jus, blowtorched, and then topped with soppressata and bonito flakes that weirdly wave and kinda seem alive.

The octopus has a nice kick thanks to being dry-rubbed in Asian togarashi peppers for 24hrs and cooked in mirin.
Recommended Video
Make This Apple Brandy Elderflower Sparkler for Your Next Fancy Party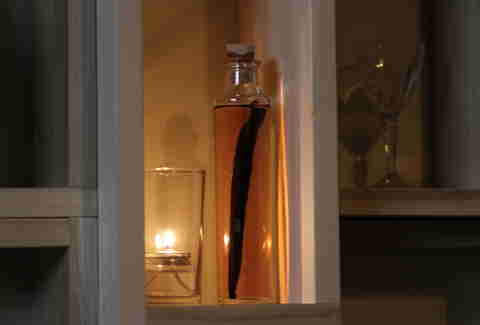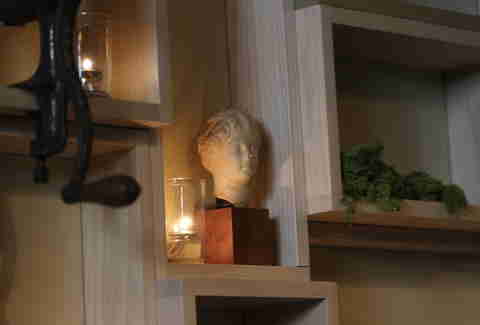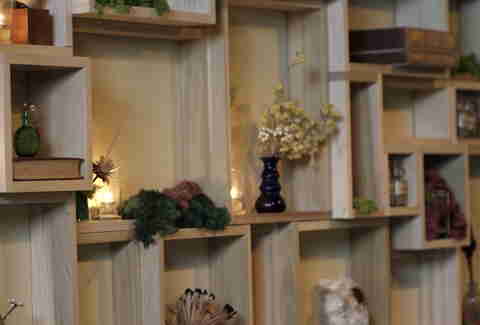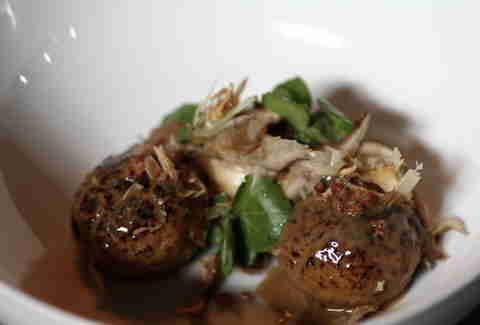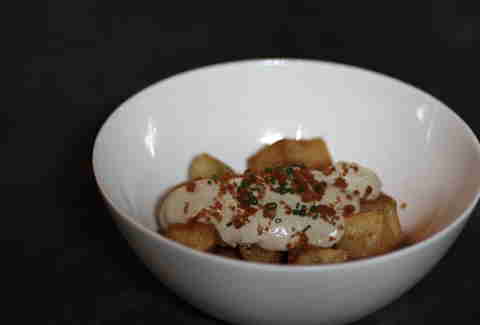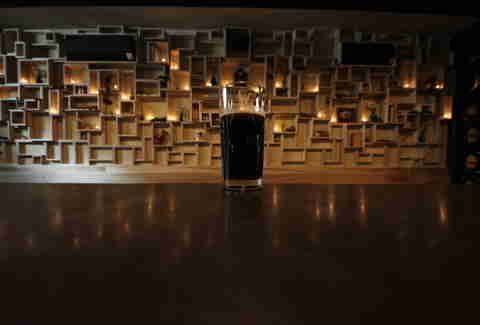 Previous Venue
Next Venue
Venue Description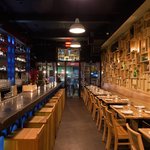 1. Pearl & Ash
220 Bowery, New York, NY 10012
From the street, Pearl & Ash doesn't amount to much more than another nondescript storefront on the Bowery. But the unassuming black facade is all part of the appeal of this swanky small plates restaurant. Chef Trae Basore doesn't adhere to a specific cuisine, instead, he uses obscure ingredients to craft plates like sweetbreads with bacon, avocado, and crawfish mousse, and chicken liver and foie gras torchon. Adventurous, communal food is the name of the game here, all served by a highly trained and attentive waitstaff.