Just when you thought you were totally, perfectly fine eating the delicious bagels around the corner from your apartment, along comes Black Seed: an Elizabeth St bagel shop from the guys behind Mile End and The Smile on Bond St. It's bringing you a hybrid of the best-in-the-world NY bagel and the crispier, wood-fired, beloved-in-Canada Montreal-style bagel. Game, meet change.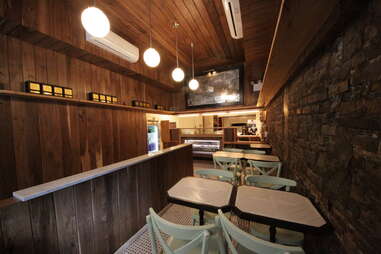 The interior is almost cabin-like, especially since there are stacks of wood in the back and the smell of it burning throughout. Head to the counter and fill out their order card with your choices, or just get one of the specialty sandwiches, which don't yet include bacon-egg-cheeses, pizza bagels, and tuna melts, but will soon!
Every bagel is made by hand with a dough that 1) has the NY ratio of flour, yeast, and water, so that it maintains that chewy, fluffy center, 2) is wrapped around their knuckles, and 3) is rolled 'til it's shaped just right.
After they're rolled out, they rest for a bit until they look a bit like Cheerios. They then get plunged into water for a boil that gives them that beautiful, shiny outside that you're used to seeing.
Next, they're planked into the oven that they've spent all day stoking with mixed wood to create temps of up to 465 degrees. It's known as the bagel-baking "sweet spot".

The rings are flipped every minute until they're evenly baked and ready to go. Walk over and take a deep whiff: the scent coming off of these while they cook is sweet, smoky, and drool-inducing.
After they're cooked, they're scooped out with a giant cricket bat and are ready for your bagel-consuming needs, which should probably include one of their sandwiches we mentioned earlier...
... like this classic topped with salmon from Acme, red onion, tomato, capers, and homemade cream cheese. Like your Bookie, they make all of their spreads in-house.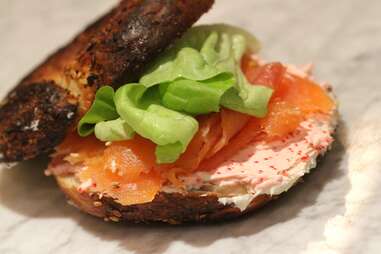 Take things to a less less classic place with this bad boy with salmon, tobiko spread, and butter lettuce, which -- even though it sounds like a trap to get us to eat lettuce -- is excellent.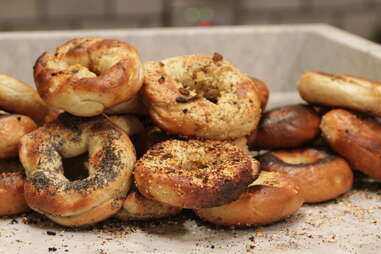 Or just grab a whole shload of them (and a bag of bagel chips), and do whatever you want with them at home -- they come with all the standard flavors like poppy, sesame, salt, garlic, multigrain, and everything. Someone else will have to change the topping game.
Andrew Zimmer is Thrillist's NYC Editor and just about his favorite thing in the world is a bagel. Follow him on Facebook, Twitter, and Instagram.