I battled opening-day crowds at NYC's pop-up cat cafe for YOU
Let me tell you a little story about the day I knew I'd "made it" as a writer. First of all, it was a Thursday. Second of all, something calling itself a cat cafe -- a highly-bloggable union of caffeine, adoptable felines, and general pop-uppery -- had just opened on the Bowery. Third of all, I was assigned to cover it.
And cover it, I would. I was ready to cover the crap out of those cats, then rake some litter over that crap, pound an espresso, and contemplate my newfound status as a respected journalist.
But before I did any of that, I'd have to wait in line.
Fact: The internet loves cats. Fact:New Yorkers love internet-browsing and coffee-drinking, often at the same time. Fact: When I rolled up to the corner of Bowery & Kenmare, the traffic-choked crossroads where Purina ONE had rented a gallery space (through the weekend only) to house this dog & pony... err...cat & coffee show, there were approximately 100 New Yorkers patiently awaiting whisker-play in the brisk April breeze.
They'd been here for a while. "Pshhh… people have been lining up since like 8:30am," a cat cafe employee with batman gages and a goatee told me. This was at noon. "Capacity is only like 25 at a time, so it's moving slow."
Right.
Just then, a middle-aged man wearing a Lennie Briscoe trench coat began politely herding me against the building. Ostensibly, this was to let through all the New Yorkers who preferred their cafes cat-free, but pretty much everyone in eye-shot seemed to be here for the "coffee, conversation, and cats!" advertised on the sign.
Lennie (fake name) identified himself as Frampton (real, awesome name), and told me he was working "private security detail" for the event. Frampton was a doorman at the hottest cat cafe in town.
How exclusive was it, you ask? Well, there were not one, but several news crews documenting the sprawling line. So yeah: we're talking 2am-at-Marquee levels of door-stinginess here.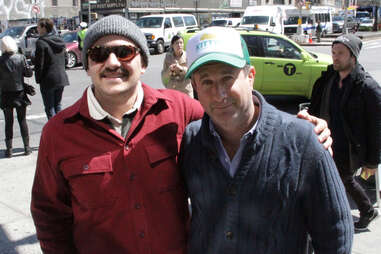 Farther down the kitten-crazed queue, I met this dude. He was hawking something called Kittyo. Based on his hat, I assume he was Kittyo's CEO. Stay thy clamoring curiosity, knave! I shall tell you what Kittyo is. It's an iPhone-controlled, cat-specific play center replete with lasers, remote-treat-dispensability, and Wi-Fi connectivity.
It looks like a coffee pot, give or take, and it's now on Kickstarter. Mister Kittyo sure knew how to tap into this town's money-throwing, cat-happy elite -- his business cards were tightly clutched in many felinophilic hands in the crowd.
It was around lunchtime, the line was going nowhere, and I was pretty sure I wouldn't be allowed to eat the cats. I decided to come back a few hours later, once the initial surge had subsided.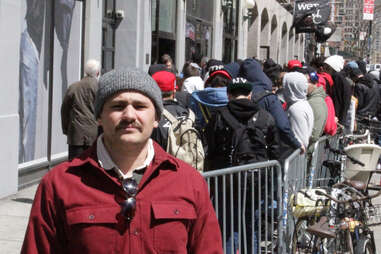 On the way back to the office, I passed another line. This one was outside of Supreme, a streetwear hotspot that drops new merchandise on Thursdays. April 24th: big day for line-waiters in NYC.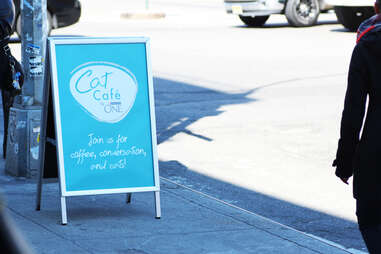 After a filling lunch of not-cat, I returned to the cat cafe around 3pm, confident that the line would be gone. Who stands around all day waiting for a chance to pet cats?I reasoned. I'll walk right in.
Pro tip: One does not merely "walk right in" to a cat cafe.
The line was even longer than before. Stymied, I did what any self-important writer would do in 2014: people-watched cat-ficianados, and tweeted about it.
Despite the painstakingly slow march towards the door (the address says 168 Bowery, but you'll actually enter the cafe on Kenmare), and the unseasonably blustery weather whirl-winding Chinatown trash at face-level, everyone was in high spirits.
And why not? When you're within striking distance of good coffee & cuddly critters, things could be worse.
You should know, if you don't already, that cat cafe-ing is serious business. This dude below? He knew. He had a GoPro rigged to his head, and might have been a little high. Or a lot high. Definitely of those.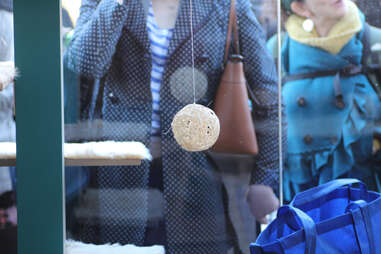 But the sun was going down, and the wind was getting colder. Feline fantasyland, where the espresso flows like water and 16 cats await your adoption, seemed out of reach. But then, providence struck. Out of nowhere, a dude working with the pop-up tapped me on the shoulder and asked who I was. I told him, and he exclaimed, "I thought so! Your tweets are hilarious!" After a couple minutes of chatter, I got him to help me skip the line.
Pro tip #2: Send hilarious tweets hashtagged #catcafe for potential VIP access to cat cafe.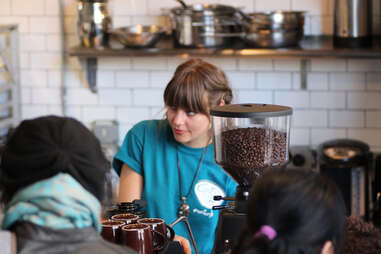 The Cat'achino: That's a cat's face drawn right into the milk with this technique. It's a drowsy cat-lover's literal wet dream, and it's totally delicious.
Of course, there are cats -- 16 of them, each softer and more apathetic than the last. The North Shore Animal League is hoping all of them find homes by Sunday, April 27th, when the pop-up will close up shop.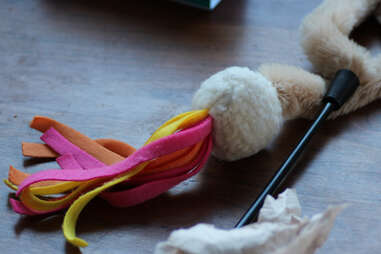 There's also a large-ish play area stocked with human furniture as well as ladders, scratch poles, and toys for the cats. You can pick up this devil-stick-looking thing and dangle it in front of a tabby, who will either swat it away, or stare at you blankly. It's the best!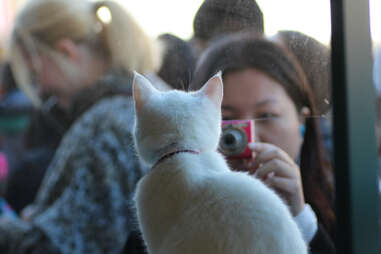 It was so crowded outside, I had to remind myself that this cat cafe, though glorious, wasn't the first of its kind. The concept actually hails from Japan (duh), where cat cafes are ubiquitous and operate much like karaoke bars or roller rinks. You pay a cover charge and "rent" the opportunity to love a kitty-for-hire. The cafes are all over Asia & Europe, and a couple permanent ones are slated to be built in San Francisco later this year.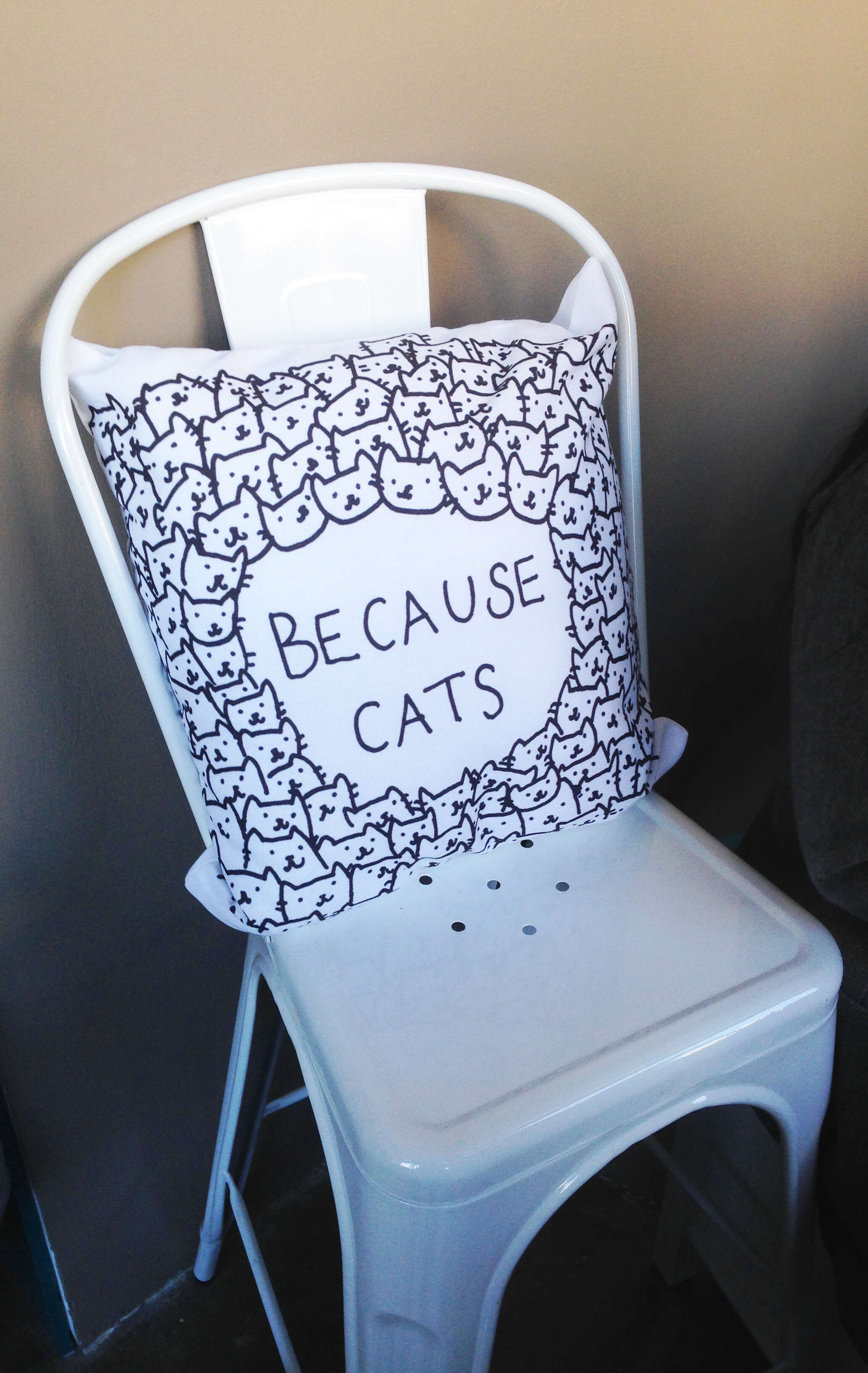 Why should you sit in a line beside Downtown Manhattan's busiest intersection for hours? Sure, it's to make new friends with a mutual love/not-hate for creatures & coffee. But really, the answer's always been right in front of you.
Having drunk the sweet brew of the barista-cats and petted many a purring pussycat, it was time for me to leave the cat cafe.
When your time comes, accept it with quiet grace, gaze on Valhalla once more, then take a selfie. You have cat-cafe'd to the very fullest, and I salute you.
Dave Infante is a senior writer for Thrillist, and spent most of his day thinking about and/or touching cats. It's been weird. Follow him on Twitter @dinfontay.