Where to get allll the beer and mussels
You know how you love drinking beer all day in a bright, airy hall that gives you just the slightest hint of being in Europe? Good news: just-opened Belgian Beer Cafe in NoMad is designed specifically for doing that, with two floors, a gargantuan bar, and enough mussels and beer that pretty much everyone there's gonna be making tipsy Van Damme jokes.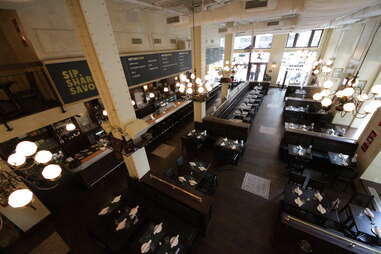 Grab a seat on the second floor and overlook all of THIS, or grab a table by one of the massive windows and people watch the crap out of 5th Ave.

Every single one of their beers has its own proper glass for drinking it (mad respect, Delirium Tremens), but if you wanna be the guy who orders something that other people see and say, "I want that too", get a Kwak.
Or maybe your thing is 3L bottles? They've got those too, along with small goods like Orval Trappist Ale, La Chouffe, and growlers to go (or stay, totally your call).
Everything they make here, they make with beer, starting with five different kinds of mussels, including this kettle filled with Hoegaarden-steamed mussels, pulled from the "good part" of Prince Edward Island (which's apparently a thing, and it produces plumper, tastier bivalves) with lemon and thyme thrown in the mix for good measure.
You're getting mussels, that's a given, but someone else at your table should experience the other Belgian bounty so you can "share" -- these diver sea scallops come on a bed of caramelized endive with a sauce made with Stella, butter, tarragon, chervil, and chives.
Lastly: get the vol-au-vent -- it's a puff pastry (so it qualifies as "dessert") filled with chicken and topped with veal meatballs in a sauce made from chicken stock and beer. Hot Damme.
Sign up here for our daily NYC email and be the first to get all the food/drink/fun New York has to offer.
Andrew Zimmer is Thrillist's NYC Editor and he's pretty sure he could beat Van Damme in a splits contest, unless it was Van Damme from Hard Target (he was totally badass in that). Follow him on Twitter and Instagram.