Although it's unlikely that anyone will EVER combine sex and food better than George Costanza, the Museum of Sex is giving it a shot at their new restaurant Play, pushing the boundaries of the coital and culinary arts with cocktail exhibits, next-level snacks, and something called Octopus Fun Dip, which you should only try with your partner if she's cool with it.
You'll want to lube up before getting down (literally... wait for it) with some of the more adventurous stuff, so start with the Loose Women & Pickpockets which's made with duck fat-washed cognac, Cointreau, lemon, orange cordial, and bay leaf, adding a nice savory touch.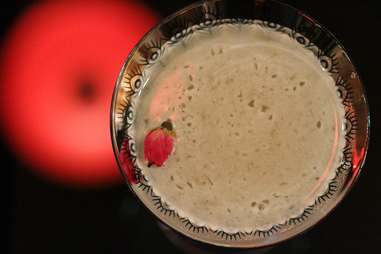 The Rosebud, or "panty dropper" as some call it, is a mixture of Hendricks, St. Germain, rose-infused blanc vermouth, ginger-lemon, and a tiny actual rosebud... which is totally a metaphor for lost innocence, or something.
Okay, now that you've theoretically had a few drinks, you're ready to hear about one of their "Exhibited Cocktails". This one's called Pareidolia, designed by Dutch artist Bart Hess. It doesn't come in a glass, instead arriving on plate textured to feel like skin. It's a "glowing viscous substance" that you aren't meant to sip. You're literally meant to lick it off the dish. We told you things would get weird.
The main dining room looks like an old-time apothecary mated (sexily, of course) with a '70s swinger's den, and gave birth to leather love seats, shelves lined with potions, tiny TVs playing sexy art videos, and bookcases whose tomes have generally been replaced with cutouts from nudie magazines.
You should only lick cocktail plates in the most intimate of settings, so thankfully they've got that covered.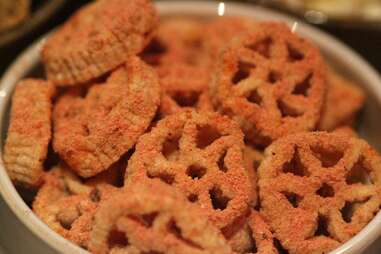 The food is from Ben Roche, formerly of Moto and Baume & Brix in Chicago, and he's created these dusty wheels that are actually Pizza Puffed Pasta bites. He cooks, dehydrates, and fries rotelle pasta, then sprinkles them with some homemade pizza flavoring. Clearly these need to be available by the bag.
Next-level bar snacks continue with their Concentrated Popcorn, which is popcorn topped with brown butter that's been blended together with... other popcorn, plus some hops powder to give it just a hint of IPA-y "dank bitterness"... which's also your disposition when you stay home and smoke because no one invited you to the Museum of Sex restaurant.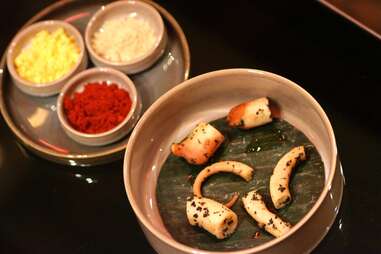 You're probably familiar with how Fun Dip works (or Double Dip, if you're British). Well, the Octopus Fun Dip operates the exact same way. You take your tentacles (cooked sous-vide for four hours so they're super tender), and then dip them in one of the three powders: a Greek oregano-feta number, a Spanish-style dip with smoked paprika and tomato flavors, and a curry, coconut, turmeric combo.
And yes, there are vintage Playboy's all over the place. Feel free to read the articles.