Now You Can Enjoy Balls From Bed With Delivery from The Meatball Shop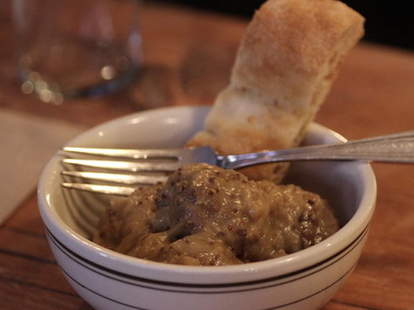 Finally, you can enjoy some balls from the comfort of your home. The Meatball Shop, Daniel Holzman and Michael Chernow's ball purveyor, announced Thursday its outposts in Brooklyn and Manhattan will hand deliver the balls -- even a Bucket O' Balls -- right to your place via delivery service Caviar. 
The announcement boasts, "Now you can stay in your PJs and get your balls hand-delivered straight to your place for those stay-in-bed ballin' days, those too-cold-to-go-out nights, and those hungover-need-meatballs afternoons!" Now, ordering from bed means you'll miss out on the loud, vintage vibes of your local baller-y and the pretty serious cocktail menu at the Chelsea location's subterranean "Underballs" bar, but save that stuff for the days you're actually willing to get dressed. 
 
(h/t
Grub Street
)
Tony Merevick is Cities News Editor at Thrillist and figures that at this rate he'll probably turn into a delivery service maniac hermit holed up in his apartment some day. Follow him on Twitter @tonymerevick.