The problem with our fair city's unrequited love for pizza (sorry, man -- pizza does not love you back) is that at a certain point, you find you've eaten your way through what's widely considered the city's top pizza spots (to say nothing of the entire country's). But what about the pies that've slipped through the proverbial cracks? Or even the real cracks, in a table with rather large cracks?
Here to keep you full, in newfound ways: our list of the 12 best under-the-radar pizzas in NYC, none of which you'll find on any "Best Of" lists from NY Mag, Zagat, Time Out,Eater (Eater again!), Serious Eats, Gothamist, or Village Voice.
Solo Pizza (click here for address and info)
Alphabet City
Take the most deliciously reliable slice joint you've ever lived near, add a superb Grandma slice, and throw in some of the garlicky-est knots ever knotted, and you've got Solo. If you're wandering Alphabet City/in the delivery area and need a top-notch slice, this is absolutely the place you want.
The Square (click here for address and info)
Staten Island
In a city where the triangle slice is king, this haven for doughy, saucy square slices is just as satisfying, while also being a welcomed change of pace.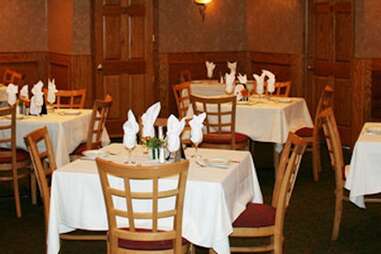 The Manor Restaurant (click here for address and info)
Staten Island
If you're not from the area, it's highly probable that you might walk right by this restaurant without realizing they've got some choice pizza options, along with their white table clothes, linguini with clam sauce, and chicken Francaise. The humdingers, though? An off-the-charts bianca with mozzarella, ricotta, oil, garlic, and fresh basil, and a "garbage" pizza topped with sausage, pepperoni, meatballs, peppers, and mushrooms.
Toby's Public House (click here for address and info)
Nolita and Park Slope
This casual bar and pie shop has been slinging top-notch wood-fired cheese discs for years in Brooklyn (and slightly more recently in Nolita), next-leveling their pies with top-notch ingredients like Buffalo mozz, prosciutto di parma, and pecorino Toscano DOP. It doesn't hurt that they've got a pretty great beer selection too, including All Day IPA, Arrogant Bastard, and Sly Fox.
Rocky Sullivan's (click here for address and info)
Red Hook
The only Irish bar to make the list (or probably any pizza list ever) turns out a titular thin-crust brick oven 'za topped with sun-dried tomatoes, pepperoni, and roasted peppers. As it turns out, that pie also goes really well with rooftop seating, pool, and pints of Guinness.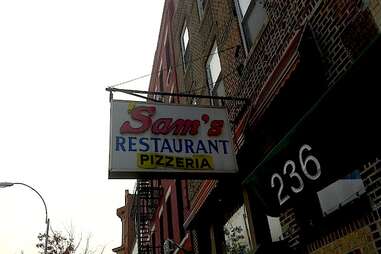 Sam's Restaurant (click here for address and info)
Cobble Hill
There're no bells and whistles at this super-old-school spot (we're talking checkered-table-clothes-level old-school), but there is an old NY attitude, and a "no slices" policy for their coal-fired brick oven pizza, which has a chewy-yet-crispy crust and a nostalgia-inducing mix of sauce and melty cheese.

Williamsburg Pizza (click here for address and info)
Williamsburg
A relative newcomer to the pizza scene, this spot was started by a member of the United States Pizza Team (which sounds like something you should try out for immediately), who's making just about everything from scratch, including the cheese -- because according to him, real Brooklyn thin crust pizza doesn't need any gimmicks, just good ingredients, and an "obsessive devotion" to freshness and quality.
Editor's Note: It's been brought to our attention that Williamsburg Pizza was on one of NY Mag's "Best Of" lists last year. And while we still think it's not yet considered to be one of the NYC Pizza Standard bearers just yet, we acknowledge that it's not quite as under-the-radar as the others.
Ribalta (click here for address and info)
Union Square
They've got four different kinds of ovens here all pumping out different types of great pizza, including our rec: the Pizza in Pala, which's a special way of twice-baking it so that the crust comes up with that perfect combination of crispy and chewy. The Napoletana's great too, but it's probably time you branched out.

Dani's House of Pizza (click here for address and info)
Kew Gardens
Dani's is one of the reason's Queens could very well be the best borough. It's been perfecting old-school slices since 1959, and should be held up as a tried and true example of the form.

Mario's Restaurant (click here for address and info)
The Bronx
Zero Otto Nove and Coals (whose Bronx location is unfortunately now closed) got a lot of the love in the Bronx, but Mario's -- which has been open for 90+ years on the legendary Arthur Ave -- is top-notch as well. It's not a slice joint by any means; instead, it's the kind of place with old-school, over-the-top Italian charm that just does flat-out incredible pies, even though the pizza's only listed as an appetizer. Whatever you do, don't let that deter you.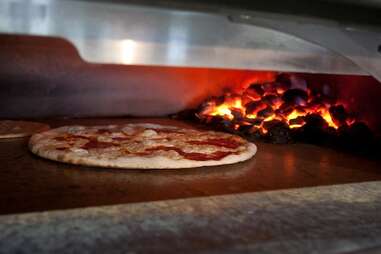 Table 87 (click here for address and info)
Brooklyn Heights
Claiming to be the first spot in Brooklyn that'll give you coal-oven pizza by the slice, this spot near Barclay's Center has some big-time competition nearby. But it's got enough nostalgia-inducing flavor, smell, and feel that you shouldn't sleep on it.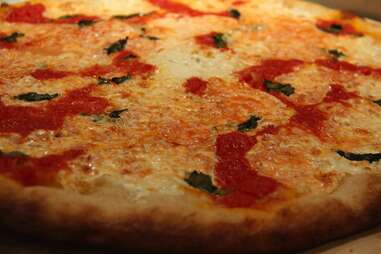 Reader's Choice
SYKE! We only picked 11; the 12th is actually totally up to you. Where's the best, most underrated pizza in the city? Let us know in the comments (each mention is one vote, and remember: it can't be on any of those "Best Of" lists) and we'll announce the winner by the end of this week (4/18 - and here it is, the Reader's Choice)
Andrew Zimmer is Thrillist's NYC Editor and he thinks cold pizza in the morning is excellent. Follow him on Facebook, Twitter, and Instagram.