There's a burger crawl this weekend. We have discounted tickets.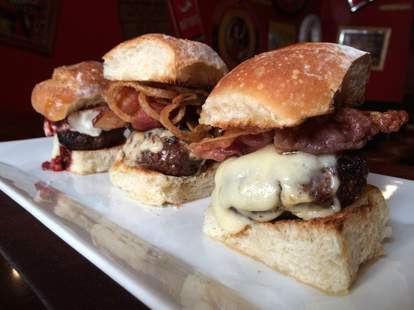 Burger Week is in full effect right now and you should take part in the best way possible -- with this weekend's burger crawl. And because we think you deserve hot, juicy burgers, we're pretty much GIVING you $45 to do it with (use this discounted link or enter code THRILLIST). Indulge in six hours of trotting from bar to bar and putting down beef patty after beef patty, while drowning it all in beer and feeling super-good about yourself because portions of the proceeds will be donated to Autism Speaks. In the totally unlikely event you can't handle every burger on the crawl, we've picked out the five must-visits and the $3 burgers you'll get at each stop.
1. Bottomzup Bar & Grill (click here for address and info)
Stop off at this Kips Bay sports bar for a Juicy Lucy slider stuffed with American cheese and topped with French-fried onions and tomato relish.
2. Brazen Fox (click here for address and info)
This bar and kitchen will be churning out sliders topped with blue cheese, bacon, and onion mayo.
3. Desmond's Tavern (click here for address and info)
Enter this classic Flatiron joint for a traditional patty, with or sans cheese. Add fries to make it a full meal for an extra dollar.
4. Idle Hands Bar (click here for address and info)
The burger here's topped with house specialty sauce, sautéed onions, and cheese.
5. Rodeo Bar (click here for address and deets)
Living in a Democracy means we have choices, so stop off at this 3rd Ave bar for your choice of sliders: Burger, Pulled Pork, or Smoked Chopped Brisket. Yeah, even during burger week you get to have brisket.
Hungry for more? Check out the map below to see all the stops along the crawl that're just waiting to satisfy your burger cravings.
Mikelle Street is a Thrillist editorial intern learning about burgers one post at a time. Follow him on Twitter and Instagram.