Remember back in January when you promised to eat more greens, drag yourself to the gym at least three times a week, and live your best life? Well, chances are, things like grilled cheese donuts and cookie dough-filled cones got in the way. But before you completely admit defeat, listen to this. We went to NYC's top chefs -- who also happen to be in crazy-good shape -- to help you get back on track. After all, anyone who can be surrounded by Cronuts® for a living and not put on the pounds (looking at you, Dominique Ansel) is worth hearing out.
Recommended Video
Ghost Kitchen: Restaurant Gets Help From Community During Coronavirus Pandemic
On exercise: "I used to run a lot and did the New York City Marathon a few years back, but this year, I had my first knee surgery, so it's gotten much calmer. I'm awful at yoga -- very inflexible -- but my girlfriend tells me to do it. I'm also on my feet 12 to 14 hours a day. We run around a lot and being in the kitchen is a physical job."
On diet: "I just came back from a visit to our London store, and I eat -- believe it or not -- one bite of our entire menu (12 cakes, 10 Viennoiseries, six savory items) every day for three days straight while we do taste tests. At home in New York, I eat quite light -- lots of soba and sushi. One rule: I don't drink soda. I'm trying to convince my team to give it up as well. Whatever you eat, fill yourself with great quality ingredients. No matter the fat content, it's about putting good and unprocessed foods into your system. Whole, beautiful butter is a lot healthier than something artificial and processed."
Victoria Blamey, executive chef at Chumley's
On exercise: "I do reformer Pilates three times a week at minimum. I work with a trainer and focus more on core and my back. I am dedicated to working out -- it's important when you are in this profession. Other than that, it's good genes! I thank my mom for that."
On diet: "In the morning, I have a protein shake, whole grain toast with almond butter and strawberry jam, and tea. I drink apple cider vinegar throughout the day. At lunch, I might have an egg sandwich with pickled jalapeños, avocado, and bacon. I typically have a second protein shake and I snack on dried cherries. I am also tasting the food at Chumley's all day. I finish each night with a glass of wine."
Marcus Samuelsson, chef and co-owner of Red Rooster Harlem
On exercise: "I run in the morning before work, and when I'm on the road, I'll always pick a hotel that has a gym, so I can squeeze in workouts between work and meetings. I also like to walk as much as possible and will pick that over taking the subway or a cab if I can. Other activities that keep me active are playing soccer and tennis."
On diet: "I prefer to eat healthy whenever possible, but as a chef, I wouldn't say I have a consistent diet. Each day varies based on if I'm working on a new recipe or judging a cooking competition or making dinner for my family. I try to snack on fruit and vegetables and drink a lot of water. Mostly, I'm just looking for the most flavorful bites I can find. The only rule I have is to try everything. Food is my life and I'm very passionate about it, so I'm constantly trying new foods and recipes. ​Since I'm constantly on the go, I try to eat small meals throughout the day and will try and make sure I have a good balance of fresh foods incorporated."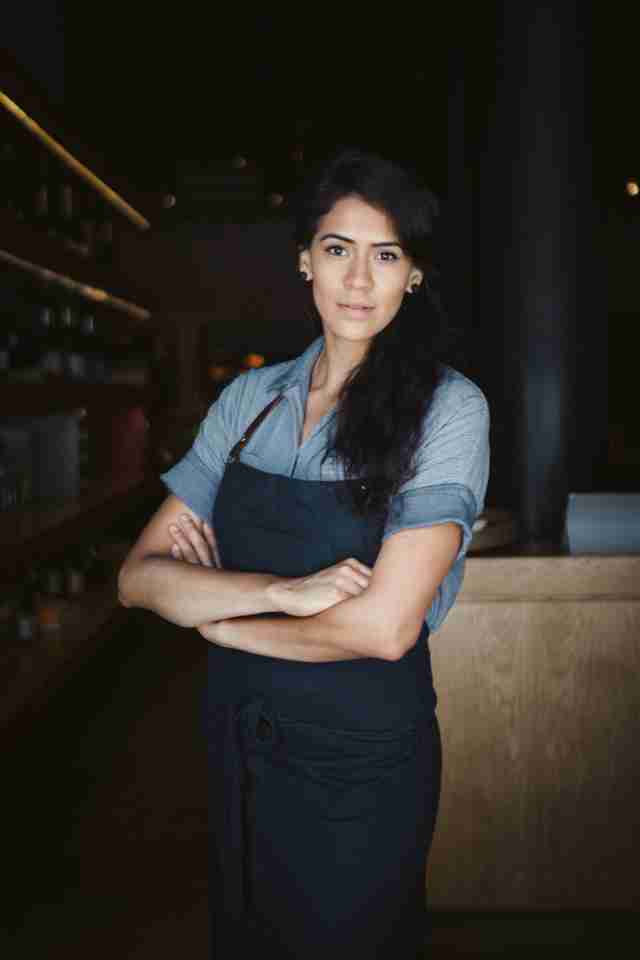 Daniela Soto-Innes, chef de cuisine at Cosme
On exercise: "Cycling running, and lifting weights. But I broke five ligaments on my foot recently, so I can't do much at the moment."
On diet: "I have coconut yogurt, almonds, and blueberries for breakfast or eggs, bacon, and spinach. Lunch and dinner, I eat at home. I don't diet -- just eat good ingredients."
On exercise: "I run outside whenever I can. I love running in Central Park, and if I'm on the road, I always bring my workout clothes and find a path to run on. It's actually a great way to explore new places. It's also one of the only times I'm actually alone so I do enjoy the routine."
On diet: "It really does vary day to day. On days when I'm shooting Chopped, I'm eating whatever I'm getting from the contestants. When I'm not shooting, I try to start my day with one or (several) cups of tea and oatmeal or a banana, if I'm short on time. For lunch, I'll usually pick a delicious salad or maybe a market fish from my restaurant Landmarc. For dinner, I'll make something with my wife and kids. We love roast chicken, any kind of tacos, or maybe Soy Vay salmon with a vegetable side and a starch.
"I don't really even like the word diet. I say do everything in moderation. You still have to enjoy life! [It's about] portion control and staying away from snacking all day. I prefer to sit down and enjoy whatever meal I'm eating. I think this helps keep you on track, know what you're eating, and stay consistent."
Geoffrey Zakarian, chef and owner of The Lambs Club
On exercise: "I work out at least five days a week with a personal trainer on the skiing machine, TRX ropes, and weight circuits. He makes a routine that changes every three weeks to keep it fresh and not let me get stale. Remember -- abs are made in the kitchen! [When I travel], I always book a trainer at the hotel for each day I am there. I land, work out, and then stay on my same diet as home. 'Wherever you go, there you are,' -- it's a quote from American Airlines, but it's dead on. I don't get carried away or let myself go. I've done that before and it's just not worth it."
On diet: "I don't eat sugar or white bread. I eat very little pasta and, when I do, it's only at lunch. I eat nothing processed, no fast food, and nothing fried. I have minimal meat and I try not to eat after 8pm. I also eat three meals every day, plus a light snack. I never ever fast or skip a meal. I shape my day and travels around proper meals. I am a big creature of habit and have extreme organization around food and my diet."
On exercise: "I try to work out as often as I can, but the exact routine varies day to day. Sometimes I go to the gym, or if it's nice out, I'll head to a park near my house and do pull-ups on the monkey bars. Lately, I've also been doing these 'primal' workouts with my brother-in-law, Jonathan Angelilli, a trainer who started Ninja Fitness Camp."
On diet: "Generally, I try to avoid gluten. I don't have Celiac, but a few years ago, when I cut it out of my diet, I felt much better. I don't typically have big meals during the day, except a large salad during family meal, since I spend the entire night working in the kitchen and tasting things. Because I'm around food all day and tasting things every five to 10 minutes at night, it makes me less likely to eat a ton of crap or large meals. I'm basically grazing all day and night, so I'm never really hungry."
On exercise: "I work out five to six days a week. I typically do a medley of things, but for the last six to eight months, I've been focused on strength and conditioning. That means that I do a combination of interval training, weight lifting, body weight stuff, and sprints on the bike, street, or treadmill. Two to three days, I'll do all light and fast intervals; two days, I'll do low rep heavy weight intervals (density sets); and one day, I'll do body weight and sprinting intervals... I [chose] to get my ass in shape at 23, and it was one of the best decisions I've ever made. I want to play sports and take a run with my son when I am old and grey and he is my age now -- making the right decisions now will bring that to fruition."
On diet: "I am a true creature of habit -- I have eaten the same breakfast every day for the last four years. It's always one whole egg and four egg whites, two tablespoons of two percent yogurt, a sliced apple, and a tablespoon of homemade granola. As for the rest of my diet, I'll eat super clean Monday through Friday -- usually eat fish and veggies. Saturday and Sunday, I allow myself to cheat a bit. I live by the 80/20 rule -- 80 percent of what I eat is clean and healthy, and 20 percent is greasy. I make sure to take one to two days off from working out each week because it's necessary to let the body recover. I also make sure to drink a WellWell after every workout."
Suchanan Aksornnan (Chef Bao Bao), chef at Baoburg
On exercise: "I go to a gym three to four times a week, usually in the morning and sometimes in the evening. I start my day with some light snacks and drink my pre-workout mix to keep my energy boosted. My workout routine varies, but I try to mix cardio and weight exercises. Frequency and discipline -- it's better to do several 30-minute exercises than one two-hour-long occasional workout."
On diet: "I love to eat and I love carbs, especially rice and noodles dishes. They're always present in my daily meals, but I do keep the portion size in mind for everything I eat. I eat two to three times a day, depending on my schedule. I start with a heavy meal for breakfast and have a relatively light meal for dinner, plus some snacks during the day. First rule: I never starve myself! I eat anything I'm craving, but I always know my limits. Wellness is much more than just exercise and nutrition. It's about a balance and full integration of physical, mental, and spiritual well-being states."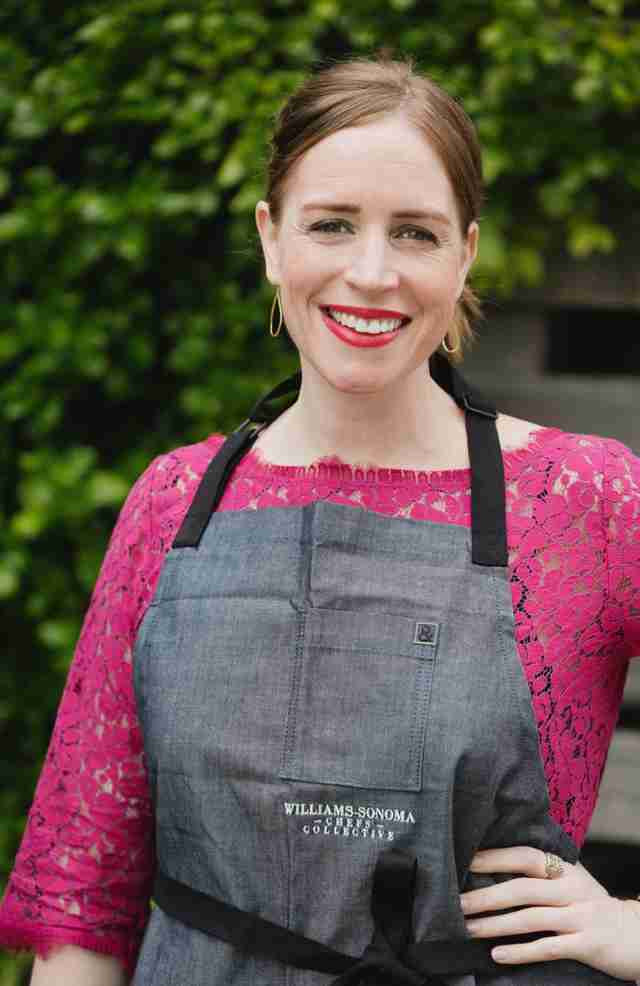 Sarah Simmons, chef and owner of Birds & Bubbles
On exercise: "I work out almost every day and have since I was 14 years old. I love group fitness classes so much that I actually got my AFAA certification right after I turned 18 and taught everything from step to indoor cycling for 10 years. When I am in New York City, I work out at Crunch, where I either do cardio or take one of Jess Gronholm's yoga classes. I have been taking his classes for over 10 years. I also go to SoulCycle when I can. My favorite thing is to run along the East River Park at sunrise, but I have broken each foot over the past three years, so it has been a while since I had the pleasure to do that. I don't have much free time, so I make sure to make my time at the gym count."
On diet: "I try really hard to eat a vegetable-heavy diet and limit the amount of carbs I consume. When I'm at Birds & Bubbles, I get to enjoy being in the kitchen and restaurant without having to taste everything because my team has been working for me for years and they taste like I taste. I struggled with an eating disorder as a teen, so I really try not to have any rules about food because I spent such a long time trying to break those habits. The only rule I try to follow is something I learned from Andrew Knowlton, which is 'if you don't love it, don't finish it.' I hate to waste food, but as a chef, you have a lot of opportunity to taste delicious things, so I tell myself it's okay to have a bite or two of something because I always want to have some room for whatever delicious bite might be waiting for me later."
Takashi Inoue, chef and owner of Takashi
On exercise: "I try to go to the gym at least three to four times a week, working out a different body group each time and finishing with 20 minutes of cardio."
On diet: "I drink a lot of water as soon as I wake up, which is really important for your metabolism. As far as what I eat, I don't really restrict the ingredients, but make sure it's balanced and on the low carb side. Modest portions are key! I'm tasting [food] pretty much all day, which for me, is an appetite killer. I only eat one full meal in the late afternoon after cooking and tasting all day."
Jeff McInnis, chef and partner at Root & Bone
On exercise: "We have a newborn baby and a four-year-old. The four-year-old keeps me very busy -- she's about 45 pounds, so she's like the perfect little dumbbell. I'll put her on my shoulders and do lunges and squats. She loves it. I use her like a curling bar and we try to do at least two to three sets of 12. Then, she'll lay on my back and I'll do pushups -- about 12 or 15. I also run with her -- she has a little tricycle that I can push. It's almost like she's my personal trainer. We also have a swimming pool. There's this fishing pole that has a cord. You can put a harness around your waist and swim in place with it. The industry has destroyed my lower back, so this helps."
On diet: "My four-year-old has a gluten intolerance, so it's easy to stay away from carbs in the house. At work, I just try not to snack. During the lunch hour, there are always French fries around, so I try and catch myself. I taste everything I cook, but there's a difference between tasting a couple of teaspoons and eating fried tempura chicken. I don't cut out all fats. I pay attention to eating good fats -- coconut oil and avocado. Today, my breakfast was a coffee and a protein shake. That usually gets me through. I make sure to at least have dinner -- I usually sit down to eat around 5pm."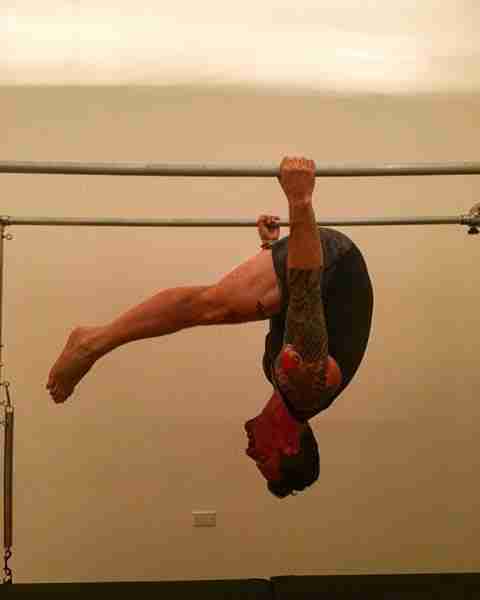 Seamus Mullen, chef and owner of Tertulia and El Colmado
On exercise: "I usually exercise six days a week. I primarily ride the bike -- my race season this starts this weekend. Throughout the week, I'll do one or two days of yoga as well. And in the winter, I'll mix things up with strength building as well as weight training. I do a lot of work with kettlebells. I usually do cardio five times a week. When I'm doing strength building, I try and do strength training in conjunction with cardio, so it'll be a two-workout day. I'll do interval work on my bicycle early in the morning and then I'll go to the gym and do a strength building exercise."
On diet: "I follow a couple of broad rules -- I don't eat any grains or any gluten. I eat a lot of vegetables, seeds, and nuts. I also eat a fair amount of pastured meat, egg, and wild seafood. I don't eat any sugar and I eat very little fruit. A typical day for me: I usually don't eat breakfast. Lunch will be a big salad with lots of vegetables in it, may be eggs and avocado as well, and a piece of grilled fish or a roasted chicken. I have red meat about twice a week or once a week. Snacks tend to be vegetables or nuts -- and I don't usually snack that much. Dinner is usually a big variety of vegetables -- a salad of some sort with lime juice and cilantro chili and olive oil. When it comes to diet, it's important that everything tastes really good. We only have so many meals and we need to make every one count. So, just because I'm not eating sugar and carbs and grains, it doesn't mean that the food isn't delicious."
Sign up here for our daily NYC email and be the first to get all the food/drink/fun New York has to offer.