NYC Chefs Share Their Picks for Their Last Meal on Earth
Uncle Boons

| EVAN SUNG/COURTESY OF UNCLE BOONS
Uncle Boons

| EVAN SUNG/COURTESY OF UNCLE BOONS
We've all thought about it, gone back and forth about it, and perhaps even seen Anthony Bourdain baring (almost) everything for the sake of it: our last supper. The question of what we'd order may be easier to answer when the selection is narrowed to one city -- but then again, NYC isn't just any other city. Still, we've rounded up some of the city's best-known kitchen talent to share their "I'll have what she's having," non-negotiable, be-all and end-all last meals on Earth, from the old-school Italian reliables, to the all-out, backup-credit-card-required tasting menus.
"I love Uncle Boons' crab fried rice — it's delicious, super-addicting stuff, and I especially get cravings for it after long nights of service. It is total comfort food, and I have some serious history getting the dish. When [my wife] Jennifer and I first arrived in New York (we came in the middle of the winter), we lived two blocks away from Uncle Boons. Back then, the restaurant didn't allow to-go orders, but I'd always set out into the snow, determined to trick the system and bring home a steaming plate of that crab fried rice to share with Jennifer. The Uncle Boons staff would never let me take it out! I'd always have to return empty-handed (and I'll confess: there were a couple times that I gave into temptation and stayed in at the restaurant to eat the dish all by myself!)." -- Jessi Singh, Babu Ji
Roasted half-chicken and a side of fall lettuce at Le Coq Rico
"Roasting a chicken is an art, and theirs is always super-juicy. Not to mention, when they bring the bird to the table, they tell you where it came from, how old it was, and how long it aged. That's dedication!" -- Eduard Frauneder, Edi & the Wolf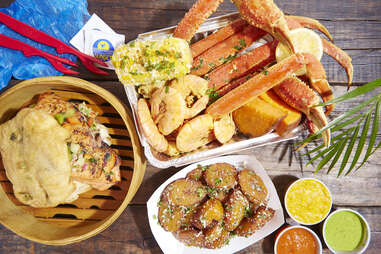 "One of my favorite spots in NYC is LoLo's Seafood Shack in Harlem. I'm a big fan of the Caribbean flavors and the laid-back attitude, and for my last meal I would be happy having the soft-shell crab with bacon, pickled cabbage, tomato, and remoulade on their homemade johnny cakes with an ice-cold beer." -- Jose Garces, Amada
"It's one of the meals you simply can't find anywhere else. Barney Greengrass is a one-of-a-kind experience. The first time I went, I didn't realize they were cash-only and I didn't have any cash. The man at the register took down my phone number and told me to pay him next time I was in. Needless to say, that's a level of trust and hospitality that you don't come across that often in this day and age, and ever since then, I was hooked for life." -- Daniel Holzman, The Meatball Shop
"I would have to go to Masa for sushi. Any type of raw fish there is amazing. I love eating Japanese food because it's the one food where the more I eat, the less I know." -- Marcus Samuelsson, Red Rooster
Fresh burrata, rigatoni ragu, and warm chocolate cake at Frank
"I simply love Frank. I basically grew up in there. The burrata is brought in from Puglia, Italy, and the tomatoes are always fresh from Lucky's. The rigatoni ragu is Frank's signature dish, and is simple, incredibly delicious, and always makes me feel at home. The molten chocolate cake is all the ooey goodness one craves from a great chocolate dessert! The restaurant is like my Cheers -- I have a lot of history in there."-- Michael Chernow, Seamore's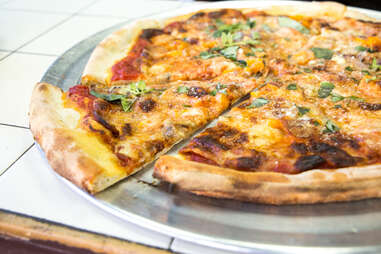 "Pizza is the epitome of New York City, and it's my absolute favorite food to eat. Di Fara is the best place to get pizza from. I rarely do because the line is always so long, but when I do, I make it count." -- Leah Cohen, Pig & Khao
Sign up here for our daily NYC email and be the first to get all the food/drink/fun New York has to offer.
Nicole Schnitzler is a writer and NYC ex-pat living in Chicago. Her last meal would be the steak over toast at Clover Club, accompanied by a Manhattan cocktail.