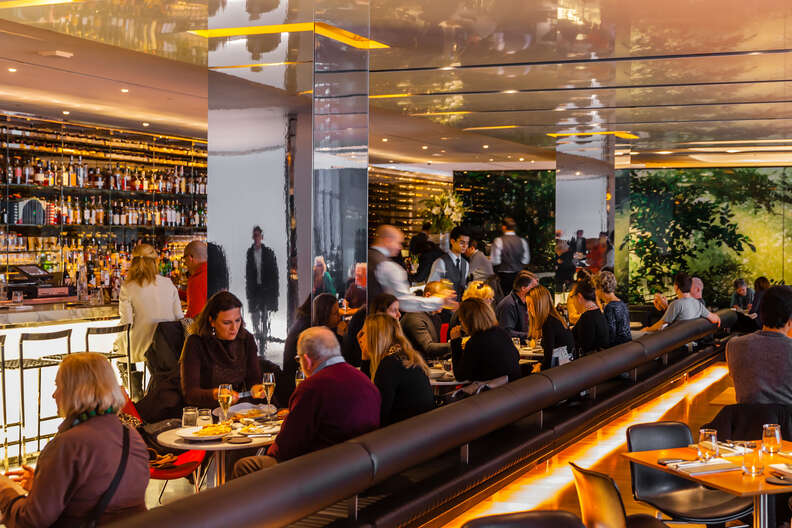 When Rachel Davis Mersey was having lunch in The Bar Room at The Modern, a double-Michelin-starred Danny Meyer restaurant, the 40 year-old university professor's casual afternoon became an unforgettable affair after she nonchalantly posted to social.
"I looked up at one point and had a beautiful view of the kitchen. I snapped it and posted it to Instagram," she says. "Before my next course could come, a manager came by and asked me if I'd mind coming with him." Davis Mersey was swiftly seated at the exclusive kitchen table. "I wasn't sure what was happening," she says. "The team was warm, chatty -- willing to tell me what they were doing, share their talent ... My next Instagram post is a picture after that meal. That joy you see in my face was truly-felt."
Social media is the new town square -- with benefits
Davis Mersey's seemingly spontaneous joy was actually sparked by the social media team at Danny Meyer's Union Square Hospitality Group; a band of five who keep an eye out for hashtags and mentions and, like Santa's helpers, might just make you a little treat, if you're good for goodness sake.
"I helped make the decision that social media should be an important part of how we communicate with our guests three or four years ago," says Meyer, 60. "Being a restaurateur is about having a dialogue with guests and taking an interest in who they are, what they do."
Not long after Meyer's decision, USHG created the team, whose duties now extend beyond hashtagging food porn, punnily promoting specials, pulling back the production curtain, and nodding at mentions. They also peruse up-to-the-minute posts in an effort to provide a bespoke drinking and dining experience -- or at least an occasional table upgrade.
"Social-media has become somewhere in-between the town-square of 100 years ago -- where you'd get your news and gossip -- and a postcard," Meyer says. "Nobody ever wrote a postcard hoping nobody would see it. All the information that's out there in the public that can help inform us, it's the best way I know to build and sustain strong relationships."
The practice of researching the patron behind a reservation, typically with regard to potential VIPs, is routine at many restaurants. "When someone calls and makes a reservation, we'll google their name," says USHG Digital Marketing Manager Ben Turndorf. "Maybe they're an ambassador or something -- we want to make sure we use their right title. Your eminence or whatever it is."
What's new is the immediacy and the ability to interact with guests not named in the reservation; or those who haven't made one at all. It goes beyond trying to figure out your honorific. Now, restaurants strive to keep up with your minute-to-minute cyber experience, and respond on the spot.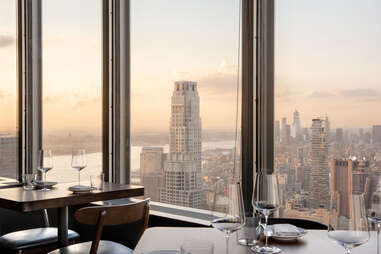 How restaurants keep up with all that hashtag-content
Across its restaurant, event, and catering empire, a massive amount of social-media traffic funnels through USHG's social ecosystem. "That's 60-plus accounts that have to be live at the same time on different platforms," Turndorf says. Deciding who to respond to and how can be tough. "We try to acknowledge every person, make everyone feel heard. "It's a lot of judgment calls, a lot of hot-potato and juggling," he says. But with so many posts bobbing in USHG's torrential social-media stream, how is an à la minute response to a post like Davis Mersey's even possible?
The lightning-fast treatment was facilitated by a tech platform called Local Measure. When businesses subscribe to its service, and customers tag or mention those businesses, Local Measure identifies and pushes said content to connected devices, like an iPad at a host or concierge station.
"What we're trying to do [with Local Measure] is respond to people in real-time when they're talking to us," Turndorf says. But, just because your information is being highlighted faster, that doesn't mean they're surfacing anything you didn't put out there, he says. "We aren't pulling any stuff you wouldn't be able to find in a Google search. We don't store anything. If you're not posting on social, we're not digging into your activity. Honestly, we don't have time. And if your account is private, we can't see anything." The tech, currently in use only at The Modern and Manhatta, doesn't guarantee upgrades, but it does add avenues by which USHG can accommodate a guest. "We're sort of a digital maître d' -- You could post on Instagram saying, 'it's my birthday,' or you could always just tell someone on our team," Turndorf says.
"We don't want to call it spying," says Evelyn Burgess, USHG's PR coordinator. "It's monitoring. We're trying to engage with people. We want them to know: we hear you."
"Not only do I want to keep that going, I want to do more of it," Meyer says. "Human beings want to belong, and social-media is a way of doing that. I'm always looking for ways to surprise and delight people, to be in a position to make someone feel special."
For USHG, glancing into a social-media profile just makes good business sense. "Social sort of acts like an extension of the guest-relations team," Turndorf says. "If someone sits at the bar and tags Manhatta and says, 'we're celebrating our anniversary and we don't have a reservation...' seeing that post, we have a chance to make a connection."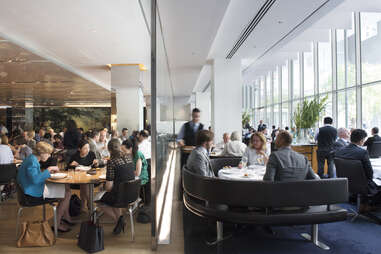 When camera eats first, does social bite back?
Mining social media to curate a night on the town is a little hard to swallow for some. "You'd have to feel like, 'is somebody watching me?'" says Chris Strelnick, a 36 year-old veteran sous chef of some of New York's premier fine-dining establishments. "It's weird. It feels like a line is being crossed," he says. Where's the boundary? It's almost like Big Brother is watching us to see what we're eating for dinner."
Strelnick believes social media even hinders great dining. "Food should be talked about, enjoyed, shared," he says. "But taking a photo of your food for social media -- what's that for, your ego? As a chef, there's a reason why I'm serving you this thing now: you're supposed to eat it. While you're taking your picture and posting it, the sauce is getting tacky, the vegetables are wilting, the fish's skin is losing crispness," he says. "Dining should be about the experience, not about the 'likes' or whatever."
For the folks who don't mind that they're watching, those likes are nice, but the "or whatever" is what truly bolsters the experience. A solo diner who dashed off an Instagram post from the bar at The Modern received a free order of fries as a "how do you do." A Union Square Cafe regular who took to Twitter to lament an apparently eighty-sixed menu item was quickly assured he could still order the dish. And a visiting couple who'd posted about getting bounced back into Manhattan after their flight home was cancelled was gifted sweet treats and a pair of MoMA tickets by staff at The Modern -- a gesture to make their unintended time here a little sweeter.
"For the first 10 years of my career, there was no social media," Meyer says. "I developed relationships by getting to know people in a very retail way; looking people in the eye, making connections. Now, I can't know everyone the way I used to be able to. But here people are, telling the world about themselves willingly, publicly. If the info is there, those are the tools -- the dots we can connect to customize someone's hospitality experience, make them feel like they truly belong."
Hashtags won't always win you free food and drink, but you might still score
Before a recent visit to Manhatta, a friend and I constructed Instagram posts designed to elicit special treatment; we tried to game the system. "Taking in some Manhattan views with Manhattan in hand at Manhatta," one read, tagging both the venue and restaurant group.
After an initial round of cocktails, we got to chatting with our bartender, Nick Casida. As we waited for a response to our ruse, a second round of drinks came and went. Casida delivered a plate that we hadn't ordered, pastries supposedly intended for a patron who'd already left. We ate, talked, and Casida whipped up a pair of Ramos Gin Fizzes that turned out to be for us, too.
When the check came, all but our first round had been comped. Assuming our scheme had succeeded, we were ready to come clean -- did it have anything to do with social-media? Casida looked surprised. "Not at all," he said.
"I just liked you guys. Maybe now you'll come back."
Sign up here for our daily NYC email and be the first to get all the food/drink/fun New York has to offer.