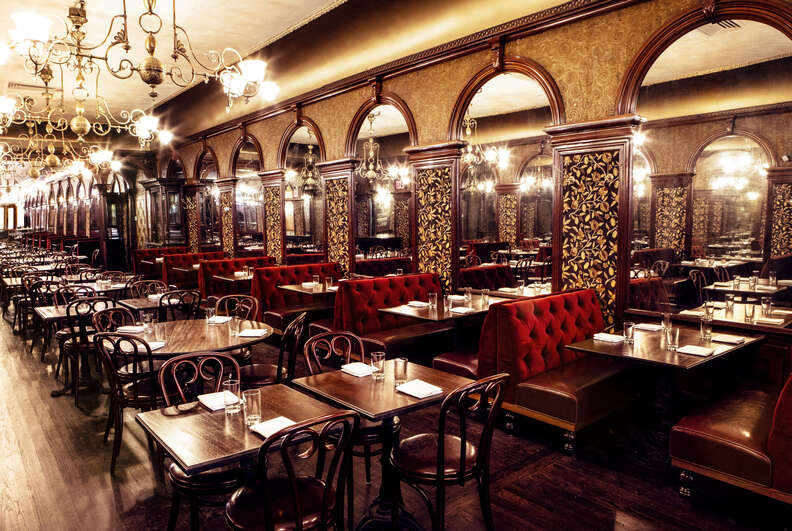 Courtesy of Gage & Tollner
Every restaurant in this city has a broken heart. The once enviable industry -- where chefs were the new rockstars, waitstaff had lifestyle brands and bartenders had book deals -- has, practically overnight, deteriorated into a devastated and desperate world, with restaurants screaming out to customers, landlords, anyone for help.
Formerly untouchable hot spots like Olmsted, Il Buco, and Loring Place have set up GoFundMe disaster relief funds. Chef royalty like Andrew Carmellini and Tom Colicchio are literally begging Washington to be seen and heard. And unthinkable headlines like hospitality giant Danny Meyer laying off 80% of his staff, are now the new normal.

These are dark days.
For people who love going out to eat, it feels only natural to mourn favorite restaurants that are now closed indefinitely. But what about the restaurants that never saw the light of day in the first place?
On a good day, opening a restaurant is an unspeakably brutal endeavor. But it's also one of the most exhilarating challenges a person can take on. And usually, the reward is sweet. The reward is togetherness, and buzz, and a magical collective experience of an actual dream coming true.
Like the dream of Sofia's in Little Italy.
Restaurateur Paul Shaked and chef Adam Leonti teamed up months ago to open Sofia's Panificio e Vino on Mulberry Street, a reimagined version of Paul's family's restaurant, which had a 15-year run before shutting down to start over. The anticipated launch of the new Sofia's was earlier this month, just as the coronavirus pandemic began to intensify in New York.
"When the coronavirus started to rear its head in Italy, is when we started to get scared," said Shaked. "And then it snowballed in such an ugly way."
They accepted that the restaurant would not open as they imagined, but they couldn't just walk away.
"We had such good synergy and vision. We were all so excited," said Adam Leonti, celebrated chef of now-closed Leonti. "We didn't want to lose that. It wasn't about the financial aspect. We just wanted, and needed, to stay together."
So they made a quick pivot. They decided to do take-out and delivery only, an endeavor they had originally planned on tackling when the restaurant was well on its way.
"The menu we have now isn't a 1:1 reflection of what we'd be doing in normal times when all ingredients are available, but we're happy we were able to stay flexible and make food that's comforting for people," says Leonti, whose epic "Sesamo," a sourdough bread loaf that is equally gorgeous and delicious, gives the food world one small thing to feel happy about right now.
It's been about two weeks and Sofia's business is doing OK. "Our only goals are to keep engaging our community and to get revenue to the point where we can hire more of the staff we planned to have with us from the start as well as funnel some of our revenues to charities in need," says Shaked.
Perhaps the most dramatic opening that never happened because of the coronavirus is Gage & Tollner, a 16-years-in-the-works reboot in downtown Brooklyn. The owners had to shut everything down the night before opening. St. John Frizell, a partner, says the project has consumed his life completely "for years" and that to lay everyone off, hours before doors were supposed to open was, "unlike anything I ever could have imagined."
All Gage & Tollner can do now is wait and see. "Take out is absurd to think about. The food and drink we serve there doesn't make sense outside of the context of the restaurant. It wants to be this grand restaurant -- that's all it can be." As for the future? Frizell says, "It's evolving day by day."
Another restaurant set to open this month was Saigon Social, on the Lower East Side, from Daniel alum, Helen Nguyen. Nguyen knew she had to call off the launch after the 50% occupancy mandate, a decision she can only describe as "soul crushing."
Like Sofia's, Nguyen pivoted to take-out and delivery only, and she's also offering free food to those in need.
Her long term plan? "Wait it out? Renegotiate with my landlord? Reassess the business plan? I've turned my kitchen into a community kitchen, in hopes of helping out where I can, and to keep busy, and to keep my passion and fire going inside me. This is what I love. I can't let the feeling die."
Chef/owner Zod Arifai also had to postpone the opening of his "fine dining in all its glory" restaurant with a tasting menu, Wicked Jane, but instead of opting for take-out and delivery, he has accepted that his pivot might be an entire change in concept. "As soon as we are able to, we are going to open," says Arifai. "It may not be as a high-end, fine dining restaurant as planned, but as a service to the people in the neighborhood as they will want to go somewhere and eat a great meal after being forced home for weeks or more."
Some restaurants did not move to takeout, or revise their concepts, but simply put their original plans on hold. Key Kim, proprietor of Kosaka, was planning on opening Maki Kosaka within the first week of April. Everything got derailed, but he's cautiously optimistic. "We're financially and mentally drained, but I'm very positive that in a few weeks we'll be on our feet. Everything will thrive again in the Big Apple for the better."
Ken Gordon, the founder of Mochidoki, had a slightly different launch experience in that Mochidoki's SoHo flagship was officially open for a total of one day. "This has been stressful," says Gordon, "but I know that things will ultimately return to normal. As New Yorkers, we are really good at fighting through adversity."
In the meantime, Mochidoki's online sales have been solid, a life-raft not everyone in the food industry can hold on to.
As this unprecedented pandemic continues to unfold, there are too many stories of loss and disappointment to tell.
Hundreds of restaurants that were set to open -- whether just ready to go, or in the works for months ahead -- will never have their moment in the sun.
For now, champion your local restaurants any way you can. And take the advice of cocktail savant Phil Ward, who was supposed to open Altar, a bar in Crown Heights, "Try and not get sick. Care for those who have. Navigate these unknown unchartered waters with as much grace as humanly possible." And when the dust settles, "all the things we so shamelessly have taken for granted, we will take the time to appreciate with a lot more integrity."
Sign up here for our daily NYC email and be the first to get all the food/drink/fun New York has to offer.