10 Reservations to Book Now for NYC's Summer Restaurant Week
The in-person program returns with the debut of a new $125 dining tier.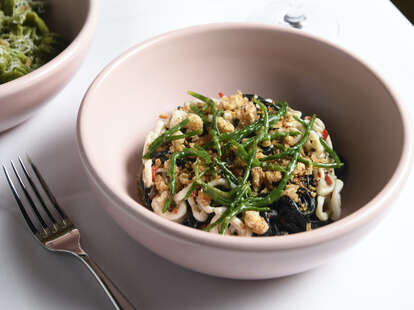 After being forced to cancel its summer 2020 program due to the pandemic (a first in its 29-year history) and shifting the previous winter program to takeout and delivery only, NYC Restaurant Week returns this month in all of its in-person dining glory.
First launched in 1992, the iconic biannual dining program run by NYC & Company entices diners to eat out through specially-coursed meals priced at a bargain, and has long been a way for New Yorkers to explore new eateries and dishes at restaurants throughout the five boroughs.
In addition to lunch ($21 for an entree and side) and dinner ($39 for an entree and side), this season, NYC Restaurant Week is also debuting a new elevated dining tier—the Signature Dining Experience—available at select restaurants for $125. Along with three courses, the pricier affair includes add-ons in special packages curated by each participating spot.
Starting on July 19 and ending on August 22, this summer's program of five weeks also marks NYC Restaurant Week's longest run ever. And with over 40 types of cuisines across nearly 530 restaurants in 75 neighborhoods throughout the city to choose from, there's no shortage of great places to check out. Below are 10 participating restaurants that are must-tries we recommend first before checking off the rest of your long list.
This new American restaurant from chef Ryan Schmidtberger (Waverly Inn) and restaurateur John McDonald is named after the former moniker that the small stretch of its Sixth Avenue location (right above Houston St.) was given a century ago. Open since early June, Hancock St. is currently only available for dinner service and features a bistro-inspired menu including raw bar items, homemade sourdough bread, and signature dishes like squid ink linguine and pan-roasted Dover sole.
Special dinner and Signature Dining Experience offerings: Dinner includes a choice of appetizers like charred heirloom cauliflower or tuna tartare, and entrees like campanelle pasta & Italian sausage; seared ahi tuna; or slow roasted short ribs. The Signature Dining Experience includes five courses with wine pairings for dishes like red & golden beets; squid ink linguine; duck bolognese & whole wheat mafaldine; grilled Mediterranean branzino; crispy veal schnitzel; and more.
How to book: Official NYCRW link
This modern-day cantina inspired by Mexican street food and craft cocktails is from the same team behind Morgan's Brooklyn Barbecue (which is temporarily closed and currently operating a special ghost kitchen in the LES for downtown Manhattan before reopening on Labor Day). The menu is by executive chef Cenobio Canalizo and features flavors rooted in his hometown of Puebla, Mexico, in addition to signature drinks like the Golden Eagle (mezcal, apricot, mole bitters) and Guanajuato Old Fashioned (corn whiskey, liquor de elote), and over 75 tequilas and mezcals.
Special dinner offering: Cemita Poblana, a mezcal-mustard marinated chicken Milanese torta with avocado, smoked chipotle sauce, and quesillo on a sesame seed roll. Side options include smoky queso with housemade tortilla chips, Mexican street corn, churros, and more.
How to book: Official NYCRW link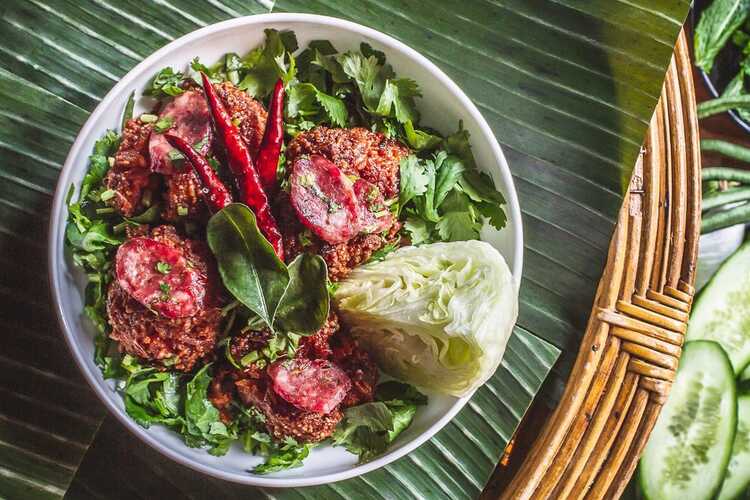 Crunchy coconut rice balls with spicy lime leaf sausage

| Khe-Yo
Opened by chef and owner Soulayphet Schwader and co-owned by chef Marc Forgione, Khe-Yo is one of NYC's first restaurants dedicated to Laotian cuisine and offers a taste of Laos with the sophistication diners have come to expect in Tribeca. Signature items include favorites like crunchy coconut rice balls with spicy lime leaf sausage; sweet chili Bell & Evans chicken; and chili prawns with ginger scallion toast. Throughout the summer from 7 pm - 10 pm, their Duane Street block is closed off to cars for a Friday night series featuring a live streetside jazz concert at the nearby corner of Hudson Street.
Special lunch and dinner offerings: Lunch includes a choice of appetizers like jumbo lump crab, crispy berkshire pork spring rolls, or hoisin glazed chicken wings; and entrees like yellowfin tuna poke, honey ginger glazed cornish hen, or hanger steak pad see ew. Dinner includes a choice of appetizers like crispy duck legs, sweet sausage & vidalia onions, or wok seared prawns; and entrees like banana leaf wrapped red snapper, coriander crusted yellowfin tuna, or curried hanger steak lettuce wraps.
How to book: Official NYCRW link
Since opening in 2016, this seafood-focused Thai restaurant located on a picturesque NoHo street has become one of downtown Manhattan's most popular eateries. At Fish Cheeks, siblings Chat and Ohm Suansilphong helm the kitchen together, and are known for their signature dishes like tiger prawn karee, crab fried rice, or grilled pork cheeks served with jaew sauce. There's also a happy hour that starts early at 12 pm on weekdays, with oysters topped with nam jim seafood sauce (cilantro, garlic, fish sauce, and lime juice) and crispy shallots available by the half or a full dozen.
Special lunch and dinner offerings (on weekdays and takeout only): Appetizers include a choice of zabb wings with chili, mint, and lime; or somtum corn salad with long beans and Thai bird's eye chili. Entrees include a choice of green curry with Thai basil and roasted seasonal vegetables; Manila clams with sweet basil, scallion, and roasted chili jam; or gaeng khua shrimp with pineapple, makrut leaf, and red finger chili. A beverage of Thai tea, Thai coffee, or lemongrass pandan tea is also included.
How to book: Official NYCRW link
This sophisticated steakhouse is one of many eateries located across the country under the Il Mulino umbrella, and is also the sister spot to another meat-centric location in Gramercy. Along with seafood, pastas, and other Italian-inspired dishes like chicken parm and veal chop milanese, the menu includes dry-aged steaks in cuts like prime rib, filet mignon, or New York strip.
How to book: Official NYCRW link
This contemporary Italian restaurant from chef James Tracey opened during the pandemic and highlights his over 30-year career that includes stints at spots like Gramercy Tavern and Craft. In addition to pasta that's made in-house daily, the restaurant's drink offerings includes 100 wines of Italian, old and new world, and rare vintages along with refreshing summer sritzes like a Aperitivo Select Spritz (prosecco, soda, orange) and Bianco Spritz (cocchi americano, lavender, lemon, prosecco).
How to book: Official NYCRW link
Chef Chung Chow's (Per Se, Lincoln) modern Hawaiin restaurant celebrates the flavors of his home state with influences of Japanese and Korean elements. Fun fact: Hawaii is the largest consumer of SPAM in the US, and at Noreetuh, the musubi options are grand with over 10 to choose from (platters of 4 are also available). But the stellar offerings here go beyond canned meat, with signature items like a katsu sando, truffle wontons, sea urchin cavatelli, and fried chicken with Hawaiian macaroni salad. Pair everything with an award winning wine list that has over 200 selections, in addition to craft beer and sake.
Special lunch and dinner offerings: Appetizers include a choice of tuna belly misoyaki; big-eye tuna poke; berkshire pork cutlet; cuttlefish salad; or truffle wontons. Entrees include a choice of chow noodles; bowls featuring kalua pork, teriyaki chicken, or garlic shrimp; kimchi fried rice; mochi-crusted fluke; sea urchin cavatelli; mochiko chicken loco moco; or imperial steak. Desserts include a choice of bruleed Hawaiian pineapple; mango & pandan pie; a chocolate haupia sundae; or pineapple upside-down cake.
How to book: Official NYCRW link
Known for its soul food, in addition to being a hub of Black culture that regularly draws politicians, celebrities, and plenty of locals, Sylvia's is arguably one of the best-known eateries both in Harlem and NYC. Opened in 1962, the restaurant's unwavering popularity is in thanks to the excellent dishes first served by founder Sylvia Woods, aka "The Queen of Soul Food," and the four generations of her descendants who continue the legacy of this family-owned business today. Popular items include fried chicken, barbecue ribs, macaroni and cheese, cornbread, sweet potato pie, and more.
How to book: Official NYCRW link
At Wayan, husband-and-wife duo Cedric & Ochi Vongerichten offer a menu of Indonesian-inspired dishes in the heart of Nolita. Prepared with French cooking techniques, the Southeast Asian flavors served in the restaurant's gorgeous dining room are everything you'd expect from a Vongerichten eatery, and signature items include satays that excite in varieties such as scallop, chicken, shrimp, and lamb; along with signature items like corn fritters; lobster noodles with black pepper butter and thai basil; and crab fried rice.
How to book: Official NYCRW link
Vegetable-forward dining in NYC has come a long way, thanks to restaurants like 232 Bleecker. At this neighborhood eatery from chef Zach Schulz (Eleven Madison Park, The Nomad) and Dig Restaurant Group, hearty vegetables dishes like spring garlic pancakes, veggie cheeseburgers with carrot & daikon slaw, and spaghetti pomodoro might play the starring role, but meat items like crispy chicken thighs or grilled steak with heirloom tomatoes are also available.
Special lunch and dinner offering: For take-out only, a rotating selection of three market vegetable dishes with an option for a fourth item. Selections include beets and strawberries, roasted zucchini, and miso eggplant in addition to pimento cheese, carrot cake, or olive oil cake.
How to book: Official NYCRW link