Where to Eat for NYC Restaurant Week 2021, Takeout Edition
The reimagined program returns with a new name, takeout format, and over 570 restaurants offering deals for $20.21.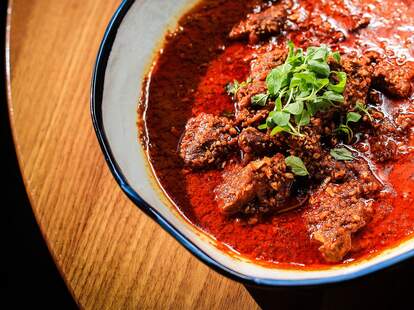 Photo courtesy of Adda Indian Canteen
After being forced to cancel its summer 2020 program due to the pandemic (a first in its 29-year history), NYC Restaurant Week returns this month with a new name and additional adaptations for COVID-19.
Officially renamed NYC Restaurant Week To Go, the iconic biannual dining program typically takes place in the winter and summer by enticing diners to eat out through specially-coursed meals priced at a bargain. This winter from January 25 - February 28, the reimagined program shifts its focus to takeout and delivery for nearly a month by offering customers an entree and side for lunch or dinner for $20.21 (delivery fees, tax, and gratuity not included). "This price was chosen to commemorate the New Year, but also because a $20.21 meal is a good value, particularly at the high end restaurants participating in NYC Restaurant Week To Go," says Fred Dixon, President and CEO of NYC & Company, the city's official marketing organization that runs NYC Restaurant Week.
While the price isn't the cheapest in NYC Restaurant Week's history, it does come close (lunch in its inaugural year of 1992 with 95 participants was $19.92). And in partnership with MasterCard through their All In NYC: Neighborhood Getaways promotion, cardholders will receive a $10 credit at no cost to the restaurant for any meals purchased through the program. In addition, another new component for 2021 is the sheer volume of participating restaurants, with over 570 local eateries signed up this time around, a record-breaking amount surpassing previous years by more than 200 participants. The usual process of restaurants submitting applications and paying a fee was forgoed this year, with an open invitation for places to take part at no charge instead. "It was important to us that all eateries across the five boroughs had the opportunity to participate in this program aimed at increasing local support," says Dixon.
With a lower price and hundreds of menus to choose from, NYC Restaurant Week To Go is a great way to support our local restaurants during the winter season. Below are 10 participating restaurants that, with the $20.21 price point, are must-tries we recommend first before going down the rest of your long list. And as always, please tip generously, wear a mask, and social distance responsibly.
Vegetable-forward dining in NYC has come a long way, thanks to restaurants like 232 Bleecker. At this neighborhood eatery from executive chef Suzanne Cupps (Annisa, Gramercy Tavern, Untitled), hearty vegetables dishes like chicory & apple salad, curried cauliflower pot pie, and smoked ricotta agnolotti might play the starring role, but meat items like a heritage pork patty melt, pork chop & fried wild rice, or smothered chicken thighs are also available.
Special offering: Build your own greenmarket bento box with a choice of three greenmarket-focused dishes like their famed einkorn lasagna, badger flame beets, or squash mole pork meatballs, plus a sweet or savory side dish.
How to order: Official NYCRW link
Since opening in late 2018, this Indian restaurant has been a favorite of industry folks and locals alike. Operated by owner Roni Mazumdar and executive chef Chintan Pandya (the duo are also behind Greenwich Village Indian spot Rahi), here, chef Pandaya's unpretentious approach to "unapologetically authentic" dishes has made this popular eatery a top spot in NYC.
Special dinner offering: Choice of butter chicken or vegetarian saag paneer, one samosa, one naan, and rice.
How to order: Official NYCRW link
Just blocks away from Union Square and Gramercy Park, these award-winning sister restaurants are located next door to each other, with both offering tapas-style menus. At Casa Mono, executive chef Andy Nusser's popular dishes are inspired by his childhood fishing village in Costa Brava, Spain, with signature items such as razor clams a la plancha, sweetbreads, and bone marrow. At Bar Jamón, specialities include an extensive selection of jamón, cheeses, conversas, and bocadillos, in addition to a wine list of 600 Spanish wishes the two spots share.
Special offering: Choice of ensalada Mono made with manchego and pimentón-spiced marcona almonds, or oxtail-stuffed piquillo peppers.
How to order: Official NYCRW link
First established as a Jazz club in 1938, The Cecil Steakhouse's iconic location is where bebop music was born, and has hosted legendary artists such as Ella Fitzgerald, Duke, Ellington, Billie Holiday, and many more. Currently, executive chef Elpidio Escamilla's menu includes steakhouse favorites in addition to a selection of vegan items. The eatery also continues its storied history of entertainment and music with live performances Thursdays to Sundays in their heated outdoor seating.
Special dinner offering: Prix-fixe entree and at least one side during lunch or dinner.
How to order: Official NYCRW link
In the before times, this popular Brooklyn spot from chef and cookbook author, Sohui Kim, and husband Ben Schneider (both also run The Good Fork), is where revelers could enjoy some karaoke with their Korean barbecue, seafood corn dogs, and fried chicken tossed in a signature spicy-sweet sauce. During the pandemic, in addition to their regular menu available in heated outdoor dining, the restaurant has expanded their offerings with barbecue kits to-go and booze packages featuring homemade sangria, Korean alcohol, wine, and more.
Special offering: Bibimbap with bulgogi or seasoned tofu, served with rice, vegetables, and a fried egg, along with a side of kimchi.
How to order: Official NYCRW link
Well-executed Japanese-Italian mashup dishes are the focus at Kimika, a Nolita restaurant that delayed its original spring opening last year to the summer because of COVID-19. Opened by Rivers and Hills Hospitality Group, the team behind places such as homestyle Thai cuisine spot, Wayla, Kimika's kitchen is led by executive chef Christine Lau (Bar Chuko Izakaya). At the helm with over 15 years of industry experience, chef Lau's dishes, like the very 'grammable crispy rice cake lasagna, have successfully captivated New Yorkers with a unique approach to an often-attempted cuisine hybrid.
Special offering: Menchi-katsu burger with fried mozzarella, cabbage and pickled onions on milk bread, with a side of duck-fat fried potatoes.
How to order: Official NYCRW link
Opened by wife-and-husband duo Sarah Obraitis and Hugue Dufour (she as manager, he as chef), this Quebecois-inspired steakhouse is a longtime favorite located inside a former auto body shop. This detail showcases one of many eccentric elements and distinct style points the restaurant is known for, which also includes a revolving line of new takes on classics such as clams bolognese or a Peking duck dinner with duck sausage stuffed inside the breasts. And their signature meat pies—made with braised grass-fed beef, smoked capon, heritage pork, shredded potatoes, and sautéed mushrooms—are just what we need to get us through the winter.
Special dinner offering: Two mini meat pies (tourtières) with sole slaw and cranberry ketchup.
How to order: Official NYCRW link
At Pastis, bistro connoisseur and restaurateur behind one of NYC's most well known French eateries, Balthazar, Keith McNally is bringing French fare and Parisian style to back to the Meatpacking District. After being closed for five years, the restaurant reopened in a new space in 2019, and continues to offer classics like oysters, fromage, lobster bisque, steak frites, and more.
Special offering: Coq au vin with a choice of pommes puree or haricots verts.
How to order: Official NYCRW link
This acclaimed culinary destination in Flatiron from restaurateur Stephen Starr is an homage to rustic and seasonal eating in California. Named after a town in the state and since opening in 2015, Upland's West Coast-inspired cuisine has been long celebrated for its elegant approach. The menu includes a variety of pizzas; small dishes like fluke crudo or crispy duck wings; pastas; and mains like chili-rubbed senat chicken, roasted short rib for two, and the signature Upland cheeseburger with grass-fed beef, American cheese, peppadew peppers + avocado.
Special offering: Choose from Margherita pizza with a side salad; flank steak with romesco and crispy potatoes; or salmon with stewed chickpeas and hummus.
How to order: Official NYCRW link
Owned and operated by Sivan Baron and Abdel Ouedraogo, the duo behind Harlem's popular arts and music venue, Shrine (now temporarily closed), and nearby social spot, Silvana, Yatenga French Bistro's name is from a province in the West African country of Burkina Faso, where Ouedraogo is originally from. At this eatery, enjoy French-inspired dishes like steak au poivre and salad Niçoise available alongside items like fish & chips, pasta, and the Madam Yatenga Salad with red and green cabbage, carrots, and arugula with a citrus vinaigrette.
Special dinner offering: Choice of a main dish like pasta, beef puff, Madam Yatenga salad, mac and cheese, French onion soup, fish and chips, a Harlem combo (chicken wings, hand-cut fries, and onion rings), and more; along with a side like chicken, merguez, salmon, sauteed vegetables, mashed potatoes, and more.
How to order: Official NYCRW link