Steak Frites at Hawksmoor

| Photo courtesy of Hawksmoor
Steak Frites at Hawksmoor

| Photo courtesy of Hawksmoor
NYC Restaurant Week is back.
First launched in 1992 with 95 participants, the iconic biannual dining program from NYC Tourism & Conventions entices diners to eat out through specially-coursed meals priced at a bargain, and has long been a way for New Yorkers to explore new cuisines, eateries, and dishes at restaurants across the city.
This summer, with inflation and the rising cost of living (the upcoming $2.90 subway fare hike is just around the corner) on our minds, there's never been a better time to take advantage of NYC Restaurant Week deals.
Running from Monday, July 24 to Sunday, August 20, explore dozens of cuisines at almost 500 participating restaurants across 200 neighborhoods through two-course lunches and three-course dinners priced at $30, $45, or $60.
From Brooklyn and the Bronx to Downtown Manhattan, there's no shortage of wallet-friendly options to treat yourself to a special time out. Below are deals from 10 spots we recommend first before checking off the rest of your long list.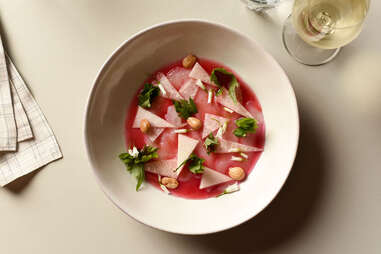 Boerum Hill
Ace Hotel Brooklyn is already known as a cool-kid hotspot for all-day lounging with a laptop while snacking on Pastel de Nata by pastry chef Daniel Alvarez from the bakery counter. Recently, they also welcomed chef Camille Becerra (De Maria, Navy) as the property's culinary lead, so NYC Restaurant Week is a great time to enjoy her bright and seasonal New American menu at the ground-floor restaurant, As You Are. In collaboration with executive chef Patrick Smith, dishes include Chicken Sesame Salad, Hippie Sandwich & Fries, House Rigatoni, Chicken Milanese, and desserts like Corn Ice Cream Sundae.
Special lunch offering on weekdays (Monday, July 24 to Friday, August 18): $30 per person for two courses (appetizer and entree)
Special dinner offering on weekdays (Monday, July 24 to Friday, August 18): $60 per person for three courses (appetizer, entree, dessert)
How to book: OpenTable
Madison Square Park
Cross the street from the northern edge of Madison Square Park and enter the glorious farm-to-table world of Blackbarn, a New American restaurant from the James Beard Award-winning chef John Doherty. Stepping into the massive, gorgeous, and rustic space with its high ceilings and extensive wood feels like being at a special celebration inside a super chic Hudson Valley barn (btw, an actual Hudson Valley locale also recently debuted). Here in NoMad, executive chef Brian Fowler serves a stellar menu of hearty and must-try dishes that range from Grilled Corn & Kale Salad and Hamachi Crudo to Mushroom Ravioli & Duck Confit and Slice NY Strip.
Special daily lunch offering (Through Sunday, August 20): $45 per person for two courses (appetizer and entree)
Special daily dinner offering (Through Sunday, August 20): $60 per person for three courses (appetizer, entree, dessert)
How to book: OpenTable
Upper West Side
This Mediterranean-inspired restaurant from the world-renowned chef Daniel Boulud is one of three eateries he has on a single block across the street from Lincoln Center. While the more casual Bar Boulud and Épicerie Boulud are stellar spots of their own, Boulud Sud is a slightly fancier affair that's definitely worth a visit with NYC Restaurant Week prices. At this popular Upper West Side destination for both New Yorkers and the theater crowd, enjoy the creations of executive chef Christina D'Angelo as she pays homage to the coastal fare of France's Côte d'Azur, Spain, Greece, Morocco, Tunisia, and beyond.
Special daily dinner offering (Monday, July 24 to Sunday, August 20): $60 per person for three courses (appetizer, entree, dessert). Also, $39 sommelier's selection bottles of wine.
How to book: Resy
South Bronx
The original location of this popular family-owned restaurant first opened in San Juan in 2013, and is run by the 4th generation descendants of the founder of Chocolate Cortés, a bean-to-bar chocolate company in Puerto Rico. The NYC outpost of Chocobar Cortés in the South Bronx has been a hit since opening, and along with its signature ingredient incorporated into menu items ranging from cocktails like the Choco Martini to Croquetas de Jamón Serrano or Chocoburger, there are also plenty of non-chocolate offerings to enjoy as well.
Special daily lunch offering (Through Sunday, August 20): $30 per person for two courses (appetizer and entree)
Special daily dinner offering (Through Sunday, August 20): $45 per person for three courses (appetizer, entree, dessert)
How to book: Tock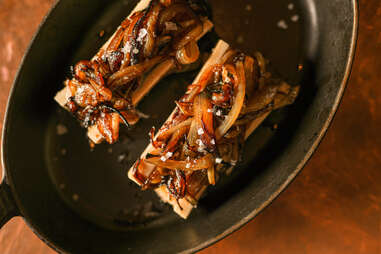 Gramercy
This East London-based steakhouse originally founded in 2006 by co-owners and childhood friends, Huw Gott and Will Beckett, made its NYC debut in Gramercy Park in 2021. Located inside of the United Charities Building and in a space with 30-foot vaulted ceilings and mosaic flooring, Hawksmoor is known for their dry-aged steaks prepared over charcoal and includes signature orders like the Rib-eye or Bone-in Rib Chop with sauces like Bone Marrow Gravy, Anchovy Hollandaise, and Bayley Hazen Hollandaise. Within the craft cocktail menu, choose a drink from fun sections titled Ultimate Martinis, Second Golden Age, Hawksmoor Classics, and more.
Special lunch offering from Wednesdays to Fridays from 12 pm–3 pm (Through Friday, August 18): $60 per person for two courses (appetizer and entree or entree and dessert)
How to book: OpenTable
Tribeca
As one of New York City's first restaurants dedicated to Laotian cuisine, Khe-Yo offers a taste of Laos with the sophistication diners have come to expect in Tribeca. Opened by chef Soulayphet Schwader, business partner Nick Bradley, and co-owned by chef Marc Forgione, this month also marks the eatery's 10th anniversary. Celebrate its milestone with signature items like Crunchy Coconut Rice Balls with Spicy Lime Leaf Sausage; Sweet Chili Bell & Evans Chicken; and Chili Prawns with Ginger Scallion Toast.
Special daily lunch offering excluding Saturdays (Through Sunday, August 6): $30 per person for two courses (appetizer and entree, $5 additional charge for dessert)
Special daily dinner offering excluding Saturdays (Through Sunday, August 6): $60 per person for three courses (appetizer, entree, dessert)
How to book: OpenTable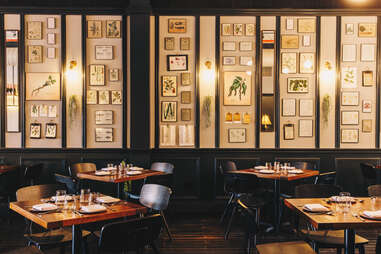 Williamsburg
After growing up in Thailand within a restaurant family, stints at spots like Nahm (Bangkok), and co-founding the NoHo favorite, Fish Cheeks, chef Ohm Suansilphong has honed a masterful command of Thai cuisine. Run in collaboration with his wife, Kiki Supap, Kru offers modern takes on old Thai recipes once designated for the country's royal family. In an ambient dining room, enjoy the incorporation of elements discovered in historical texts from the 19th century in dishes like Bone Marrow "Golae"; "LON" with Crabmeat; "Kaeng Pa" Beef Tongue Curry; and Rice Omelette that's especially great for balancing out any spice.
Special lunch offering on weekends (through Sunday, August 20): $30 per person for two courses (bite or appetizer and entree plus complimentary side dish of Cucumber Salad and scoop of ice cream for dessert). Also, $30 bottles of wine.
Special dinner offering from Tuesdays to Sundays only (Tuesday, July 25 to Sunday, August 18): $45 per person for three courses (bite, appetizer, entree plus complimentary side dish of Cucumber Salad and scoop of ice cream for dessert). Also, $30 bottles of wine.
How to book: Resy
Astoria
Industry veteran Adnan Nuredini showcases his 20 years of experience at NYC steakhouses with this cozy steakhouse located on a quiet street in Astoria. Meet the Meat features a classic dining room style with white table cloths and charming details like NY1 playing on the muted TV and Frank Sinatra tunes in the background alongside their prime cuts of meat. Choose from outdoor dining, the dining room, or a seat at the bar, and let the kind staff guide you through its signature seafood, steaks, and more.
Special daily dinner offering except Saturdays (Though Sunday, August 20): $60 per person for three courses (appetizer, entree, dessert)
How to book: OpenTable
Soho
The Soho branch of this family-owned brand serving Edomae-style nigiri and Japanese fare marks Momoya's third (in addition to popular locations in Chelsea and the Upper West Side). At Momoya Soho, the gorgeous and airy two-level space features
floor-to-ceiling windows and plush sea green couches where chef Tetsuya Okuda's creations can be enjoyed. And on the first Monday of each month, pastry chef Norie Uematsu offers the eatery's signature 5-course Dessert Omakase for $85.
Special daily lunch offering from 12 pm–3:30 pm (Through Sunday, August 20): $30 per person for three courses (appetizer, soup or salad, entree). Also, $65 bottle specials of sake, sparkling, or wine.
Special daily dinner offering from 5 pm–10 pm (Through Sunday, August 20): $60 per person for three courses (soup or salad, entree, dessert). Also, $65 bottle specials of sake, sparkling, or wine.
How to book: Resy
Harlem
Founded in 1962 by Sylvia Woods, aka the legendary "Queen of Soul Food," Sylvia's was also an original participant in the first NYC Restaurant Week® back in 1992. Even after six decades, the restaurant remains an uptown epicenter for soul food, Black culture, and social life—and the eatery is currently operated by four generations of Woods' descendants.
Special daily lunch offering except Saturdays (Through Sunday, August 6): $30 per person for two courses (entree and dessert)
Special daily dinner offering except Saturdays (Through Sunday, August 6): $60 per person for three coursed (appetizer, entree, dessert)
How to book: Resy