Courtesy of Birch Coffee
Courtesy of Birch Coffee
New York City is waging war: The enemy is the novel coronavirus, which causes the disease COVID-19, and the soldiers are, in a way, all of us, as we continue to isolate and social distance. But there are some that are on the front lines, putting themselves at risk to save as many lives as possible. They are, of course, the doctors, nurses, researchers, and other health care workers working 16-hour days (or more), fighting to save lives. But who is taking care of our beloved frontier fighters? Who is nourishing them and keeping them fueled for the fight? And who is ensuring our city's most vulnerable populations are not falling through the cracks?
City restaurant workers are stepping up, putting themselves at risk to feed first responders, hospital workers, out-of-school students, vulnerable populations like the elderly, disabled, immuno-compromised, immigrants, low-income, homeless, and yes, even us regular folk. Every minute spent working is another minute of possible exposure. NYC restaurant staff are warriors, too. Without them, our communities would wither.
"It wasn't really a question for us," says Hannah Cheng, co-owner of Mimi Cheng's. "In times like this, everyone needs to do what they can to help. Our team decided early on that we were going to pick courage over fear."
Hannah and her co-owner sister Marian Cheng launched Dumplings for Doctors through a Go Fund Me page, where they have raised more than $39,000 to feed hospital workers. Verizon has sponsored an additional 300 meals per day. Last week, they were able to deliver 2,600 meals to health care workers at hospitals including Bellevue, Harlem Hospital, and Elmhurst Hospital. Each delivery includes a handwritten note thanking the workers for their service.
"We see ourselves as the supporting crew for the frontline heroes," says Hannah Cheng. "Hopefully, our home-cooked hot meals give the health care teams the fuel and energy they need to get through the day. The meals are a small reminder to the hospital team that they're not alone."
Like Mimi Cheng's, many restaurants -- including Zucker's Bagels, junzi, Tacombi, Loulou, Fields Good Chicken, Regina's Grocery, Beyond Sushi, Astoria Coffee, Mile End, 886, Gotan, and Purslane Catering -- across the city are relying on donations from their customers to serve frontline workers and vulnerable populations. Mike's Deli in the Bronx partnered with Fordham Prep to create Lunch for Life and donate meals to ER workers at St. Barnabas Hospital. The chef de cuisine of L'Accolade started Grub for Guardians with some friends to raise funds and make meals with other chef volunteers for workers in the restaurant's closed kitchen. Birch Coffee recently donated 500 pounds of coffee to workers at the Javits Center-turned hospital and have now started taking their mobile truck to visit area hospitals and hand out free coffee.
"For us, getting coffee isn't just about the coffee, it's about the experience and feeling of having someone prepare your drink for you and give you a smile in the process," says co-owner Jeremy Lyman. "We know we won't be able to see each other's faces through masks, but I'm confident we'll all be smiling."
Some eateries have banded together to increase their reach. Melanie Frost, the COO of Ess-a-Bagel, is on a group chat with about 150 local fast-casual restaurants. When longtime customer Peter DiGioia, whose sister is an ICU nurse, approached her about donating bagels to hospital workers, she started a buy-one, donate-one model and pulled in other fast-casual favorites like Kubeh, Honeybrains, Doughnuttery, Ox Verte, Sweetcatch Poke, and more to join the cause. DiGioia started a GoFundMe to raise more money after his initial donation and has so far raised more than $25,000.
"Doctors and nurses are literally saving lives, on the frontlines every day. Every day I worry about my staff, it's so stressful. We are part of the fight," says Frost.
After Adam Elzer, owner of local mini-chain Sauce Pizzeria, got an email from a nurse friend asking for a pizza delivery, he decided to devote two of his locations to making free food for health care workers. People can purchase pizzas for health care workers, and Sauce matches each purchase, pie for pie. Or, people can donate to a GoFundMe that has raised more than $62,000. When they can't handle the demand, they pass requests along to Slice Out Hunger, a nonprofit started by Scott Wiener of Scott's Pizza Tours that has added a new mission, Pizza vs. Pandemic, to feed pizza to frontline workers across the country.
"The doctors and nurses are the soldiers. We are trying to give them the energy they need to go back to the battlefield day after day to care for our loved ones," says Elzer. "We're personally delivering the pies ourselves because we want the doctors and nurses to know that we're not afraid to support them for all the work they're doing to protect us."
Other restaurants, including Kings Co. Imperial, Estuary, Christos Steakhouse, Enzo's of Arthur Avenue, Le Crocodile, MichaelAngelo's, Madonia Bakery, and Carmine's, are funding and running their own operations to donate meals to hospitals and other frontline workers directly. After initially paying for everything out of pocket, the owners of Brooklyn Chop House reached out to their suppliers like VOSS Water, Four Five Roasters Coffee, J. Kings, King Solomon Meats, Juniors Cheesecake, and Forever Wine to donate items for the meals they are delivering to local hospitals.
Larger companies are also stepping up: Just Salad is donating 10,000 meals a week to Mount Sinai Hospital and is donating one meal per every meal purchased online to out-of-school students and their families who need a meal (order here with code GIVEBACK). Dig launched Dig Feeds to leverage their connections to farmers and suppliers to provide food to hospital workers, senior centers, homeless shelters, and food banks. Any hospital, nonprofit or community in need can text DIGFEEDS to 80519 to request donated meals and anyone can gift a meal by texting GIVEDIG to 80519. So far they have served more than 82,000 donated meals.
Some local restaurants have partnered with larger organizations to receive sufficient funds to partially reopen and transform into commissary kitchens feeding the community. Adda Indian Canteen, Alidoro, Golden Diner, Saigon Social, Eat Offbeat, and Melt Shop partnered with OffTheirPlate, a national organization working in five U.S. cities to give donated funds to restaurants in order to feed hospital workers. Dante in the West Village is receiving funds from Fuel the Fight to feed health care workers and other vulnerable populations.
Dante started a Family Meal program, where anyone who is out of work, hungry, or just needs a hot meal can come get a free meal at 5 pm every day. Daniel Humm and the Eleven Madison Park team partnered with the nonprofit Rethink Food NYC and American Express to make meals for health care workers and vulnerable populations. Operation Feed is focusing on feeding Brooklyn-area hospitals and has teamed up with several Industry City restaurants like Avocaderia and One Girl Cookies, with plans for several more.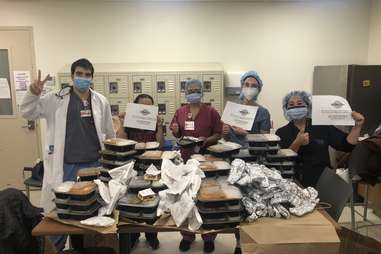 The Jewish Food Society, a nonprofit dedicated to preserving and celebrating Jewish food and culture, recently received a grant from the Paul E. Singer Foundation to deliver 50,000 meals to area hospitals from Jewish and Israeli restaurants like Joseph Leonard and Happy Cooking Hospitality, Miznon, Russ & Daughters, Taim, Lev, Modern Bread & Bagel/Arba, La Newyorkina, Nur, Lamalo, and Katz's Delicatessen.
Katz's has also been partnering with Henry Street Settlement to donate its matzo ball soup to lower-income housing complexes and senior citizen centers on the Lower East Side. The Migrant Kitchen, a catering company focused on empowering immigrants, has pivoted to providing meals to families impacted by the coronavirus and healthcare workers. They teamed up with immigrant-led restaurants like Sofreh and Marie Blachere to share recipes, help cook, and provide supplies.
Providing food to the community can help struggling restaurants a little, giving them enough money to bring some staffers back to work. Still, restaurant owners know they're putting their staff at risk by asking them to come in. "My staff never thought they'd be delivering to the front lines in this battle but have offered their support and service in such a big way," says Brooklyn Chop House's Director of Operations, Stratis Morfogen. "The delivery staff and entire team involved are my heroes."
Regular New Yorkers are also rising to the occasion to fundraise for restaurants that feed frontline workers.Molecular biologist and journalist Anna Azvolinsky, her husband Joel Weingarten, and his business partner Ryall Caroll launched Meals 4 Heroes to collect donations and partner with restaurants like Leonelli Taberna and Harlem Burger Co. to feed local medical professionals. Stacy Rotner, a corporate responsibility director at a law firm, started a fledgling nonprofit from her couch and has raised more than $15,000 under the name GratiFoodNYC. Rotner reached out to Shake Shack and other caterers who are making and delivering 70 meals three times a week to hospital workers.
New York City investor and entrepreneur Joel Wishkovsky and his girlfriend Ilana Brown, a VP at SevenRooms, an online reservation and guest management platform, sprang into action the night New York City restaurants were ordered to close. They soon combined their efforts with others across the country and Frontline Foods was born. They partnered with Jose Andres' World Central Kitchen and have raised over $1 million and served more than 25,000 meals at hundreds of hospitals.
By calling the organization Frontline, Wishkovsky and Brown acknowledge the sacrifice restaurants are making. "Whether a chef, delivery drive, grocery store clerk, doctor, nurse or other essential worker—they're all on the front lines of this crisis," he adds.
Frontline helps provide funding to local restaurants that are willing to cook for area hospital workers. Here in NYC, restaurants feeding hospital workers through the platform include Blackbarn, Café Altro Paradiso, Osteria Morini, Cote, Ornella Trattoria, Parker & Quinn, Il Bambino, Burrito Bar, Hill and Bay, Bund on Broadway, Green Top Farms, and Sabai Thai Restaurant.
One silver lining from this crisis is that so many restaurants are more committed than ever to helping their communities -- even after COVID-19 abates. When asked how long they would continue to donate food, every restaurant we spoke to replied they would keep going as long as they had the funds and supplies.
"We'll keep providing meals for as long as people need them," says Taylor Lanzet, Dig Senior Director of Supply & Sustainability. "Feeding people is what we do. Our farmers want to grow food, our chefs want to cook, and our teams want to deliver meals that matter."
Sign up here for our daily NYC email and be the first to get all the food/drink/fun New York has to offer.
Devorah Lev-Tov lives in Brooklyn but travels the world, from Israel to India to Italy and across North America. She writes for Travel + Leisure, Afar, Condé Nast Traveler, The New York Times, Saveur, Taste, Eating Well, Eater, Edible Brooklyn, and more.