Paul Wagtouicz
Paul Wagtouicz
Many NYC bars and restaurants collect canned food or coats for charity during the holidays, but a handful of places take their seasonal giving to another level, offering unique deals and promotions that make it extra fun to donate. Though Christmas and New Year's Eve are just days away, there's still time to participate in these worthy causes. Here are seven ways to get involved right now.
Every Friday since Thanksgiving, Midtown's Parker & Quinn has selected a table at random and paid for the party's entire meal. On top of that, the total amount of the bill is then donated to the charity of the table's choice, as part of the restaurant's "Pay It Forward Fridays" promotion. Last year, the restaurant donated a total of $7,500. This Friday, December 23rd is your last chance to participate for 2016.
Moved by his close relationship with the National Kidney Foundation, Adoro Lei's Rick Froio was inspired to develop a brand new pizza. The Veggie Vacanza is a cauliflower-crusted dish made with diet-friendly ingredients, great for those dealing with kidney conditions (it's also gluten-free). The full price you pay for the Veggie Vacanza pizza -- $18 -- goes right to the foundation. While the promotion launched just in time for the holidays, the restaurant plans to continue the program in the new year as well.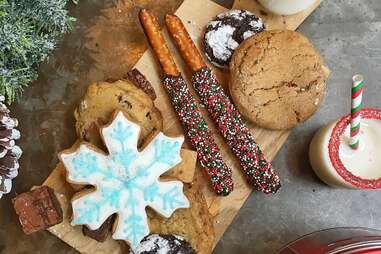 Executive pastry chef Tracy Wilk of David Burke Kitchen has created a festive holiday tin of 25 cookies (priced at $24) that will be sold through January 1st at the SoHo restaurant. A portion of the proceeds will go directly to Cookies for Kids' Cancer because you needed another reason to buy more Christmas cookies. Chai-spiced snickerdoodles? Yeah, we'll take three tins.
The stockings are hung with extra care at Park Avenue Tavern in Midtown, where purchasing one of these festive decorations will go to help veterans in need. You name your price and the full sum will be donated to local veterans-assistance organizations. In return, the restaurant puts up a stocking labeled with your name alongside those of other generous diners. Last Christmas, the restaurant was blanketed in stockings, and the initiative raised a cool $5,000 for charity. Management has an unlimited supply of the things, so you really have no excuse to not participate.
Now you have extra incentive to give private feedback to local restaurants through the <a href="http://www.servyapp.com/&quot; target="_blank">Servy</a> mobile app. For every review you submit, the service and its partnering restaurants will donate three meals on your behalf to the Food Bank For New York City to help fight food insecurity during the cold months ahead. Participating restaurants include DBGB, La Pecora Bianca, Dig Inn, Just Salad, Dos Toros, and Hale and Hearty Soup. The evaluation only takes about a minute or two, and you'll also earn cash back for every evaluation you complete -- up to $30 -- which you can redeem via Venmo, PayPal, or QuickPay, or donate to one of Servy's charity partners.
Through December 31st, brunch guests who bring in a canned good donation and purchase a brunch dish at Flinders Lane will receive a complimentary side of house-made white navy beans braised in a tomato sauce -- an Australian specialty and signature item at the East Village restaurant. Dinner customers with a canned good donation will also get a complimentary glass of rosé or a can of beer (<a href="https://www.thrillist.com/drink/nation/most-famous-beers-every-state&qu…; target="_blank">New York's own iconic Genesee Cream Ale</a>) with any appetizer or entrée purchase. Donations will be sent to the nonprofit <a href="http://safhnyc.org/&quot; target="_blank">Trinity Services</a>, which helps the homeless.
Maroni Hot Pots is known for its big red pots, full of hearty, homemade Italian meals to-go, which can feed up to eight people. This holiday season, the business hopes to feed even more people than usual. For every 20 pots that New Yorkers collectively purchase from the Upper East Side location, the takeout spot is donating one pot to a local shelter or soup kitchen. Total purchases will be tallied up on December 23rd, so you need to act fast. The pots of food will be donated in time for feeding people on Christmas Eve and Christmas Day. Another perk of participating: You can either keep the pot you purchase, or return it for a credit on your next order.
Sign up here for our daily NYC email and be the first to get all the food/drink/fun New York has to offer.
Helaina Hovitz is a writer living in New York City. She's always happy to eat for a good cause, especially because she's really good at eating. Follow her on Twitter: @helainahovitz