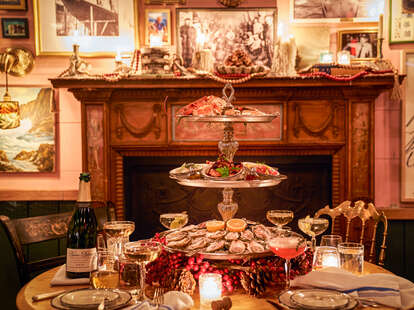 Celebration Tower

| Photo courtesy of Holwater
Celebration Tower

| Photo courtesy of Holwater
The most wonderful time of year is in full swing. Whether it's the Rockefeller Center tree, over-the-top holiday pop-up bars, or dazzling light displays, our schedules are jam-packed with festivities all across town. So when it comes time to plan a proper holiday dinner, accept a gift from our city's top kitchens and make a reservation to leave it to the experts instead.
Whether you're looking for a decadent meal complete with truffles and caviar, a proper Feast of the Seven Fishes, or some holiday cheer in the form of spiked eggnog, this lineup of the best restaurants open on Christmas Eve and Christmas Day is something to rejoice to. Here are 12 NYC eateries that have Christmas dinner covered this year.
The trendy party store Big Night is teaming up with Erika Nakamura and Jocelyn Guest of the Butcher Girls to offer impressive main courses and side dishes to upgrade your at-home feast. Pre-order a centerpiece dish like Heritage Porchetta with salsa verde, Chianti Beef Shank with red wine sauce, or Spiral-Cut Ham and your guests will think your cooking skills did a serious 180 since last year. The shop is also offering side dishes and starters like Chicken Liver Mousse or Pork Terrine that do not require an order in advance. Order online and use the discount code BIGNIGHT to schedule a pickup on December 23 at the Greenpoint store.
This trendy new spot from the team behind American Bar and Saint Theo's harkens back to nightlife in the '80s, giving it a vibe that's perfect for a holiday party. On Christmas Eve, Holiday Bar will offer its regular menu, so guests can stake out a table and keep the ice-cold martinis flowing alongside raw bar picks like oysters, king crab legs, and caviar. Or opt to order main courses like a Wagyu Strip Steak or the over-the-top Holiday Plate with seared American wagyu, a spicy tuna roll, and caviar.
This subterranean nautical-themed bar is decked out for the holidays with sharks in Santa hats, twinkling lights, and an oyster-adorned tree, making it the perfect place for a festive drink. If a liquid holiday dinner is at the top of your list, Holywater offers cocktail specials like the Grinchliato with aperitivo and champagne or A Cocktail for Christmas (A Hallmark Original Cocktail) with cognac, egg white, and thyme. On Christmas Day, a prix-fixe menu with dishes like Steak or Lobster Frites and Chantilly Bread Pudding will be available, and the spot also offers caviar service and an epic Celebration Tower with two dozen east and west coast oysters, king crab legs, lobster, shrimp, and more to make your celebration that much more special.
How to book: Via Tock
Honoring 100-year-old recipes once served to royalty, this new Thai restaurant on our best new restaurant list is also the perfect place for an opulent holiday celebration. KRU is opening on Christmas Eve to offer a family-style feast. The seven-course menu kicks off with Ma Hor, a historic appetizer to enjoy before a feast, then continues on with dishes like a Lobster and Purple Sweet Potato Tart and Kaeng Ped Yang, a dish of roasted duck curry with apple. Dessert is Khanom Farang, an item akin to fruitcake, but unlike your family's recipe, this is a version that won't go untouched.
The lobby bar at the trendy new Wall Street Hotel is offering a boozy take on an advent calendar to celebrate the holidays this year. At Lounge on Pearl, the martini advent calendar menu will feature a different cocktail each day of the month including the Grinch's Martini (gin, chartreuse, maraschino, lime) and the Fireplace Martini (gin, scotch, aperitif, orange bitters). After drinks, head over to La Marchande, the hotel's on-site French brasserie from chef John Fraser, for a three-course Christmas Eve meal that includes options like White Truffle Risotto, Roasted Hen of the Woods Mushrooms with vegan au poivre sauce, and Mont Blanc Tart with chestnut creme fraiche for dessert.
After a pandemic-related closure over the last few years, this beloved trattoria-style spot from Union Square Hospitality Group reopened in a new location just in time for the holidays. Head to Maialino's new iteration in The Redbury Hotel for classic Roman pasta dishes like Bucatini all'Amatriciana and Spaghettini alle Vongole, plus a vast wine selection available both by the glass and the bottle. For Christmas Eve, guests can order from the regular menu, or opt to try specials like Raviolo with White Truffle and Grande Selezione, a large starter plate with a selection of prosciutto, mortadella, soppressata, and much more.
How to book: Via Seven Rooms
Typically known for latkes, lox, and other deli favorites, Mile End Delicatessen will celebrate the season with its annual "Traditional Jewish Christmas" menu on Christmas Eve and Day. For the holiday meal, the shop swaps Montreal-style bagels and hearty pastrami sandwiches for a sit-down menu with Canadian, Jewish, and Chinese influences. The results include dishes like Pajeon-Style Latke Pancakes, Reuben Fried Rice, and Egg Custard Tarts for dessert that's all available in the restaurant or to go.
For its first holiday season since launching last month, NARO from the team behind Atoboy and Atomix is debuting a luxe menu for the holidays. The $275 six-course tasting menu will include dishes like Lobster Bibimbap and A5 Wagyu with Sunchokes, Perilla Leaf, and Kimchi Jjim. To sweeten the deal even further, guests will feast on executive chef Nate Kuester and pastry chef Celia Lee's menu with stunning views of the Rockefeller Center tree—it doesn't get much more festive than that.
Known for seafood towers and quirky decor, Nat's on Bank is leaning into the holiday with their take on the Feast of the Seven Fishes. Instead of a lengthy Italian feast, the restaurant is serving up a platter with small bites like Oysters with Caviar, Squid Caponata, and a Smoked Whitefish Dip as a nod to the tradition. In addition, the restaurant will offer its regular menu of dishes like Crab Rangoon Dip, Bucatini with Sea Urchin and Pickled Chili, and the Baller Shot Caller seafood tower.
If your ideal holiday includes feasting in stretchy pants on the couch, Pecking House has you covered. This fried chicken joint first garnered a buzz when it was a roving pop-up. Now with a new brick-and-mortar in Park Slope, the casual restaurant is able to offer full catering spreads just in time for the holidays. Use the catering order form to secure 12-piece orders of fried chicken or cauliflower and choose from signature flavors like Chili, Naked, and Salted Egg. Tack on sides like Dirty Fried Rice, Cheddar Cornbread with Apple Honey, or a dessert like Roasted Banana Pudding with Miso Caramel, and you've got yourself a feast.
Soogil is known for blending Korean and French cuisine into luxurious tasting menus, and the restaurant will continue that tradition for a special Christmas menu. Chef Soogil Lim's six-course tasting menu is $175 per person and includes dishes like foie gras with tuna and truffle to start. Classic seasonal dishes are dressed up with Korean influences, like a Honeynut Squash Soup with gochujang chili and Beef Wellington with Korean chive pesto and a 24-hour soy bordelaise sauce. The chef's signature Uni Bowl and Black Diamond Caviar are available to supplement the meal, which is available on both Christmas Eve and Day.
Cozy up by the fireplace and celebrate the holidays at Tiny's this year. The historic townhouse restaurant will offer a Christmas Eve dinner for $95 per person that includes Oysters Rockefeller or an Onion Tartlet amuse bouche. Decadent first course options include Leek and Potato Soup with caviar and creme fraiche or Baked Burrata with black truffle, pinenuts, and honey, followed by main courses like Filet Mignon with potato gratin, asparagus, and bernaise sauce or Homemade Linguine with ricotta sauce, roasted chestnuts, black truffle. Head back on Christmas Day for a brunch complete with dishes like a loaded egg sandwich with fried caciocavallo cheese and "Hangover Rancheros'' in case you had a little too much holiday cheer.